In our effort to bring good content to as many people as possible the text in this blog post has been machine translated so please excuse any mistakes. Thank you!
Naiqian Zhang tarafından
2020 sonbahar çeyreğinde California Santa Barbara Üniversitesi'nde (UCSB) değişim öğrencisi oldum. Bu yıl, COVID-19, insanların yaşam tarzı ve ders çalışma ve çalışma biçimleri dahil olmak üzere çok değişti.
Hepimiz, farklı saat dilimleri nedeniyle COVID-19 sırasında Zoom toplantısında ders çalışacak anavatanlarında bulunan yabancı öğrenciler için anlamlı ve bazen zorlayıcı bir deneyim olabileceğini biliyoruz. Erken saatlerde kalkıp gelecek ders için hazırlık yapmalıyız. Hayat ve çevrimiçi çalışma arasında iyi bir denge sağlamak için çok uğraşmanız gereken farklı saat dilimlerinde büyük bir zorluktur. Bunun üstesinden gelmek için günün çoğunu ders notlarını ve ders kitabını gözden geçirmeye ve eğitmenlerin düşüncelerini anlayabilmek için her gün çalışma planları yapmaya ayırıyorum. Özellikle yeni bir salgın sırasında enerjimi koruyacak ve beni sağlıklı tutacak bir uyku planı çevrimiçi çalışma için çok önemlidir.
Bazen kendimizi çok garip hissederiz, çünkü sınıf arkadaşlarımız ve eğitmenlerle doğrudan yüz yüze iletişim kuramazız, birbirimizle ekran üzerinden konuşmak zorunda kalırız. UCSB kampüsünde bulunmakla aynı eğitim ve yaşam deneyimine sahip olmak imkansızdır. Ancak çevrimiçi denizaşırı çalışmanın dezavantajları olsa da, zorluklar avantajlardan ağır basmaktadır. Örneğin, bir oda kiralamamıza gerek yok, bu da maliyetleri düşürmemize yardımcı oluyor.
Yurtdışı üniversite eğitiminin en bariz avantajı, farklı bir dilin gerçek yaşam deneyimidir. Bu arada UCSB'deki değişim öğrencileri de kendi üniversitelerinizde alamayacağınız dersleri alabilirler. Benim için gelecekte teorik fizik okumaya kararlıyım, ancak bu derslerin neredeyse hiçbiri kendi üniversitemde mevcut değil. Ancak UCSB'de araştırmamla ilgili fizik için akademik dersler seçebilirim. Bu çeyrekte üç yüksek lisans dersine kabul edildim. Kuşkusuz bu dersler ve ödevler biraz zor. Ancak nazik hocalarımın yardımıyla tüm kilit noktaları çok iyi kavrayabiliyorum.
UCSB'de fizik hakkında çok şey öğrenmek için harika bir fırsat var, çünkü UCSB en iyi fizik programına sahip ve bölümdeki profesörlerin çoğu, kuantum fiziği, yerçekimi ve yoğunlaştırılmış madde teorisi gibi kendi alanlarında ünlü ve mükemmel. Öğretimde de iyidirler ve çok naziktirler. Açık ofis saatlerinde onlarla ilginç ve bilgilendirici tartışmalar yapabilir veya kafamızı karıştıran soruları sorabiliriz ve hatta onların talimatları doğrultusunda biraz araştırma yapabiliriz. UCSB'de fizik okumak bana harika bir fizikçi olmam için ilham veriyor.
Bu fırsat sayesinde UCSB'de fizik okumak bana Amerika Birleşik Devletleri'ne ve belki de en önemlisi Çin'e yeni ve farklı bir bakış açısı sunuyor. Yeni bir kültürde ve yeni eğitim ortamında olmanın ilk şokunu aştıktan sonra, yavaş yavaş Amerika Birleşik Devletleri ile anavatanım arasındaki kültür farklılıklarını anlamlı bir şekilde anlamaya başladım. Çin'de üniversite hükümete veya hızlı ekonomik kalkınma ihtiyacını karşılamaya hizmet ediyor. Dolayısıyla bu eğitimi kabul eden öğrenciler hayatlarının anlamını bulamazlar, hatta kendi düşüncelerini bile kaybedebilirler. Demokrasi ve özgürlüğü anlayamıyorlar. ABD'de iken üniversite, öğrencilerin hayatlarının anlamını fark etmelerine ve kendilerine özgürlük tanımalarına yardımcı olacak. Böylece Amerikalı öğrenciler yaratıcı düşüncelere sahip olabilir ve sınıfta daha aktif olabilir. Toplumdaki adaletsizlik ve hükümetin kötü davranışları için seslerini vermeleri de daha kolay.

Sonunda bir öneride bulunmak istiyorum: hayal etmek istediğin şeyi hayal et; UCSB gibi memleketinizden uzakta olsa bile hayalinizi gerçekleştirme fırsatlarının olduğu yere gidin. Olmak istediğin şey ol!
---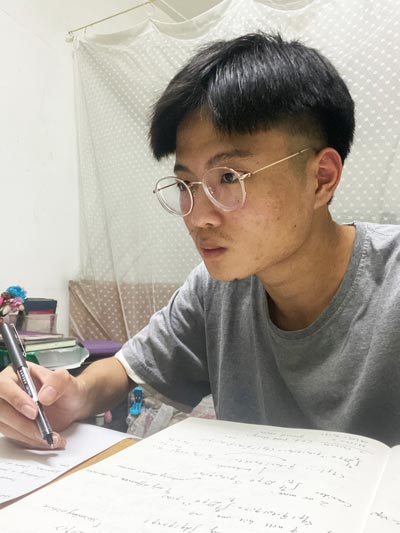 Çin'den Naiqian Zhang , Santa Barbara'daki California Üniversitesi'nde fizik okuyan bir değişim öğrencisidir.