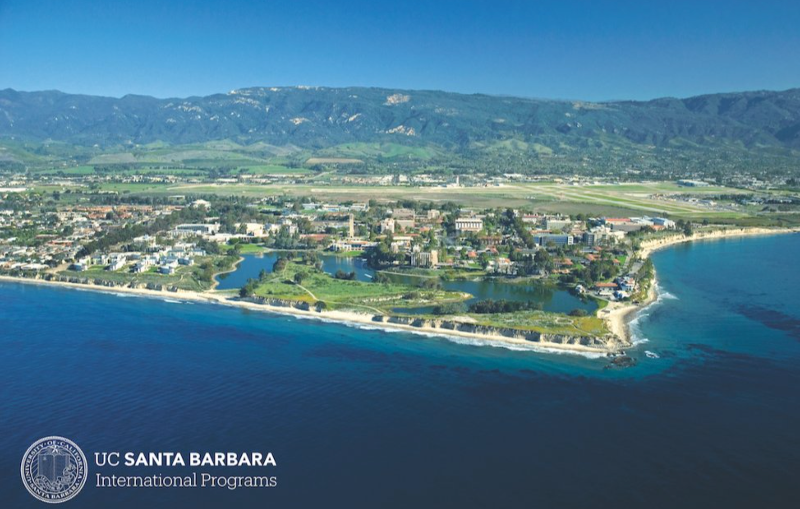 In our effort to bring good content to as many people as possible the text in this blog post has been machine translated so please excuse any mistakes. Thank you!
Por Naiqian Zhang
Tornei-me um estudante de intercâmbio na Universidade da Califórnia em Santa Bárbara (UCSB) no trimestre do outono de 2020. Este ano, o COVID-19 mudou muito, incluindo o estilo de vida das pessoas e a forma de estudar e trabalhar.
Todos nós sabemos que pode ser uma experiência significativa e às vezes desafiadora para estudantes estrangeiros, que estão em sua terra natal, indo estudar pela Zoom Meeting durante o COVID-19, devido aos diferentes fusos horários. Temos que levantar de madrugada e fazer os preparativos para a próxima aula. É um grande desafio em diferentes fusos horários, onde você deve se esforçar para manter um bom equilíbrio entre a vida e o estudo online. Para superá-lo, aproveito a maior parte do dia para revisar as anotações das aulas e o livro didático e faço planos de estudo todos os dias para que possa entender os pensamentos dos instrutores. Um plano para dormir também é crucial para o estudo online, o que vai economizar energia e me manter saudável, especialmente durante uma nova epidemia.
Às vezes nos sentiremos muito estranhos, porque deixamos de nos comunicar com colegas e instrutores diretamente em pessoa, ao invés de ter que falar uns com os outros pela tela. É impossível ter o mesmo estudo e experiência de vida do que realmente estar lá no campus da UCSB. Mas, embora o estudo online no exterior tenha suas desvantagens, as dificuldades são superadas pelas vantagens. Por exemplo, não precisamos alugar um quarto, o que nos ajuda a cortar custos.
A vantagem mais óbvia de estudar em uma universidade no exterior é a experiência na vida real de um idioma diferente. Enquanto isso, os alunos de intercâmbio da UCSB podem fazer os cursos que você não pode fazer nas universidades de origem. Para mim, estou determinado a estudar física teórica no futuro, mas quase nenhum desses cursos está disponível na minha universidade. Porém, na UCSB, posso escolher cursos acadêmicos de física relacionados à minha pesquisa. Fui admitido em três cursos de pós-graduação neste trimestre. Sem dúvida, esses cursos e a lição de casa são um pouco difíceis. Mas, com a ajuda de meus amáveis professores, sou capaz de compreender todos os pontos-chave.
Há uma grande oportunidade de aprender muito sobre física na UCSB , porque a UCSB tem um programa de física de ponta e a maioria dos professores do departamento são famosos e excelentes em suas próprias áreas, como física quântica, gravidade e teoria da matéria condensada. Eles também são bons no ensino e são muito gentis. Podemos ter discussões interessantes e informativas com eles ou fazer perguntas que nos confundam no horário aberto do escritório, e até podemos fazer algumas pesquisas sob suas instruções. Estudar física na UCSB me inspira a me tornar um grande físico.
Graças a esta oportunidade, estudar física na UCSB também me oferece uma perspectiva nova e diferente dos Estados Unidos, e talvez o mais importante, da China. Depois do choque inicial de estar em uma nova cultura e novo ambiente educacional, aos poucos comecei a obter uma compreensão significativa das diferenças culturais entre os Estados Unidos e minha terra natal. Na China, a universidade serve ao governo ou para atender à necessidade de rápido desenvolvimento econômico. Assim, os alunos que aceitam essa educação não conseguem encontrar o significado de suas vidas e até podem perder seus próprios pensamentos. Eles não conseguem entender a democracia e a liberdade. Enquanto estiver nos EUA, a universidade ajudará os alunos a perceber o significado de suas vidas e dar liberdade a eles mesmos. Assim, os alunos americanos podem ter pensamentos criativos e ser mais ativos nas aulas. Também é mais fácil para eles dar voz às injustiças na sociedade e aos maus comportamentos do governo.

Por fim, quero fazer uma sugestão: sonhe o que quiser sonhar; vá aonde tiver oportunidades de realizar seu sonho, mesmo que seja longe de sua cidade natal, como a UCSB. Seja o que você quer ser!
---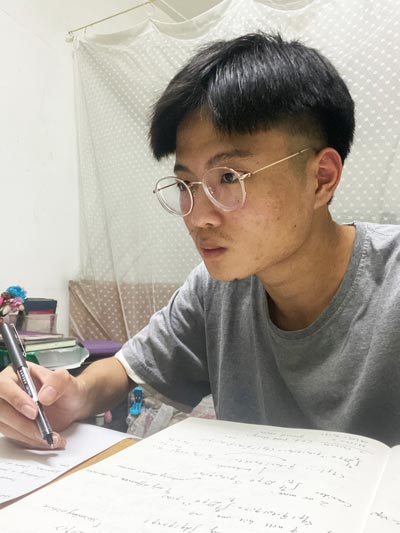 Naiqian Zhang, da China, é um estudante de intercâmbio que estuda física na Universidade da Califórnia, em Santa Bárbara .