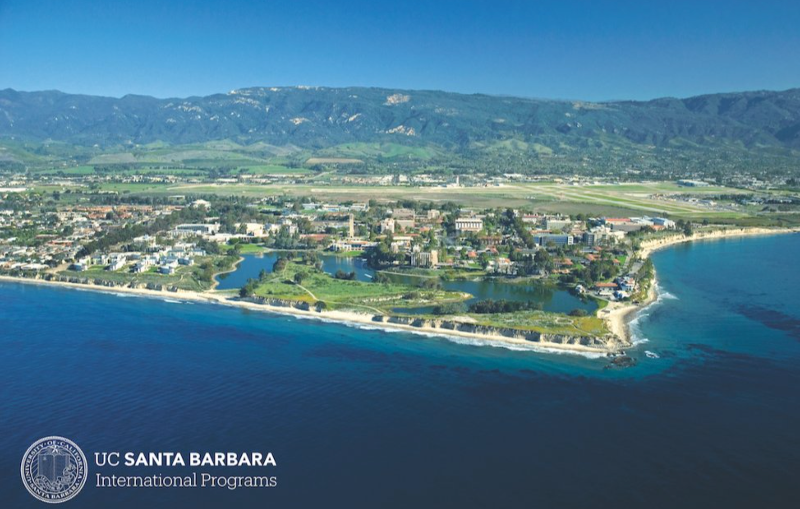 In our effort to bring good content to as many people as possible the text in this blog post has been machine translated so please excuse any mistakes. Thank you!
Oleh Naiqian Zhang
Saya menjadi mahasiswa pertukaran di University of California Santa Barbara (UCSB) pada kuartal musim gugur 2020. Tahun ini, COVID-19 banyak berubah, termasuk gaya hidup masyarakat, bentuk belajar dan bekerja.
Kita semua tahu ini bisa menjadi pengalaman yang bermakna dan terkadang menantang bagi siswa asing, yang berada di tanah air mereka, akan belajar melalui pertemuan Zoom selama COVID-19, karena zona waktu yang berbeda. Kami harus bangun dini hari dan membuat persiapan untuk kelas yang akan datang. Ini adalah tantangan besar di berbagai zona waktu, di mana Anda harus berusaha keras untuk menjaga keseimbangan yang baik antara kehidupan dan belajar online. Untuk mengatasinya, saya menyisihkan sebagian besar waktu saya untuk mereview catatan perkuliahan dan buku teks serta membuat rencana studi setiap hari agar saya dapat memahami pemikiran instruktur. Rencana tidur juga penting untuk belajar online, yang akan menghemat energi dan membuat saya tetap sehat, terutama selama epidemi baru.
Terkadang kita akan merasa sangat aneh, karena kita gagal berkomunikasi dengan teman sekelas dan instruktur secara langsung, alih-alih harus berbicara satu sama lain melalui layar. Tidak mungkin untuk memiliki pengalaman belajar dan hidup yang sama daripada berada di kampus UCSB. Tetapi sementara studi online di luar negeri memiliki kekurangan, kesulitannya sebanding dengan keuntungannya. Misalnya, kami tidak perlu menyewa kamar, yang membantu kami memangkas biaya.
Keuntungan paling jelas dari studi universitas di luar negeri adalah pengalaman kehidupan nyata dari bahasa yang berbeda. Sementara itu, siswa pertukaran di UCSB dapat mengambil kursus yang tidak dapat Anda ambil di universitas asal Anda. Bagi saya, saya bertekad untuk mempelajari fisika teoretis di masa depan, tetapi hampir tidak ada kursus ini yang tersedia di universitas asal saya. Namun, di UCSB, saya dapat memilih mata kuliah akademik untuk fisika yang terkait dengan penelitian saya. Saya telah diterima di tiga program pascasarjana pada kuartal ini. Tidak diragukan lagi, kursus dan pekerjaan rumah ini agak sulit. Tetapi dengan bantuan profesor saya yang baik hati, saya bisa memahami semua poin penting.
Ada peluang besar untuk belajar banyak tentang fisika di UCSB , karena UCSB memiliki program fisika top dan sebagian besar profesor di departemen tersebut terkenal dan unggul di bidangnya sendiri, seperti fisika kuantum, gravitasi, dan teori materi terkondensasi. Mereka juga pandai mengajar, dan mereka sangat baik. Kami dapat membuat diskusi yang menarik dan informatif dengan mereka atau mengajukan pertanyaan apa pun yang membingungkan kami di waktu kantor terbuka, dan bahkan kami dapat melakukan penelitian di bawah instruksi mereka. Belajar fisika di UCSB menginspirasi saya untuk menjadi fisikawan hebat.
Berkat kesempatan ini, belajar fisika di UCSB juga memberi saya perspektif baru dan berbeda tentang Amerika Serikat, dan mungkin yang paling penting, tentang China. Setelah di luar kejutan awal berada di budaya baru dan lingkungan pendidikan baru, saya perlahan mulai mendapatkan pemahaman yang berarti tentang perbedaan budaya antara Amerika Serikat dan tanah air saya. Di Cina, universitas melayani pemerintah atau untuk memenuhi kebutuhan perkembangan ekonomi yang pesat. Sehingga siswa yang menerima pendidikan ini gagal menemukan makna hidupnya, bahkan bisa kehilangan pikirannya sendiri. Mereka tidak bisa memahami demokrasi dan kebebasan. Selama di AS, universitas akan membantu mahasiswanya untuk menyadari arti hidup mereka dan memberikan kebebasan pada diri mereka sendiri. Sehingga siswa Amerika dapat memiliki pemikiran kreatif dan lebih aktif di kelas. Mereka juga lebih mudah menyuarakan ketidakadilan di masyarakat dan perilaku buruk pemerintah.

Akhirnya, saya ingin memberikan saran: bermimpi apa yang ingin Anda impikan; pergi ke mana Anda memiliki peluang untuk mewujudkan impian Anda, bahkan jika itu mungkin jauh dari kampung halaman Anda, seperti UCSB. Jadilah yang Anda inginkan!
---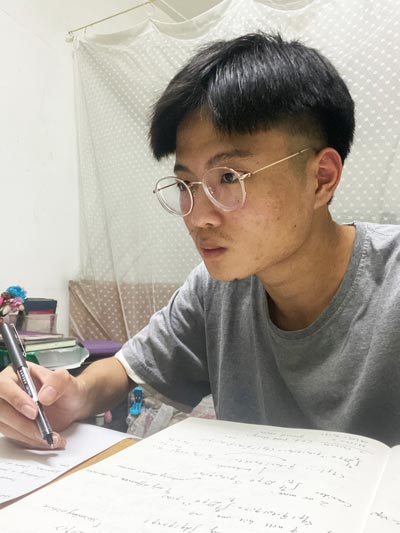 Naiqian Zhang dari Tiongkok adalah seorang siswa pertukaran yang belajar fisika di University of California, Santa Barbara .