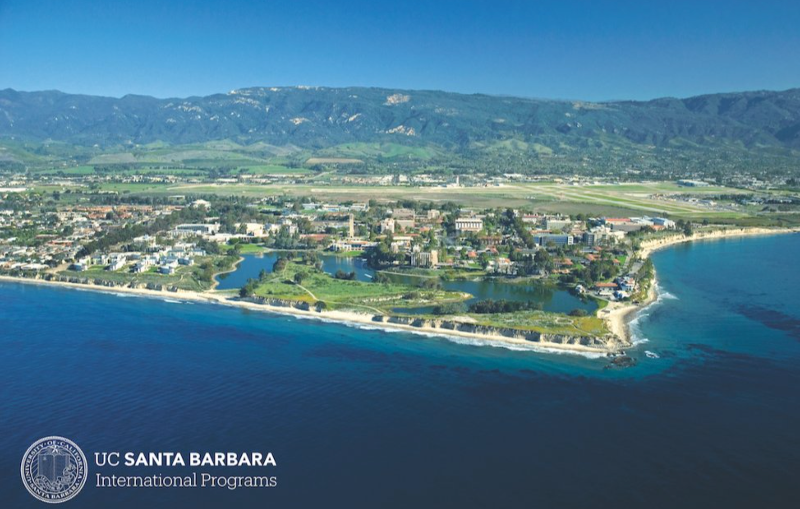 In our effort to bring good content to as many people as possible the text in this blog post has been machine translated so please excuse any mistakes. Thank you!
Por Naiqian Zhang
Me convertí en estudiante de intercambio en la Universidad de California Santa Bárbara (UCSB) en el trimestre de otoño de 2020. Este año, COVID-19 cambió mucho, incluido el estilo de vida de las personas y las formas de estudiar y trabajar.
Todos sabemos que puede ser una experiencia significativa y, a veces, desafiante para los estudiantes extranjeros, que están en su país de origen, yendo a estudiar a la reunión de Zoom durante COVID-19, debido a las diferentes zonas horarias. Tenemos que levantarnos temprano y hacer los preparativos para la próxima clase. Es un gran desafío en diferentes zonas horarias, donde debes esforzarte por mantener un buen equilibrio entre la vida y el estudio en línea. Para superarlo, tomo la mayor parte del tiempo del día para revisar las notas de la clase y el libro de texto y hacer planes de estudio todos los días para poder comprender los pensamientos de los instructores. Un plan de sueño también es fundamental para el estudio en línea, que conservará energía y me mantendrá saludable, especialmente durante una nueva epidemia.
A veces nos sentiremos tan extraños, porque no nos comunicamos con compañeros e instructores directamente en persona, en lugar de tener que hablar entre nosotros por pantalla. Es imposible tener la misma experiencia de estudio y de vida que estar en el campus de UCSB. Pero aunque el estudio en línea en el extranjero tiene sus inconvenientes, las dificultades se ven superadas por las ventajas. Por ejemplo, no necesitamos alquilar una habitación, lo que nos ayuda a reducir costos.
La ventaja más obvia de los estudios universitarios en el extranjero es la experiencia de la vida real de un idioma diferente. Mientras tanto, los estudiantes de intercambio en UCSB pueden tomar los cursos que no puedes tomar en tus universidades de origen. Para mí, estoy decidido a estudiar física teórica en el futuro, pero casi ninguno de estos cursos está disponible en mi universidad de origen. Sin embargo, en UCSB, puedo elegir cursos académicos de física relacionados con mi investigación. Me han admitido en tres cursos de posgrado este trimestre. Sin duda, estos cursos y los deberes son un poco duros. Pero con la ayuda de mis amables profesores, puedo comprender bien todos los puntos clave.
Existe una gran oportunidad de aprender mucho sobre física en UCSB , porque UCSB tiene un programa de física superior y la mayoría de los profesores del departamento son famosos y excelentes en sus propias áreas, como física cuántica, gravedad y teoría de la materia condensada. También son buenos enseñando y son muy amables. Podemos hacer discusiones interesantes e informativas con ellos o hacerles cualquier pregunta que nos confunda en el horario de oficina abierta, e incluso podemos investigar un poco bajo sus instrucciones. Estudiar física en UCSB me inspira a convertirme en un gran físico.
Gracias a esta oportunidad, estudiar física en UCSB también me ofrece una perspectiva nueva y diferente de Estados Unidos, y quizás lo más importante, de China. Una vez más allá del impacto inicial de estar en una nueva cultura y un nuevo entorno educativo, poco a poco comencé a obtener una comprensión significativa de las distinciones culturales entre los Estados Unidos y mi tierra natal. En China, la universidad sirve al gobierno o para satisfacer la necesidad de un rápido desarrollo económico. Entonces, los estudiantes que aceptan esta educación no encuentran el sentido de sus vidas, e incluso pueden perder sus propios pensamientos. No pueden entender la democracia y la libertad. Mientras esté en los EE. UU., La universidad ayudará a los estudiantes a darse cuenta del significado de su vida y a darse libertad a sí mismos. Para que los estudiantes estadounidenses puedan tener pensamientos creativos y ser más activos en clase. También les es más fácil dar voz a la injusticia en la sociedad y los malos comportamientos del gobierno.

Por fin, quiero hacer una sugerencia: sueña lo que quieres soñar; vaya donde tenga la oportunidad de cumplir su sueño, incluso si está lejos de su ciudad natal, como UCSB. ¡Se lo que quieras ser!
---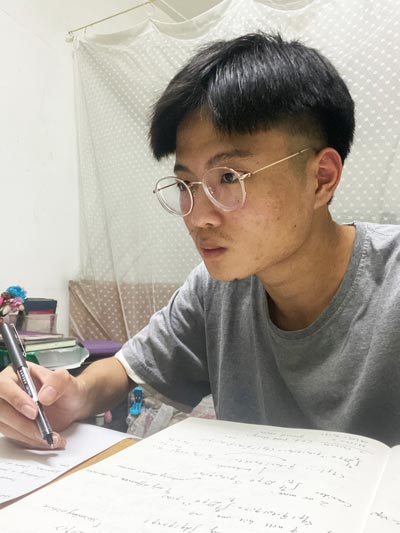 Naiqian Zhang de China es un estudiante de intercambio que estudia física en la Universidad de California, Santa Bárbara .