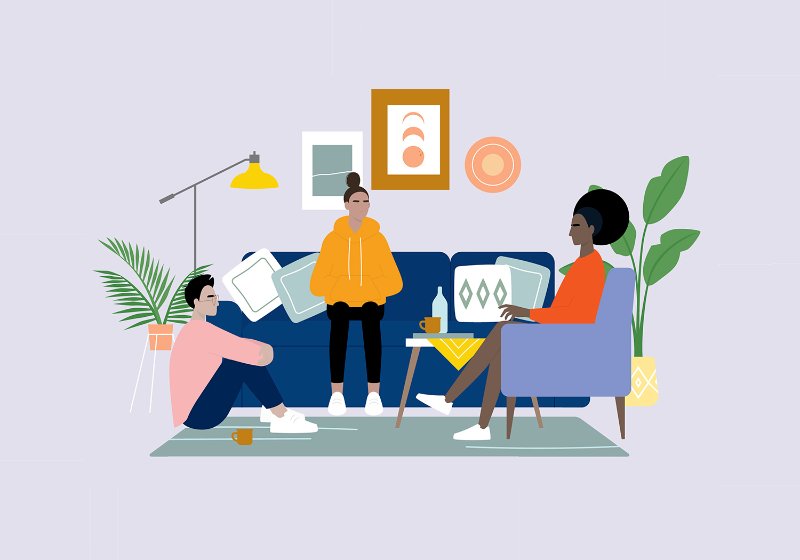 In our effort to bring good content to as many people as possible the text in this blog post has been machine translated so please excuse any mistakes. Thank you!
Por Minh Anh Ha
¡Hola a todos! Mi nombre es Mina y soy una estudiante internacional de Vietnam. Soy estudiante de Olympic College y acabo de llegar a los Estados Unidos en diciembre pasado. Viví con mi primera familia anfitriona en Port Orchard, Washington. ¡Hoy voy a compartir mis experiencias de vivir con una familia anfitriona durante más de nueve meses en los Estados Unidos!
Desde que llegué a Estados Unidos a fines de diciembre de 2019, tenía arreglos para quedarme con una familia local en Port Orchard. Estaba emocionado y nervioso por mi nueva casa en los Estados Unidos porque todos éramos extraños. Mi padre anfitrión, Brian, me recogió en el lugar previsto y me llevó a casa. Todo era nuevo y extraño para mí en ese momento, así que intenté hablar con Brian mientras conducía para comprender mejor las situaciones con las que tendría que lidiar en el futuro. Cuando llegamos, me llevó arriba para ver mi habitación y comencé a manejar mis cosas. Ninguno de los otros miembros de la familia estaba allí en ese momento porque todos fueron a patinar sobre hielo en Bremerton, así que tuve tiempo de tomar una ducha y un breve descanso. Cuando todos regresaron, me sorprendió porque había mucha gente y ¡toda la familia estaba allí! Todos nos presentamos y la gente me hizo muchas preguntas. ¡Se sorprendieron cuando se enteraron de que viajaba solo! Tuvimos una gran cena con comida deliciosa, y después de eso, dormí temprano porque estaba muy cansado después de un largo vuelo.
En la primera semana, mi familia anfitriona me ayudó mucho a prepararme para mi larga vida en los Estados Unidos. Me llevaron a visitar Seattle ya comprar iPhone con otras tecnologías. Luego tuvimos una gran cena en un restaurante chino llamado "Din Tai Fung". Incluso me llevaron a un sabroso restaurante de hamburguesas en Gig Harbor y luego fueron a ver las luces del zoológico. En esa época era invierno, así que mi madre anfitriona puso un pequeño calentador en mi habitación, lo que me hizo sentir feliz y cálida. También me llevó a muchos lugares para presentarme los paisajes en los que pasaré mi tiempo viviendo durante un largo período. Desde el lugar donde vivía, tuve que tomar un ferry y un autobús para ir a la escuela, y también tuve que caminar hasta la terminal del ferry. Afortunadamente, mi familia anfitriona me llevó a la estación de ferry y me recogió casi todos los días el fin de semana antes de que ocurriera la pandemia, para que no tuviera frío ni me cansara. Me sentí cómodo viviendo con ellos porque siempre me trataron como un miembro de una familia y me ayudaron en la vida.
Mi padre anfitrión me ayudó mucho con algunos de mis problemas de vida como mis pasaportes, problemas escolares, mientras que mi madre anfitriona me llevó a conocer a sus amigos y gente para ayudarme a mejorar mi inglés y mis relaciones. Mis hermanos anfitriones eran los más cercanos a mí. Tocaron conmigo, me llevaron en automóvil, hicieron Tik Toks, tocaron el piano y cocinaron conmigo, lo que me trajo muchas risas y felicidad. Nos acercamos aún más desde que ocurrió la pandemia, porque tuvimos más tiempo para entendernos. Recordé que mi hermana anfitriona más joven, Annamae, me despertaba casi todos los días y jugaba conmigo. Mi segunda hermana anfitriona, Maleah, fue la que más me habló y me ayudó mucho con casi todo, mientras que otra hermana anfitriona, Naomi, me llevó a comprar comida, cantó y me tomó fotos. Mi hermano anfitrión mayor, Jamin, es genial, agradable y tenemos un gusto musical bastante similar. A mi hermana mayor, Samantha, le encanta sonreír y es generosa. Fui con ella a Tacoma para probarme un vestido de novia, ¡y se casó hace dos meses! Me invitaron a la boda, ¡y fue la mejor boda de mi vida!
En mi opinión, creo que un método para estar cerca de una familia anfitriona es vivir y tratarlos con honestidad desde el fondo de nuestro corazón. Ninguna familia es perfecta, hay algunas cosas que todavía le faltan a mi familia anfitriona, pero las reconocí y pienso positivamente. Por lo demás, siempre me trataron muy bien y, gracias a ellos, ahora entiendo mucho sobre la cultura y la comida estadounidenses. Todavía nos mantenemos en contacto a pesar de que me mudé. Por eso, creo que no da miedo ni está nervioso que un estudiante que está estudiando en el extranjero se quede con una familia anfitriona. Por el contrario, es una buena oportunidad para mejorar el inglés, tener más relaciones y aprender más sobre un lugar donde vivimos y estudiamos.
En general, solo soy una chica de 16 años que acaba de vivir lejos de mi familia por primera vez, pero mi familia anfitriona redujo mi presión de vivir en un país extraño y me trajo muchas experiencias y recuerdos memorables. Son la mejor familia estadounidense para mí y conservaré este sentimiento y recuerdos por el resto de mi vida.
---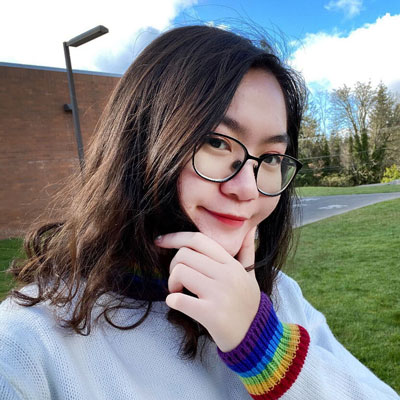 Minh Anh Ha, que se hace llamar Mina, es una estudiante internacional de Vietnam de 16 años. Está estudiando en el Olympic College en Bremerton, Washington.