In our effort to bring good content to as many people as possible the text in this blog post has been machine translated so please excuse any mistakes. Thank you!
Miguel Angel Cornelio Martínez tarafından
Yurtdışında okuyan ve uluslararası bir öğrenci olduğum ilk aylarımda, sürekli mücadele ettiğim bir şeyin ünlü ve kaçınılmaz vatan hasretine karşı olduğunu hatırlıyorum. Bu kavramın neyle ilgili olduğunu ve özellikle günlük yaşamınızda neye neden olduğunu zaten biliyor olabilirsiniz, ancak henüz yapmadıysanız, aşağıdaki paragrafların kavramı ve onunla nasıl başa çıkacağınızı anlamanıza yardımcı olacağını umuyorum, en azından benim kişisel bakış açısı ve deneyim. Hayatınızdaki bu yeni deneyime gitmenizden aylar hatta haftalar önce, evden ayrılmak ve kendi yolunuzu bulmak için kesinlikle heyecanlı olabilirsiniz; ancak, onu gerçekten yaşamaktansa hayal etmek daha kolaydır.
Kanımca, uluslararası bir öğrenci, akademik çabalarının bir noktasında bir şekilde vatan hasretiyle ilgilenir. Ev hasretinin belirli bir tanımını arayan Google veya web'de dalış yaparsanız, muhtemelen bol miktarda olduğunu öğreneceksiniz. Her birimizin, kendimiz üzerindeki etkisine dayalı olarak kendi terim tanımına sahip olduğumuzu öneririm. Memleket hasretinin genel ve oldukça geniş bir tanımı, evden uzakta olma ve yeni çevrenize alışmaya çalışmanın yanı sıra en çok takdir ettiğiniz tüm bu şeyleri kaçırma hissi veya duygusu olacaktır; bazı insanlar ailelerini, arkadaşlarını veya partnerlerini özleyebilirken, diğerleri onlarla birlikte araba, kıyafet, ev gibi maddi şeylere sahip olmayı isteyebilir. Dürüst olmak gerekirse, önceki iki örneği de hissettim.
Teksas, Austin'deki ilk ayların hiç de kolay olmadığını itiraf etmeliyim. Tamamen yalnız olmak, şehirde hiçbir bağlantımın veya arkadaşımın olmaması durumu daha da zorlaştırdı çünkü kendi yolumu inşa etmem ve kendimi toplum içinde geliştirmem gerekiyordu ki bu o zamanlar orta seviyedeki İngilizce becerilerim nedeniyle zor buldum. Birkaç kez ailemi aramak ve onlara her şeyden vazgeçtiğimi ve eve geri dönmek istediğimi söylemek istediğimi açıkça hatırlıyorum. En çok özlediğim şey ailem ve arkadaşlarımdı; Bir gün boyunca zamanımın çoğunu onlarla geçirmekten, sevdiğim insanları birkaç gün içinde hiç görmemeye gittim. Üstelik arabam gibi geride bıraktığım maddi şeyler, beğendiğim kıyafetler ve ailemle yaşarken sahip olduğum diğer bazı avantajlar açısından sürekli kısa süreli pişmanlık yaşadım. Meksika yemekleri de en çok özlediğim bir şeydi ve Austin'de iyi Meksika yemekleri bulabileceğiniz güzel yerler olsa da, aynı şey değil.
Buradaki anahtar sabırlı olmak ve tavrınızı yüksek tutmaktır. Hiç şüphe duymadan, hedeflerimizi ve hayallerimizi gerçekleştirmek için kendi ülkelerimizi terk etmek o kadar şaşırtıcı bir yaşam deneyimi ki, üstesinden gelinmesi gereken birçok zorlukla karşılaşıyoruz ve kesinlikle bu vatan özlemi duygusu bunlardan biri. Austin'de kalan günlerimin tadını çıkarabilmek için zihniyetimi değiştirmem ve koşullarımı farklı bir perspektiften görmem gerekiyordu. Sonunda sabırlı olmak, her durumu titizlikle analiz etmeme ve onları bulmaya çalışmak yerine olayların veya sosyal ilişkilerin gelmesini beklememe yardımcı oldu. Ayrıca tavrımı yüksek tutarak mutluluğu aktarabildim ve her gün kendimi doğru yolda tutabildim.
Özetlemek gerekirse, vatan hasreti önleyemeyeceğimiz bir duygudur. Her bir uluslararası öğrenci veya yabancı kişi bundan etkilenecektir; ancak, vatan hasretinin insanları etkileme şeklinin her birey için farklı olduğu kesindir. Düşünürseniz, nasıl çalıştığını öğrendikten sonra bu duyguyla başa çıkmak kolaydır ve sonuç olarak başarı kapınızı sadece bir anda çalacaktır.
Hadi tarih yazalım!
---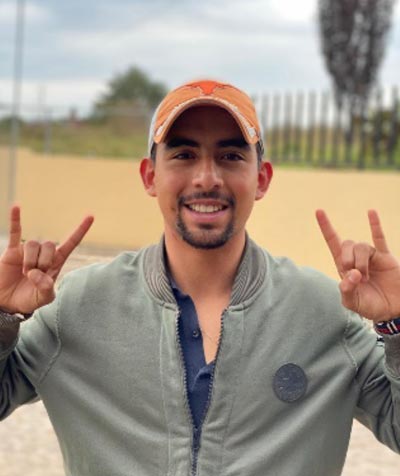 Mexico City, Meksika'dan Miguel Angel Cornelio Martínez , Austin'deki Texas Üniversitesi'nde okuyor. Miguel, Austin'i yurtdışında okumak için harika bir şehir olarak görüyor ve yeşil parklarında vakit geçirmekten hoşlanıyor.