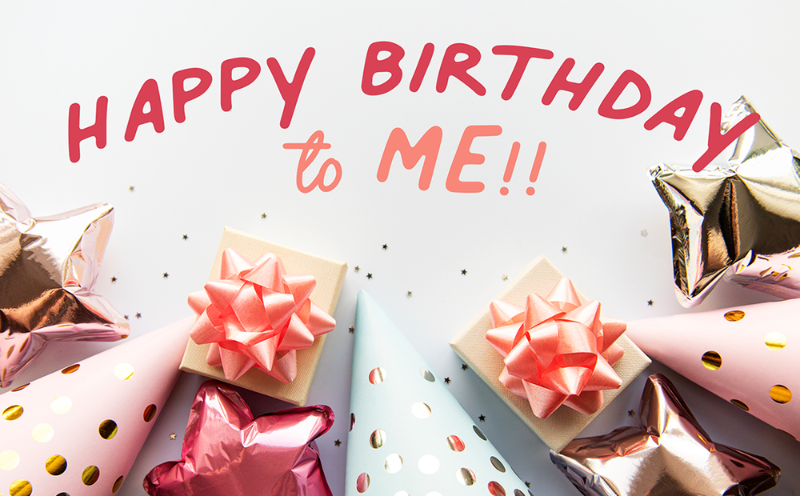 In our effort to bring good content to as many people as possible the text in this blog post has been machine translated so please excuse any mistakes. Thank you!
Oleh Yuna Watanabe
Halo, pembaca (saya akan memberikan nama untuk kalian nanti)! Nama saya Yuna Sun Watanabe: lahir di Jepang, besar di Hong Kong! Saya juga seorang siswa internasional di Orange Coast College dan hari ini, saya berusia 19 tahun (yay)!

Sembilan belas bukanlah usia "khusus". Ini adalah usia yang sangat canggung karena Anda tidak akan lagi menjadi remaja dalam setahun. Ini juga pertama kalinya saya merayakan ulang tahun saya sebagai siswa internasional di AS. Jadi saya telah memutuskan untuk menjadikan tahun terakhir saya sebagai remaja layak dengan menjalani hidup saya sepenuhnya! Mengenai topik ulang tahun, mentor saya (Kris Toribio) menantang saya untuk menemukan restoran di California yang akan memberi saya barang gratis di hari ulang tahun saya! Inilah tempat-tempat yang disukai teman dan murid saya di sini untuk berkumpul dan makan!
Tempat makan (hyperlink jika Anda perlu mendaftar untuk mendapatkan hadiah):
Baskin-Robbins : diskon $ 3,00 untuk kue es krim pada hari ulang tahun Anda dan satu sendok 2,5 oz gratis!

Ben & Jerry's : Informasi ulang tahun gratis saat Anda mendaftar ke "Chunk Club"

Buffalo Wild Wings : Sayap seukuran camilan gratis

Chick-fil-A : Kue Cokelat Potongan Gratis!

Chili's : Makanan penutup gratis!

Dunkin 'Donuts: Minuman gratis pilihan Anda!

IHOP : Setumpuk pancake Rooty Tooty Fresh N 'Fruity gratis!

Jack in the Box : Kupon untuk dua taco gratis dengan pembelian apa pun!

Johnny Rockets : Burger ulang tahun gratis dengan pembelian hidangan utama dan minuman apa pun

Krispy Kreme : Donat gratis!

Olive Garden : Makanan penutup gratis dan pembuka selamat datang gratis!

Roti Panera : Kue gratis!

Sonic : Slush atau tots gratis!

Starbucks : Minuman ulang tahun gratis!

Rumah Wafel : Wafel klasik gratis
Untuk hari ulang tahun saya, saya mengadakan pertemuan pemerintah siswa dan bekerja di pagi hari, jadi saya memutuskan untuk bangun dan pergi ke IHOP untuk sarapan pancake dengan rekan kerja saya Daniela. Kami bekerja sama di OCC Global Engagement, dan dia juga seorang siswa internasional (dari Brazil)! Saat saya menulis ini (sekitar tengah hari sekarang), saya mungkin akan mendapatkan kue gratis dari Panera Bread untuk makan siang.
Anda mungkin berpikir, "Tapi Yuna, kami sedang berada dalam pandemi sekarang. Bagaimana Anda menjaga diri Anda dan orang lain tetap aman? " Pertanyaan yang bagus! Kami memastikan bahwa kami berdua dites negatif untuk COVID-19, menjaga jarak secara sosial dengan orang lain, dan kami mengenakan topeng ketika server kami mendekati kami! #WEARYOURMASK :)
Sebelum saya mengakhiri blog ini, saya telah memutuskan untuk menyebut pembaca saya "Bunga Matahari". Terima kasih banyak telah membaca blog pertama saya! Jika Anda ingin melihat topik untuk saya tulis, kirimi saya pesan! Sampai jumpa lagi, Bunga Matahari! Yuna keluar.
---