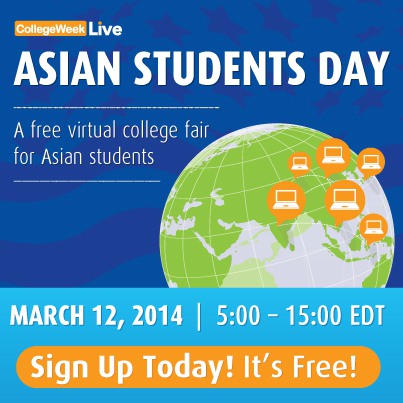 In our effort to bring good content to as many people as possible the text in this blog post has been machine translated so please excuse any mistakes. Thank you!
Are you thinking of studying in the U.S.?Make sure you register for CollegeWeekLive's Asian Students Day virtual college fair! Study in the USA will have a LIVE CHAT booth on Asian Students Day, please stop by and say hello! Where: Online When:  Mar 12 5:00 – 15:00 EDT (please change the time to your local market time so you won't miss it!) How: Just follow this link to register. It's completely FREE!
From College Week Live:Are you thinking about studying abroad in the U.S? Are worried about how to pay for it? There are many possible sources of funding, including scholarships. Register for CollegeWeekLive's Asian Students Day to learn more! This is a FREE event with 80+ universities admissions online! Join us on Mar.12!