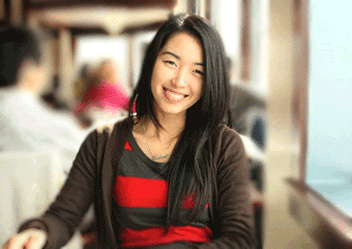 In our effort to bring good content to as many people as possible the text in this blog post has been machine translated so please excuse any mistakes. Thank you!
Accepted to Haas School of Business at UC Berkeley, Emmeline Wong attributes much of her success at CSM to her involvement in student activities.
Emmeline Wong was born in Guangzhou, China, and lived there until she moved to Peru at the age of eight.  It was in Peru that she graduated from high school. She speaks Cantonese, Mandarin, Spanish and, of course, English.
In reflecting on her education at the College of San Mateo, Emmeline had high praises for the faculty and staff as well as student activities at CSM.   She was involved in student government and the honor society, Phi Theta Kappa, which allows their members to place their research projects in the real world.  In those organizations, Emmeline developed leadership and public relations skills as well as organizational skills.  As a member of Phi Theta Kappa, she was able to attend a fully paid trip to an out-of-state conference which was proved to be a valuable opportunity to network.
 "Faculty and staff put their heart out for students,"she said.  "Many are willing to help and stay after hours and that there aren't barriers between professors and students,"she added.
Emmeline's advice to international students on why they should start their career at a community college:
You have time to adapt and be placed in the appropriate classes. 

There is a lot of room for students to participate in extracurricular, connect with other students, and create a sense of community.

Starting at a four-year college, you might feel intimidated. Here you gain confidence and are encouraged to participate in extracurricular.  

There is room for great internships and extracurricular activities, which are very important.  
When asked about who was the most influential person she met a CSM, she immediately thought of Professor Jean Mach.  "Professor Mach showed me how meaningful it is to give to others.  She helped me unconditionally so now I am willing to do community service and volunteer.  She showed me how we can change other people's lives,"she said.  It was Professor Mach who inspired her to assist with the coordination of a new initiative at the campus for next semester even though Emmeline won't be here.  This initiative involves organizing a forum for transfer alumni to come and speak with first year community college students at the international student club and the Phi Theta Kappa Honor Society meetings.
When asked if there are any last words she would like to share with prospective students, she said, "There is nothing exceptional about students like me, I'm not super smart.   I would say that you just need be bold, take chances, interact with the community and never underestimate yourself!"
#StudyUSA