In our effort to bring good content to as many people as possible the text in this blog post has been machine translated so please excuse any mistakes. Thank you!
Le Bao Khanh Mai tarafından
Geçen hafta "Ruh Sağlığı Farkındalığı" adlı bir çalıştaya katıldım. O olaydan çok şey öğrendim ve şimdi bunu her öğrencimle paylaşmak istiyorum. Bu salgın sırasında ruh sağlığınızla mücadele ediyorsanız, lütfen bir göz atın!
Zaman yönetimi:
Üniversitelerin ve kolejlerin çoğu çevrimiçi derslere dönüştüğü için programımızın büyük bir etkisi var. Kişisel deneyimlerime dayanarak, okula gitmek yerine yatağımda Yakınlaştırma kaydı dersi izleyebilirim. Ayrıca, tüm ödevlerim sanal bir teslim tarihiyle çevrimiçi olarak gönderilmelidir, bu nedenle son teslim tarihlerimi takip etmek için artık kağıt takvim kullanmıyorum. Bunun yerine, Tuvalimde Google Takvim veya takvimi kullanıyorum.
İlk başta, kaydedilen dersi birçok kez izleyebileceğim için ödevim üzerinde çalışmak ve daha etkili öğrenmek için daha fazla zamanım olacağını düşündüm. Ancak ara sınava kadar çok erteledim. Genelde tüm işi teslim tarihime koyarım. Bir noktada, ödevimi teslim tarihinde teslim etmeyi de unuttum. Bu problem bana geldi çünkü her zaman her şeyi halletmek için hala çok zamanım olduğunu düşünüyorum. İşimi son tarihlere erteledim. Transkriptlerime dönüp baktığımda, bu sonbahar döneminde bahar dönemime göre daha geç işim olduğunu görüyorum. Biyoloji araştırma makalemi yapmayı unuttuğumda bu benim için kırmızı bir alarmdı! Şans eseri, profesörümle iletişime geçtim ve son tarihimi uzattı.
Ertelemekten kurtulmak için, yaklaşan ödevlere bakar ve onları mümkün olan en kısa sürede bitiririm (genellikle son teslim tarihlerinden üç gün önce). Ve ne zaman yeni bir görev görsem, hemen yapmak için elimden gelenin en iyisini yapmaya çalıştım. Son olarak, son teslim tarihinden bir gün önce, hepsini tamamladığımdan emin olmak için tüm ödevlerimi kontrol ediyorum. Başlangıçta zor olacağını biliyorum ama iki hafta sonra tekrar etmeye devam ederseniz iyileşmeyi göreceksiniz.
Günlük rutin:
Yüz yüze kurslarım olmadığı için erken kalkmam veya sınıfa gitmem gerekmiyor. Bir ay sonra gece geç kalkmaya ve sabah geç kalkmaya başladım. Daha önce hiç başıma gelmemiş olan hafta içi 9'da, hafta sonları 11'de kalktım. Bazen gündüzleri uykulu hissettim ama gece yarısı aktif oldum. Geç kalkmamın nedeni, günlük rutinimde küçük değişiklikler fark etmememdi. Haber akışımı 23:00 ile 12:00 arasında kontrol ettim ve sonra saat 2'de hala telefonumdaydım.
Atölyeye katıldıktan sonra günlük programımı sıfırladım. Haftada 5 mil yürüyüşe çıkıp kahvaltı yapmaya başlıyorum. Ayrıca yatağa gittiğimde dizüstü bilgisayarım ve telefonum gibi elektrikli cihazları kapatma pratiği yapıyorum. Şaşırtıcı olan şey, günde 5 dakika meditasyon yapmaya başlamam. İki hafta sonra kendimi sakin ve rahat hissediyorum. Hafızam daha iyi hale geliyor ve yeni kavramları daha hızlı öğreniyorum. Bu deneyimden, hayatımızdaki küçük değişiklikleri asla küçümsemeyecek bir dersim var çünkü etkileri gelecekte çok büyük olabilir.
Kısacası, kimsenin senin hayatını yaşayamayacağına inanıyorum. Bugünkü eylemimiz, gelecekte gideceğiniz yere karar verecektir. Öyleyse, yaşamınız boyunca meydana gelen her küçük değişiklik konusunda dikkatli olmalıyız. Dikkatli olun, değişmek için esnek olun.
---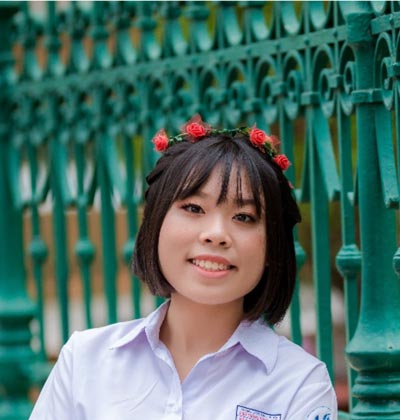 Viet Nam'dan Le Bao Khanh Mai, Florida'dakiHillsborough Community College'da biyomedikal bilimi okuyan uluslararası bir öğrencidir. Jogging yapmayı ve film izlemeyi seviyor.