In our effort to bring good content to as many people as possible the text in this blog post has been machine translated so please excuse any mistakes. Thank you!
Kendinizi bir Amerikan kolej seviyesi sınıfına sokmak için çok fazla zaman ve para harcadıktan sonra, çoğu dersin uzaktan alındığı ve alınacağı ortaya çıkıyor. Gerçek kampüs dışında, kampüse dahil olma ve Amerikan üniversite hayatını deneyimleme fırsatlarını kaybetmekten mi endişeleniyorsunuz? Ama size, onu kaçırmak yerine, onu benzersiz bir şekilde deneyimlediğinizi söyleyeceğim. İşte topluluğunuzda nasıl aktif bir üye olabileceğinize dair bazı ipuçları.
1. Bağlanma
Yüz yüze görüşmemek, mutlaka yeni insanlarla tanışamayacağınız anlamına gelmez. Dersler çevrimiçine taşındığında kulüpler ve öğrenci grupları da yaptı. Kameranızı açıp daha önce hiç tanışmadığınız bir grup insanla bir kulüp toplantısına atlamaktan kendinizi rahatsız hissedebilirsiniz. Aslında, ileriye yönelik ilk adım, ister çevrimiçi ister şahsen olsun, garip veya zor olabilir, ancak daha sonra kolejinizde bir arkadaşlık veya liderlik deneyiminin başlangıcı olursa, önemlidir ve kesinlikle buna değer.
Aslında, diğer tarafta, birçok kulüp organizatörü karantina sırasında nasıl yeni kan toplanacağını bulmaya çalışıyor. Muhtemelen, kulübe ulaştıklarında ve tanımadıkları öğrencilere (yani sizsiniz) kulüplerinin reklamını yaptıklarında aynı garip duyguya sahipler. Unutmayın, onlar sizin akranlarınızdır ve topluluğa geldiklerinde yerinize oturmuşlardır.
2. Kolej kaynaklarını kullanmak
Kampüsünüzdeki kulüplerle ilgili bilgileri nereden alacağınızı merak edebilirsiniz. Kolejlerin, kulüplerin kendi reklamlarını yapmalarına yardımcı olacak kendi platformları ve etkinlikleri var. Bellevue Koleji'nde , her çeyreğin başında eve dönüş haftası, öğrencilerin benzer akademik veya kariyer yolunda olan veya aynı ilgi alanlarını paylaşan diğerleriyle tanışmaları için geleneksel bir zamandır. Üniversiteden gelen günlük FYI e-postaları, öğrencilerin yaklaşan etkinlikleri takip etmelerine de yardımcı olur, böylece öğrenciler o gün gerçekleşen verimli çevrimiçi atölye çalışmalarını kaçırmazlar. Uluslararası Eğitim Ofisi'nden sık sık gönderilen e-postaları kontrol etmek, uluslararası öğrencilerin katılmaları için iyi bir yoldur. Fark etmemiş olabilirsiniz, ancak okul departmanları olabildiğince çabuk çevrimiçine geçmeye çalışıyor ve karantina sırasında bir dizi çevrimiçi atölye çalışması yapıyordu.
3. İngilizce Pratiği Yapmak ve Kendi Kendine Öğrenme
Uzaktan öğrenme, tüm uluslararası öğrenciler için bir zorluk olmuştur. Birçoğu artık günlük yaşamlarında İngilizce pratiği yapmak için çok daha az fırsata sahip olduklarını keşfettiler ve bu da yurtdışında eğitim almanın pahalı harcamalarına değip değmeyeceğini yeniden düşünmelerine neden oluyor. COVID nedeniyle neredeyse hiç yüz yüze görüşmemiz olduğu doğru. Ancak yukarıda da belirtildiği gibi fırsatları kaybetmiyorsunuz. Bunun yerine, bir şeyleri farklı bir şekilde öğrenme şansınız olur. Coursera gibi birçok açık çevrimiçi kaynak platformu var. Pek çok yüksek rütbeli üniversitenin dersleri halka açık. Arkadaşlarla takılmadan, bu zamanı kendi dalınızda uzmanlaşmış olmayan bilgilerle kendinizi zenginleştirmek için kullanabilirsiniz. Arkadaşlarınızla takım oluşturmak ve birbirinizi kursta doğru yolda kalmaya teşvik etmek de harika bir fikirdir.
4. Okulunuzda bir iş için başvurun
Evet, bu doğru! Kampüs kapalı olsa bile, birçok bölümün hala öğrenci asistanlarına ihtiyacı var ve ücretli pozisyonlar mevcut. Örneğin, Bellevue College'daki akademik özel ders merkezi, karantina başladıktan sonra kolejdeki çoğu kurs için özel ders veriyor. Şu anda Uluslararası Eğitim Ofisinde matematik öğretmeni ve öğrenci asistanı olarak çalışıyorum. Personel olarak çalışmak size kampüsünüze farklı bir bakış açısı getirecektir. İlginç bir çevrimiçi etkinlik oluşturmak için diğer personel ve öğrenci asistanlarla nasıl uyumlu çalışacağınızı öğrenebilirsiniz. Ayrıca, rolü öğrenciden personele değiştirmek, üniversite topluluğunuzda olup bitenler hakkında sizi daha sık bilgilendirebilir ve günlük rutininizde düzenli bir programı takip etmenizi kolaylaştırabilir. Örneğin, çalışma saatlerinde kendimi hazırlamalıyım ve üzerinde çalışacak haftalık etkinliklerim var. Son birkaç aydaki deneyimime göre, uzaktan çalışmak, özellikle karantina yaşam tarzına alışamadığım zamanlarda, boş zamanları atlatmam için bana çok yardımcı oldu. Zoom'daki görsel sınıf toplantılarından ayrıldıktan sonra bile bana bir Amerikan kolejine dahil olma hissi veriyor.
---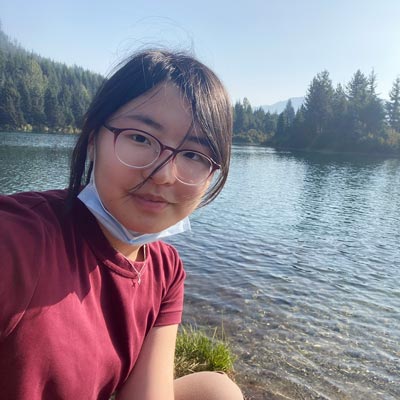 Hao Liu, 2019 sonbaharında Bellevue Koleji'ne geldi. Gün doğumunu ve gün batımını izlemeyi ve eyaletteki farklı manzaraları keşfetmeyi seviyor.