In our effort to bring good content to as many people as possible the text in this blog post has been machine translated so please excuse any mistakes. Thank you!
Setelah menghabiskan banyak waktu dan uang untuk masuk ke kelas setingkat perguruan tinggi Amerika, ternyata sebagian besar kelas telah dan akan diambil dari jarak jauh. Selain kampus yang sebenarnya, apakah Anda khawatir kehilangan kesempatan untuk terlibat di kampus dan merasakan kehidupan kampus Amerika? Tetapi saya akan memberi tahu Anda bahwa alih-alih melewatkannya, Anda hanya mengalaminya dengan cara yang unik. Berikut beberapa tips tentang cara menjadi anggota aktif di komunitas Anda.
1. Terhubung
Tidak bertemu langsung bukan berarti Anda tidak bisa mengenal orang baru. Ketika kelas dipindahkan ke online, klub dan kelompok siswa juga melakukannya. Anda mungkin merasa tidak nyaman untuk membuka kamera dan mengikuti pertemuan klub dengan sekelompok orang yang belum pernah Anda temui sebelumnya. Memang, langkah pertama ke depan mungkin canggung atau sulit tidak peduli apakah Anda mengambilnya secara online atau secara langsung, tetapi itu penting dan sangat berharga jika nanti itu menjadi awal dari sebuah persahabatan atau pengalaman kepemimpinan di perguruan tinggi Anda.
Padahal, di sisi lain, banyak penyelenggara klub yang kesulitan mencari cara untuk mendapatkan darah baru selama masa karantina. Mereka mungkin juga memiliki perasaan canggung yang sama ketika mereka menjangkau dan mengiklankan klub mereka kepada siswa yang tidak mereka kenal (yaitu Anda). Ingatlah bahwa mereka adalah rekan-rekan Anda dan mereka telah berdiri di posisi Anda ketika mereka datang ke komunitas.
2. Memanfaatkan sumber daya perguruan tinggi
Anda mungkin bertanya-tanya dari mana mendapatkan info tentang klub di kampus Anda. Nah, perguruan tinggi memiliki platform dan acara sendiri untuk membantu klub mengiklankan diri mereka sendiri. Di Bellevue College , minggu mudik di awal setiap kuartal adalah waktu tradisional bagi siswa untuk mengenal siswa lain yang memiliki jalur akademik atau karier yang sama atau yang memiliki minat yang sama. Email FYI harian dari kampus juga membantu siswa untuk mengikuti acara yang akan datang sehingga siswa tidak akan melewatkan lokakarya online yang bermanfaat yang diadakan pada hari itu. Memeriksa email yang dikirim dari Kantor Pendidikan Internasional secara rutin juga merupakan cara yang baik bagi siswa internasional untuk terlibat. Anda mungkin tidak memperhatikan, tetapi departemen sekolah mencoba beralih ke online secepat mungkin dan membuat serangkaian lokakarya online selama masa karantina.
3. Berlatih Bahasa Inggris & Belajar Mandiri
Pembelajaran jarak jauh telah menjadi tantangan bagi semua siswa internasional. Banyak dari mereka menemukan bahwa sekarang mereka memiliki lebih sedikit kesempatan untuk berlatih bahasa Inggris dalam kehidupan sehari-hari mereka, yang menyebabkan mereka berpikir ulang apakah masih sepadan dengan biaya mahal untuk belajar di luar negeri. Memang benar bahwa kami jarang melakukan percakapan tatap muka karena COVID. Namun, seperti disebutkan di atas, Anda tidak kehilangan peluang. Sebaliknya, Anda mendapat kesempatan untuk mempelajari berbagai hal dengan cara yang berbeda. Ada banyak platform sumber daya daring terbuka seperti Coursera. Banyak universitas peringkat tinggi membuka kuliahnya untuk umum. Tanpa bergaul dengan teman, Anda bisa memanfaatkan waktu itu untuk memperkaya diri dengan ilmu yang tidak terspesialisasi di jurusan Anda. Ini juga merupakan ide bagus untuk bekerja sama dengan teman-teman Anda dan mendorong satu sama lain untuk tetap berada di jalur yang benar.
4. Melamar pekerjaan di sekolah Anda
Ya benar! Meski kampus tutup, banyak jurusan yang masih membutuhkan asisten mahasiswa dan sudah tersedia posisi berbayar. Misalnya, pusat bimbingan akademik di Bellevue College telah menyediakan bimbingan untuk sebagian besar kursus di perguruan tinggi setelah karantina dimulai. Saat ini saya bekerja sebagai tutor matematika dan sebagai asisten siswa di Kantor Pendidikan Internasional. Bekerja sebagai anggota staf akan memberi Anda perspektif yang berbeda tentang kampus Anda. Anda dapat belajar bagaimana bekerja secara kohesif dengan staf lain dan asisten siswa untuk membuat acara online yang menarik. Selain itu, mengalihkan peran dari siswa ke staf dapat memberikan informasi terbaru tentang apa yang terjadi di komunitas perguruan tinggi Anda lebih sering dan memudahkan untuk mengikuti jadwal yang teratur dalam rutinitas harian Anda. Misalnya, saya harus mempersiapkan diri selama waktu kerja dan memiliki acara mingguan untuk dikerjakan. Dari pengalaman saya sendiri dalam beberapa bulan terakhir, bekerja dari jarak jauh sangat membantu saya untuk melewati masa-masa sulit terutama ketika saya belum terbiasa dengan gaya hidup karantina. Ini memberi saya perasaan terlibat di perguruan tinggi Amerika bahkan setelah saya meninggalkan rapat kelas visual di Zoom.
---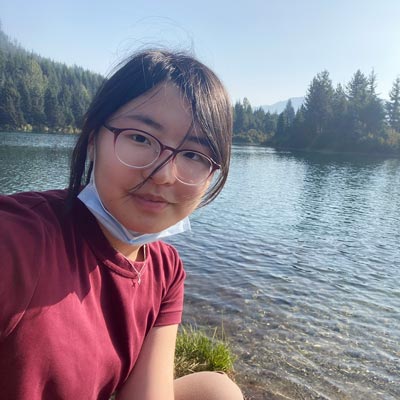 Hao Liu datang ke Bellevue College pada musim gugur 2019. Dia suka menyaksikan matahari terbit dan terbenam dan menjelajahi berbagai lanskap di negara bagian.