From a Mexican High School to the Big Leagues in the United States
By Miguel Angel Cornelio Martínez
A couple of weeks ago, the final assignment for one of my courses was about my transition from high school to college, and it definitely made me think about plenty of things from the past. Of course, that may be an easy question to answer for an American student since the education system is similar; however, for an international student it is a question that requires more than a couple of paragraphs to answer. Why? Merely because plenty of factors, decisions, values, experiences, and strategic planning take place throughout the journey of a foreign student pursuing a degree at an American college or university.
In my case, I definitely have a solid and quite a big number of things to look back as I remember my transition from high school to UT (University of Texas at Austin), and this time I will tell you a few of those factors that took me to reach and accomplish my American dream. In my opinion, the application process and the orientation activities, as well as the first weeks of classes are the situations that have the greater impact in the transition in context, the way these develop in the process is going to define how the transition for each student will be.
Let's start with the factor that had the greater impact in my own transition to college, the whole application process. To be honest with you, I can remember every single step I took to have my applications completed, and it is for sure that the list was LONG in upper case. I remember I was in my last year of high school, worried that I was about to enter a gigantic world full of colleges, universities, new people, new city, new country, new everything; I knew I was going to start from the very bottom. I started to look for universities and to have intrapersonal talks regarding the ideal major taking into consideration my long-term goals, personality, and values. At the end, I chose UT as my main choice. Afterwards, I started my applications, which was such a challenge.
In my case, I completed two different applications two different times, one for an English as a second language program and the second application one year later to my desired major at the same university. Something that is important to highlight are the requirements that go along with the application process, but much more important, the deadlines. One of the reasons why I applied to only three universities instead of 10 or more was because I was not aware of the deadlines of each university, which most of the times vary to one another. If you are planning to apply to an American institution, I highly recommend you to be aware of the deadline of your application and keep it in mind throughout the process. On the other hand, the requirements such as essays, exams, completion of certain formats and background information formats, among other requisites are also time consuming. I still remember the high expectations I had of myself while applying to college, which made the requirements mentioned before much more demanding. To be brief, for the SAT I took a few weeks of tutoring sessions to get prepared for the assessment, as well as for the TOEFL, which were the two assessments I had to take to satisfy two of my requirements.
After being accepted at the university, UT's international office and its staff, Texas Global, made remarkable work by guiding me through the immigration process. They sent me step by step with every detail of what I had to do to get my student visa, which as an international student it is something I am still grateful for. Also, the orientation activities and the first weeks of school were nice and helpful for me. First, the orientation activities that were organized for the new undergraduate students were focused on the introduction of the degree and to get familiarized with the campus. Although the semester was planned to be mostly online, this did not stop the university to create some great modules for us to learn new things about these topics. Moreover, the first weeks back in September were also helpful to get used to each professor's way of teaching, which was critical to have a good performance in the rest of the semester. Since UT is a large university, creating new relations with students and professors was also imperative to have a solid transition to college. I have to say that at the beginning it was a little bit hard to socialize due to the method of instruction of the lectures; however, everything got better as the weeks went through.
In conclusion, every person has their own story to tell about their transition from high school to college, and a piece of mine is summarized in the paragraphs above. Taking the English language program before diving by myself into the college experience was the best decision I could have made and facilitated my transition. All the things I learned by enrolling in the program made my transition to college much easier because I learned not just English skills, but also this great program at Texas Global makes sure that you are aware of American customs and educational habits, which is important to know. Overall, my transition to UT was not as tough as someone could expect and so far, I have learned plenty of things in college that make me feel I am progressing. While seven months ago I could not believe that all my hard work and effort gave its results of being accepted at UT, now I cannot believe there are just a few days left to wrap up my first semester of college.
Let's make history!
---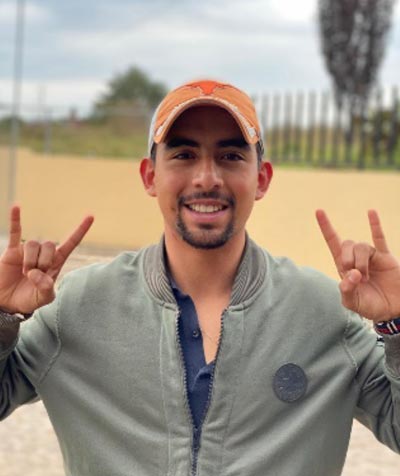 Miguel Angel Cornelio Martínez from Mexico City, Mexico, is studying at The University of Texas at Austin. Miguel finds Austin a great city to study abroad, and he enjoys spending time in its green parks.
Written by
Miguel Angel Cornelio Martínez
Get matched to the best program for you
Let us know what you're looking for so we can find the best school for you.
$5,000—$10,000 Semester
Bachelor Degree
Certificate/Short Term
2yr/Community College - 2+2 Programs
$10,000 — $15,000 Year
2yr/Community College - 2+2 Programs
Certificate/Short Term
Undergraduate
$5,000—$10,000 Semester
Certificate/Short Term
Undergraduate
2yr/Community College - 2+2 Programs
Start your U.S. adventure with Study in the USA
What's your dream? We can guide, advise, and connect you with your perfect U.S. school. We can also help you with the application process.
Partner Services
Learn About U.S. education financing, housing, and more
Choose an entire apartment, a studio, a shared room, or a private room, with 24x7 assistance from Personal Student Advisors. Book Now!
Follow your dreams with the TOEFL iBT® test, which has helped millions of students study abroad.
International STUDENT & SCHOLAR Health Insurance provides important protection against unexpected medical expenses for Accidents, Illnesses and Medical Evacuation while Studying or Traveling Abroad. Protect yourself and Study Safely, with a Stud...
Resources
Learn about American culture and education direct from our experts at Study in the USA. Read more