Experiences Living with a Host Family
By Minh Anh Ha
Hi everyone! My name's Mina, and I'm an international student from Vietnam. I'm a student in Olympic College, and I just came to the United States last December. I lived with my first host family in Port Orchard, Washington. Today, I'm going to share my experiences of living with a host family for more than nine months in the United States!
Since I came to America at the end of December 2019, I was arranged to stay with a local family in Port Orchard. I was excited and nervous about my new house in the United States because we were all strangers. My host father, Brian, picked me up at the scheduled place and drove me home. Everything was new and strange to me at that time, so I tried to talk with Brian while driving to understand more about the situations which I would have to deal with in the future. When we arrived, he took me upstairs to see my room and I began managing my stuff. None of the other family members were there at that time because they all went ice skating in Bremerton, so I had time to take a shower and a short break. When everyone returned, I was surprised because there's a lot of people, and the whole family was there! All of us introduced ourselves, and people asked me a lot of questions. They were shocked when they heard that I traveled alone! We had a big dinner with delicious food, and after that, I slept early because I was really tired after a long flight.
In the first week, my host family helped me a lot to prepare for my long living life in the United States. They drove me to visit Seattle and to buy iPhone with other technologies. Then we had a great dinner in a Chinese restaurant called "Din Tai Fung." They even took me to a tasty hamburger restaurant in Gig Harbor and went seeing zoo lights after that. At that time it was winter, so my host mother put a small heater in my room, which made me feel happy and warm. She also drove me to many places to introduce me to the landscapes where I will spend my time living for a long period. From the place where I lived, I had to take a ferry and a bus to go to school, and I also had to walk to the ferry terminal. Luckily, my host family drove me to the ferry station and picked me up almost every day on the weekend before the pandemic happened, so I wouldn't be cold and tired. I felt comfortable living with them because they always treated me as a member of a family and assisted my life.
My host father helped me a lot with some of my living problems like my passports, school issues, while my host mother brought me to meet her friends and people to help me improve my English and relationships. My host siblings were the closest to me. They played with me, drove me, made Tik Toks, played piano and cooked with me, which brought me a lot of laughter and happiness. We became even closer to each other since the pandemic happened, because we had more time to understand each other. I remembered my youngest host sister, Annamae, woke me up almost every day and played with me. My second host sister, Maleah, talked to me the most and helped me a lot with almost everything, while another host sister, Naomi, drove me to buy food, sang, and took photos with me. My older host brother, Jamin, is cool, nice, and we have pretty similar taste of music. My eldest sister, Samantha, loves to smile, and she's generous. I went with her to Tacoma to try on a wedding dress, and she just got married two months ago! I was invited to the wedding, and it was the best wedding ever!
In my opinion, I think a method to be close with a host family is to live and treat them honestly from the bottom of our heart. No family is perfect, there are a few things that my host family is still lacking, but I acknowledged them and think positively. Otherwise, they always treated me very well, and thanks to them, now I understand a lot about American culture and food. We still keep in touch with each other even though I moved away. Because of that, I think it is not scary or nervous for a student who is studying abroad to stay with a host family. Conversely, it is a good opportunity to improve English, have more relationships and learn more about a place where we live and study.
Overall, I'm just a 16-year-old girl who is just living away from my family for the first time, but my host family reduced my pressure of living in a strange country and brought me many memorable experiences and memories. They are the best American family for me, and I will retain this feeling and memories for the rest of my life.
---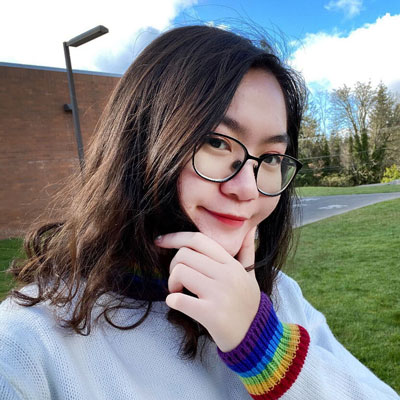 Minh Anh Ha, who goes by Mina, is a 16 year old international student from Vietnam. She is studying at Olympic College in Bremerton, Washington.
Get matched to the best program for you
Let us know what you're looking for so we can find the best school for you.
$5,000—$10,000 Semester
Undergraduate
English Programs
Bachelor Degree
$5,000—$10,000 Semester
Certificate/Short Term
Bachelor Degree
Undergraduate
Start your U.S. adventure with Study in the USA
What's your dream? We can guide, advise, and connect you with your perfect U.S. school. We can also help you with the application process.
Partner Services
Learn About U.S. education financing, housing, and more
MPOWER Financing is the top-rated lender offering international student loans without cosigners, collateral, or credit history for global citizens, PLUS international student scholarships & career coaching! Fully online application, 96% customer...
Summer plans suspended because of COVID-19? The deadline's approaching for TheInternGroup's virtual/remote global internship program. Gain professional experience, grow your network and make your resume shine from wherever you are this summer.
Choose an entire apartment, a studio, a shared room, or a private room, with 24x7 assistance from Personal Student Advisors. Book Now!
Testimonials
StudyUSA.com provided me with important information that was sent to my e-mail.
Carlos Javier Obando Gamboa Columbia
I got admitted into the University of Michigan for Fall 2019. Thank you so much for your assistance.
StudyUSA.com always checked up on me to ensure that I was taking the right step. They gave me reasons to study in the USA and helped me out with some questions I couldn't answer on my own.
Resources
Learn about American culture and education direct from our experts at Study in the USA. Read more