One of the Best One-Month Journeys I Have Ever Had
By Miguel Angel Cornelio Martínez
After one month since I started my college studies abroad at The University of Texas at Austin (UT Austin), I have to say that college has been pretty good and easy on me. If you have been following my previous posts, you may already know that I did not start college as I was expecting; I am currently studying my first semester fully online. There is a complete story behind why I do not have a single in-person class, but that is another story. This time I would like to share my college experience so far, after one month of hard work and a few hours of stress. Four weeks may sound as a short time compared to the 9 semesters that my major takes to complete, but in fact, plenty of things have happened within these weeks.
First and most importantly, the knowledge I have gained from my courses is definitely the characteristic I want to highlight the most. I am currently enrolled in five courses, and I have learned tons of information from my professors and the teaching assistants, as well as from the coursework they have given to us. As expected, the course that I like the most is Introduction to Microeconomics, since my major is economics; however, I have to acknowledge that the course has been getting more and more demanding in terms of time and effort since last week.
Another course that I really like is Intro to Classical Mythology, where as the title of the class specifies it, we have mostly seen classical poems and known the most popular heroes in that period of time as well as the most important events that changed the direction of history. This asynchronous class requires the completion of modules every week and the submission of quizzes related to what we saw during the lectures of the modules. I mentioned the previous characteristic because at the beginning of the semester I thought that I would not like my Mythology class due to the method of instruction; nonetheless, after almost 2 months I realized I had a misconception of self-paced classes. I still remember when I was planning my schedule and I saw that this course was one of the many options I could choose to satisfy a requirement I needed, and I undoubtedly chose Mythology because since I was a child I have liked all type of historic myths, stories, and ancient characters, so finding this course was like a signal for me to add it. Regarding the rest of my courses, those have gone pretty well, and I have had solid grades so far; I am truly happy with the performance I have had throughout these weeks.
Moreover, I consider my very first week of midterms another important characteristic I have learned in college. After one academic year of just studying English, I felt like my abilities to study for real exams, for real and demanding exams were gone when midterms arrived; it felt like if I had forgotten how to spend hours studying and in front of my computer. My first midterm exam was Calculus and certainly studying for this exam was an upper level of difficulty. I still remember that I was unable to concentrate — although I locked myself in my room, I turned my phone off, and I asked my family to pretend I did not exist — I got really mad at myself after a couple of hours because it seemed as if I was not moving forward at all.

Now that I lived this experience, I would like to give you, and even myself, a piece of advice for future assessments. The greatest mistake I made was to leave my study time until the last day, and even though there was not too much stuff to study, trying to go through a topic and repeat the same process multiple times was the most exhausting thing. So my advice here, and I really encourage you to practice it, is to start studying a few days before the exam, 4–6 days before sounds like a good deal to have a good score, if you are one of those. Being in a good environment is something critical to consider when studying. You need to find a relaxing, familiar, and not so crowded spot to go for it. In addition, there are plenty of techniques that students use to study efficiently. I personally like the Pomodoro technique, which consists in dedicating 25 minutes of hard work and a small break of five minutes after that. Repeat the same interval of time until you are done. Before meeting my mentor at school, I did not support the idea of utilizing specific techniques of studying, but now I proved I was wrong.
In conclusion, college has been such an amazing journey so far, full of surprises, experiences, highs, lows, but most importantly, mistakes. During the short time I have been in college, I have learned from a number of mistakes that had a positive impact in my personality, and these have taken me to develop myself into a better student. Now, the least I can say is that I am very grateful because I have the opportunity to study at this amazing institution and for sure I will make it worthy.
Let's Make History!
---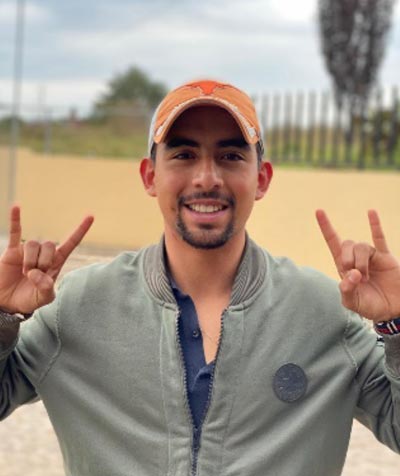 Miguel Angel Cornelio Martínez from Mexico City, Mexico, is studying at The University of Texas at Austin. Miguel finds Austin a great city to study abroad, and he enjoys spending time in its green parks.
Written by
Miguel Angel Cornelio Martínez
Get matched to the best program for you
Let us know what you're looking for so we can find the best school for you.
$5,000—$10,000 Year
Bachelor Degree
2yr/Community College - 2+2 Programs
Online
$50,000—$60,000 Year
English Programs
Secondary/Boarding
Bachelor Degree
$10,000 — $15,000 Year
English Programs
Summer
2yr/Community College - 2+2 Programs
Start your U.S. adventure with Study in the USA
What's your dream? We can guide, advise, and connect you with your perfect U.S. school. We can also help you with the application process.
Partner Services
Learn About U.S. education financing, housing, and more
Uniplaces is an accommodation provider with a large choice of verified rooms, entire flats and residences. The platform offers an easy, fast and safe way of booking a place to live. Check out the thousands of properties in the best cities and book a...
Follow your dreams with the TOEFL iBT® test, which has helped millions of students study abroad.
Nomad Credit helps international students search for and compare education loan (student loan) options, including options for students with a US cosigner or those pursuing a graduate degree. The Nomad team will personally help you with your education...
Testimonials
Studyusa.com helps me by the e-mails which I receives every day concerning the possibility of study in the USA
Benewende Amed Wilfried Dipama Burkina Faso
StudyUSA did help me a lot. Because they always try their best to answer my questions and give me great suggestions. Also, they always concern me and ask me about my application. They are the best.
The first time I met with StudyUSA was when I was searching which college I should attend. StudyUSA helped me out in some ways. I was able to review a lot of detailed college information in your website. That included not only just about colleges, but also many of real voices from the students in the US. The real information helped me to make decision where I should go for studying. I'm sure that StudyUS would help much more students who are trying to start adventures in the US all over the world!
Resources
Learn about American culture and education direct from our experts at Study in the USA. Read more