Teaching as a Way to Build a Better World
Sara Khanzadi has been an ESL teacher for the past 10 years. She has great experience teaching international students. Her job allows her to know many people from all over the world and from various perspectives and expertise. In this interview, Sara shares with us her motivation to be a teacher and her great experience of teaching also in this time of the pandemic.

When did you start teaching English?
I started teaching during the second year of my master's degree at the Minnesota English Language Program (ELP) in 2010. So, it's for about 10 years.
How do you feel that it is already 10 years? It was like you expected it?
In these years I got a lot of experience. I became more confident as a teacher, and now I feel like I just graduated. It's just the beginning. Before teaching English, I used teaching group fitness classes. That was a different kind of teaching. In that case I had to teach people how to do something in a group. Body language was very important in that case. It was awesome to me when one of my students told me that I can teach anyone without using a word. After this experience with fitness classes, I was teaching Spanish and Persian (my first language) to my American friends. I always enjoyed teaching. And my passion for teaching English started after I got my job on campus. I understood — thanks to that experience — that teaching English was my career.
Now you are also teaching at the high-school level. How is this new experience?
College-level students are more mature. They know what they want; they know the reasons why they are studying because they are pointing at their goals. College students know their responsibilities, and they can prioritize their work. They are more independent.
In contrast, high-school students still might not know exactly what they want. They are uncertain about their future. They don't know how to manage their time or how to encourage themselves. They get attached to their teachers more than college students. For this reason, building a good relationship with them is extremely important. Without this connection, it's not easy working with them. My roles have to be different at the high-school level: I have to be a teacher, mum, and psychologist for them. It's not just teaching them knowledge, but also being a point of reference for them. Moreover, I have to connect with their family. In high school, parents have to be involved in education, not like in college. So, working in high school is more difficult than at college. But it's a great new experience for me!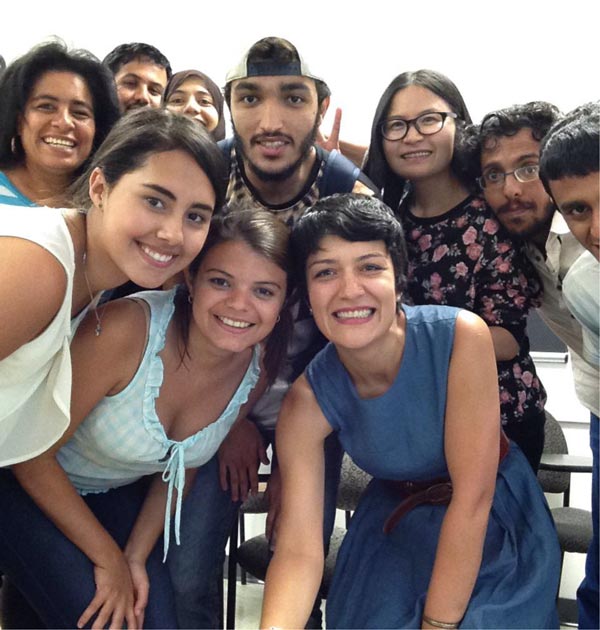 Sara with her college students
What is your "secret ingredient" in your teaching method?
I have a couple! One is humor. I love to make people happy and laugh. It helps them foster a better understanding. When students are happy, they work together better. The other ingredient is making sure to hear them. Let them understand that they are important and that their voice is unique and worthy to listen. Another thing is that I try to use a lot of technology. I love to bring fun to the class. And obviously, it's important to have a lot of grasp of knowledge to share. I never lie with my students. If there is something that I don't know, I say: "I don't know." This is also important to build a good relationship with them.
What is a meaningful story that you experienced during your career?
When I was in Minneapolis, I had a wonderful group of students. It was a lower-level ESL class. I had many guys from Saudi Arabia. There was one girl from Saudi Arabia that had the same sticker that I had on my backpack. It was a sticker supporting the LGBTQ community. However, she didn't know the meaning of that symbol. So, I asked her why she had that sticker. She said that she loved me so much, and she wanted just to have the same sticker of mine on her backpack. Well, I explained to her the meaning of that symbol, and she was astonished. But weeks later she came to me with a research paper about the LGBTQ community in Saudi Arabia. So, just from one sticker, we had a great discussion about an important topic, and then she made a wonderful paper on it. I realized how someone can influence people's lives just with simple things like a sticker. As a teacher, I think I have a huge responsibility. My role goes beyond teaching just English. Teaching is about how to make this world a better place.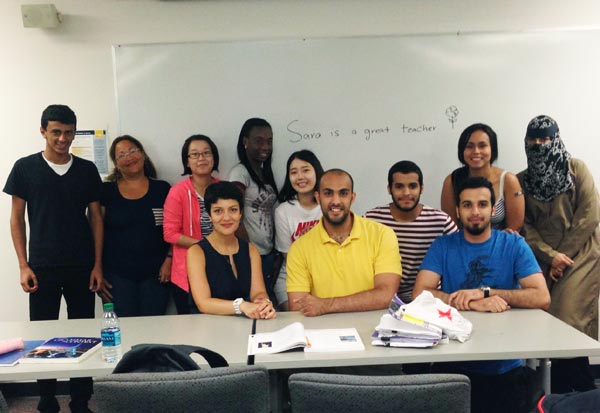 Sara has a great experience teaching international students. This put her in contact with people from all over the world.
The pandemic challenged education around the world. How did it affect your work?
At my high school, we have hybrid classes while at college we have only online classes. In high school it is very difficult to teach hybrid. I think that remote-only classes are the better choice for this time. Teaching online at the college was not so hard for me because students were already able to use technology. However, sometimes it happens to meet some students that don't know how to use some online tools. So, I have to teach them how to do things step by step. At any rate, I think that this is the best solution for this time of the pandemic. The hybrid model still puts people at risk, but if the school decides to go hybrid, I have to go hybrid.
What do you miss from in-person classes?
I just want to go back to have in-person classes. I miss human interaction, I miss dancing in class, and I miss enjoying students' group work. It's a different experience on Zoom. It will never be the same!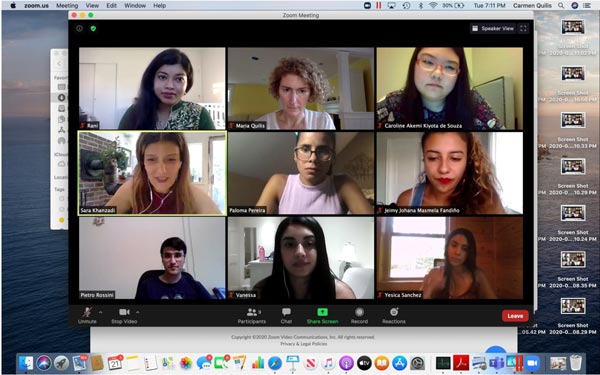 Screenshot of one of Sara's first online-classes during the pandemic
This blog is about international students in the U.S. As an experienced ESL teacher, what would you suggest to someone who'd like to come to the U.S. for studying?
Have an open mind and an open heart. In the beginning, you can be very excited about this new experience. However, I saw many students becoming homesick or depressed after a little while. Be ready for that! If you are open-minded, you will be open meeting new people and speaking about your troubles with friends. Be ready to take risks and be ready to fall but bounce back on your feet again. Never give up! Because if someone else has done something, you can do it as well.

---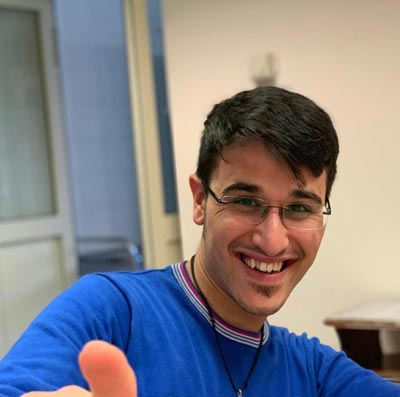 Pietro Rossini is a Xaverian Missionary and an ESL student at Framingham State University (MA). He came to the U.S. in January 2020 with the purpose of studying a master of arts in journalism at Boston University. His dream is to collect and share stories of humanity around the globe, making the world a single family.
Written by
Pietro Rossini
Get matched to the best program for you
Let us know what you're looking for so we can find the best school for you.
$5,000—$10,000 Semester
2yr/Community College - 2+2 Programs
Undergraduate
Bachelor Degree
$10,000 — $15,000 Year
Certificate/Short Term
2yr/Community College - 2+2 Programs
Undergraduate
$10,000 — $15,000 Semester
Bachelor Degree
Undergraduate
Start your U.S. adventure with Study in the USA
What's your dream? We can guide, advise, and connect you with your perfect U.S. school. We can also help you with the application process.
Partner Services
Learn About U.S. education financing, housing, and more
MPOWER Financing is the top-rated lender offering international student loans without cosigners, collateral, or credit history for global citizens, PLUS international student scholarships & career coaching! Fully online application, 96% customer...
Follow your dreams with the TOEFL iBT® test, which has helped millions of students study abroad.
Most U.S. apartments come unfurnished. Make your move easy with a student furniture rental package from CORT. Flexible lease terms. Delivered before you arrive. Starting at $99 per month.* *with a 12-month lease
Resources
Learn about American culture and education direct from our experts at Study in the USA. Read more