Trip to the Big Apple on a Budget
By Rachel Gelabale
"Unprecedented" does not seem to begin to cover all that many of us feel we have lost out on since we first heard the word Covid19. Don't you just miss being able to go out with friends, take trips, and have fun?! Well me too. Now that I am home almost all the time, I find myself daydreaming about taking a vacation and realizing that I kind of took my freedom and life for granted. These past few months, while we have been under quarantine, have changed my thoughts on what "taking care" of myself meant. I see now that I should take time not only to breathe, but to have fun with my friends and socialize more. Of course, I waited for a pandemic to happen, to work on my social skills.
In fact, the pandemic recently led to one of my best memories, a trip to NYC — only about 6 hours from Genesee! — with friends. Most college students live for spring break. It is a time when college students can do whatever they want without having to worry about classes. You could say that spring break is the best two weeks of a college student's whole academic experience.
Determined to do just that, over spring break two of my friends and I decided to create some memories together and headed for the Big Apple, aka New York City. Being smart and frugal college students, we managed to find the best deals. And as my loyal readers, I will let you in on some tips:
4 Tips for "Self-Care" (aka making memories) on a College Student's Budget
Stay with a friend or family member or check out Airbnbs and hostels
We ended up staying at a family member's house for the first night and then moved into the Airbnb the following day. We got a room in a house, for less than $60 per person.

Take a bus.
Buses are a cheaper way to travel, depending on where you are going you can often get a bus ticket as low as $10.

Use the internet before you book and look for free or discounted things to do.
We only paid for one attraction, and the rest of the places we went to were free. Use this link for discounted passes

If your destination has a transit pass, get it!
The NYC transit pass is about $30 for a week's worth of unlimited rides on local buses and subways. You will use the subway more than you realize. The pass makes things so convenient.
Using these tips, we were able to stay in the city for six days and have a full schedule of things to do, while still having time to just "breathe."
Here is an overview:
Day 1: Selfie and Group Shots at Places that are a MUST SEE in NYC
Take time to get some pictures by the Manhattan Bridge

Think diversity when you consider visiting a place like Dumbo, Brooklyn, and you will not be disappointed

Night walk on the Brooklyn Bridge and see the stars over the city

Consider ending your day at the Brooklyn Museum. The first Saturday of the month is free. There will be different vendors, tons of programs, and even DJs.


Day 2: Sight-Seeing, Shopping, and Where to Eat
Gospel music anyone? The Brooklyn Tabernacle and Hillsong New York Church are famous for it.

Food lovers, try a day at Times Square different cultural foods to tempt your palate, then more shopping. (Check out this link for more food ideas.) 

Day 3: The Vessel, Grand Central Station, and you guessed it back to Times Square!
The Vessel is a free tourist attraction; however, you MUST reserve a slot online.

Grand Central Station

Back to Times Square because one day is NOT enough to see and do all that there is to do. 

Day 4: Ellis Island and more sightseeing
Take time to visit the Statue of Liberty and go up to the crown, and visit Ellis Island. 

Walk through pieces of art by strolling on the High Line through Sam Falls' art commission Four Arches

Day 5: Brooklyn Bridge by day and the Rockefeller Center by night.
Visited the Brooklyn Bridge again, during the daytime

Visited Rockefeller Center 

Day 6 Our Last Day
We then did some last-minute shopping.

I like to believe that the greatest moments happen when you least expect it. We ended up seeing things that were not planned. For example, while walking we saw a store filled with paintings of different influential women.
I can honestly say that experiencing this trip with two of the most amazing people I know was the highlight for me. Having friends that you can have meaningful conversations with while having fun is something that we should all seek to have and cherish. I met some great friends at GCC!
Now it is your turn, find your next great memory and make it happen; take this crazy, strange time that we are all in and plan something. You do not have to plan something extravagant. It could be as simple as going to the lake or going on a run. You can even plan a future trip. I am already planning mine! Whatever you come up with, remember to take time to breathe and to talk to your friends and family.
---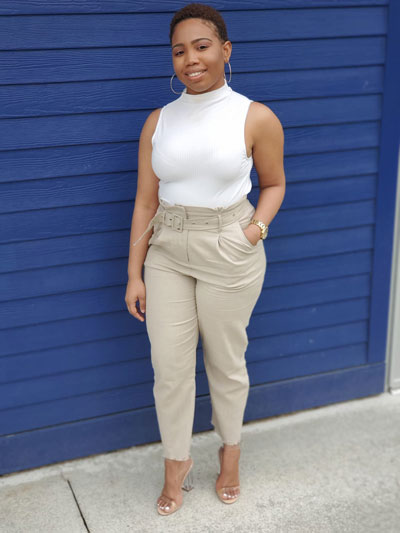 Rachel Gelabale from Curaçao is attending Genesee Community College in Batavia, New York.
Written by
Rachel Gelabale
Get matched to the best program for you
Let us know what you're looking for so we can find the best school for you.
$10,000 — $15,000 Year
2yr/Community College - 2+2 Programs
Undergraduate
Bachelor Degree
$5,000—$10,000 Semester
Bachelor Degree
2yr/Community College - 2+2 Programs
Certificate/Short Term
$10,000 — $15,000 Year
Bachelor Degree
Undergraduate
Certificate/Short Term
Start your U.S. adventure with Study in the USA
What's your dream? We can guide, advise, and connect you with your perfect U.S. school. We can also help you with the application process.
Partner Services
Learn About U.S. education financing, housing, and more
Summer plans suspended because of COVID-19? The deadline's approaching for TheInternGroup's virtual/remote global internship program. Gain professional experience, grow your network and make your resume shine from wherever you are this summer.
Studying abroad is an invaluable step in your professional and personal growth. Prodigy Finance have helped fund over 20,000 master's students to pursue their dreams at the best schools of the world.
Get international student medical insurance for as low as $1.12 USD per day. Our plans are available to any student studying outside their home country and include coverage for Covid-19. Get your free quote and enroll today!
Resources
Learn about American culture and education direct from our experts at Study in the USA. Read more