Preparation for American Life
By Le Bao Khanh Mai
Life is an adventure, and going to college is one of the most exciting but exhausting experiences for many people, especially international students. When I first came to America, I didn't even know how to cross the road correctly! After one year studying and adapting, here are my sharing that may help you to get involved in American life more easily.
Managing personal identification
Before you go to any new country, make sure you bring all the copies of your documents. These documents are essential records for your arrival and keep you safe and legally in a new nation. At first, I was overwhelmed with numerous papers, such as an F-1 visa, I-20, I-94, passport, etc. I have to work with my school advisor to understand through all the policies and their usage. Also, I have to read and sign lots of papers for my attendance. I highly recommend that you should have a separate worksheet that can keep all your paperwork in one place. Try to use post-it notes or tabs to mark down every category so that you know where to take it in the future.
Opening bank account / driver license / SSN
Having your bank account is a must when you arrive in any new place. Since different countries have their own currency system, you must make sure that you can legally use your money for any payment in that country. Normally, in the orientation, many universities have connected with local banks, which can help you to open your account. Do it fast as you have to pay your tuition and other necessary items for your living.
In the first two weeks, try to prepare for the DMV (Department of Motor Vehicles) driving test. Every state in the USA has the manual on its website, which includes all you need to know for the written test. You should take a look at that, and do some online practice tests. Even though you don't have a car, you can receive a "learner permit" card or a "driver license" card that helps you to get a SSN (social security number) when you have jobs on-campus or anywhere in the U.S.
Practicing English
Never stop practicing your English. For most international students, English is not their mother language. They will struggle in daily conversations with foreign people in the very first weeks. To avoid misunderstanding or awkward talk, you must improve your English communication skills every day. You can watch American TV shows, learn by hearing new vocabulary, and try to talk with native people. You will feel embarrassed or stressed at first, but after months of talking, you will speak more fluently and listen more clearly. Setting your goal that everyone can understand your talk, and you can understand others. Communication is an inevitable activity in daily life, so make sure you can communicate properly. If you find it hard to speak smoothly, you can ask for help from friends or even sign up for an ESL class. Be resilient, because "practice makes perfect."
Networking
When you first come to a new environment, you will feel lonely and homesick. To reduce loneliness, you should be open-minded and more socially active. Meeting new friends will solve this issue. However, do not limit yourself by only having friends from your country, try to hang out with other international newbies. One of the most efficient ways to adapt to the American lifestyle and learn a new culture is to have as many American friends as possible. You will not only improve your current accent but also fulfill your mindset about different traditions. Also, you may correct some of your prejudice or stereotypes about some groups of people. Lastly, you can find a volunteer slot or useful job position from your social relationships, so try to take that advantage.
Planning your career
College is expensive. Before attending any university, make sure you have a solid plan for your career path. As an international student, you have to pay more than local students, so carefully map out your academic pathway. You can get some advice from your parents, acquaintances, or people in the course of study you're interested in. They will let you see a vivid view of your chosen major. In school, you should see your academic advisor monthly to get the latest updates about your courses and workshop events. The time you spend at university mainly depends on your decision. Always check that you are going on the right track. Overall, always seek opportunities to serve the community in your interested field. In the U.S., it is essential to gain experience from your related studies and spread your knowledge to help others. It shows that you are having a passionate attitude toward what you've learned.
---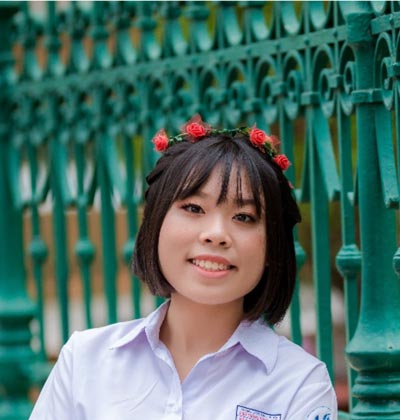 Le Bao Khanh Mai from Viet Nam is an international student studying biomedical science at Hillsborough Community College in Florida. She loves jogging and watching movies.
Written by
Le Bao Khanh Mai
Get matched to the best program for you
Let us know what you're looking for so we can find the best school for you.
$5,000—$10,000 Semester
Bachelor Degree
Certificate/Short Term
Undergraduate
$10,000 — $15,000 Year
Certificate/Short Term
2yr/Community College - 2+2 Programs
Bachelor Degree
$6,000 - $8,000 Year
Bachelor Degree
2yr/Community College - 2+2 Programs
English Programs
Start your U.S. adventure with Study in the USA
What's your dream? We can guide, advise, and connect you with your perfect U.S. school. We can also help you with the application process.
Partner Services
Learn About U.S. education financing, housing, and more
Studying abroad is an invaluable step in your professional and personal growth. Prodigy Finance have helped fund over 20,000 master's students to pursue their dreams at the best schools of the world.
Backed by Cambridge University Press & Assessment and the University of Michigan, MET helps you achieve your goals and fulfill your aspirations by providing a trusted English language exam developed for the real world.
Let us help you through your U.S. visa application process. GET STARTED NOW!
Resources
Learn about American culture and education direct from our experts at Study in the USA. Read more