Stay Focus, Stay Safe in Fall Semester
By Le Bao Khanh Mai
The Fall has come, and everyone is getting back to school. We are all excited and nervous about the new policies this semester. Nowadays, the majority of students are taking online courses, while some are having physical classes, and the others are in hybrid programs. No matter which type of classes you are in, there is nothing to stop you from learning and pursuing your degrees. Here are some of my personal tips that help you to stay focused and safe while getting back to school.
1. Follow the guidelines:
If you take some face-to-face classes, make sure to read through all the school policies about social-distancing. Also, remember to have some extra masks in your backpack and wash hands 20 seconds after touching anything on campus. Keep 6 feet distancing between other people. Last but not least, check your temperature daily and report to professors if you have a fever or any related symptoms.
When online courses are your priority, make sure to follow the professors' instructions in the syllabus. I highly recommend that you should spend an hour reading through the syllabus for each class. After that, you should write down the assignment due dates to your calendar and your virtual meeting dates. There are many useful apps you can use to keep track of your studies. Make sure you won't miss any meetings or special events in the online courses. Prepare yourself to get used to any required virtual meeting apps, such as Zoom, Microsoft Team, etc. Since the technology is new to everyone, you should prepare yourself with that. Otherwise, you may miss the class meetings or get lost in any technical procedures.
In case you have any technical issues or misunderstood, feel free to ask for help. Questions are not charged but help you be more engaged in class. You can ask your classmates or even your professors. Everyone is friendly and happy to assist you with your uncertainties.
2. Create a balanced schedule:
During this period, many universities and colleges have offered online courses for international students. Students must not take that as an excuse for spending so much time on the computer. I believe there won't be so much homework for you to use a day to finish unless you do something else while working on those assignments. There are lots of exciting physical activities waiting for you to complete. For instance, you can go out and take a walk around your neighborhood, have some fresh air, and greet new people. Whenever you feel bored, you can have a 30-minute break to watch TED Talks, Insider, or any informative channels to enlarge your knowledge in different aspects. Furthermore, if you have time, try to redecorate or clean your house. Having beautiful and clean rooms will enhance your immune system against viruses.
Our concentration only lasts in a specific amount of time. As time passes, our brain will lose attention to digest the information. You can divide your study period into a smaller amount, such as 45 minutes or an hour, etc. After that, you may take a 10-minute break or have some snacks. For example, I usually study new concepts in 45 minutes. Then, I will spend 10-15 minutes listening to music or eating some fruit. I give my mind some wiggle room to wander and relax. Then, I will continue my work. If I feel tired, I may change the subject to learn. Switching different topics to study will boost motivation to your brain and reduce boredom while working. The time frame mainly depends on your health and your schedule. You will have more flexibility to decide which date and time to study. It's necessary to create a study habit in an arranged amount of time. Make sure you feel comfortable while doing homework. Some people suggest having some exercise before studying. Others recommend taking a bath before doing homework. There are various methods to boost your attention while studying; however, whatever tips you choose, make sure you feel comfortable and energetic while studying.
3. Get involved in societal clubs, organizations:
People can't live without friends. Despite the pandemic, you can have a lot of opportunities to meet new friends and stay connected with society. In every university or college, the Center for International Student will help you to get in touch with other students in your home country and other foreign communities. You can email them and ask for the latest events or social activities. The other way is to follow the school's Instagram, Facebook, Twitter, etc. Also, you can regularly check for school emails via Canvas. There are many important announcements that you don't want to miss. Finally, you may ask for ambassadors to inform you of upcoming events or activities. Those ambassadors know a lot of news and are happy to share the information with you.
As an international student, one of your main goals is to get to know other cultures and religions in different nations, and the best way to do that is through your school clubs or activities. The more connections you have, the more opportunities you get. You can receive advice or notification from other students about scholarships, job offers, or internships. Additionally, you can look for virtual volunteer work at school to fulfill your life with meaningful experiences, which can make your future CV more attractive to human relations. Furthermore, you can have more chances to practice your English communication skills when participating in those clubs. Lastly, you may learn many soft skills about how to run an event, how to create a flyer, or how to send multiple emails in one click, etc. There are numerous fun activities besides lectures in class. Everything is a worthwhile part of your academic journey.
---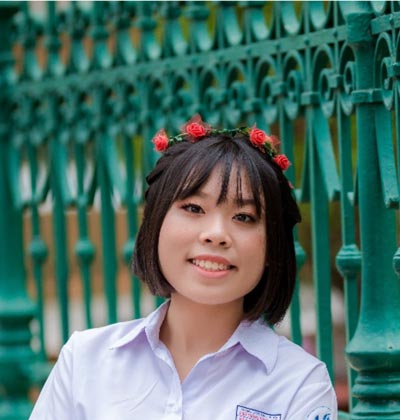 Le Bao Khanh Mai from Viet Nam is an international student studying biomedical science at Hillsborough Community College in Florida. She loves jogging and watching movies.
Written by
Le Bao Khanh Mai
Get matched to the best program for you
Let us know what you're looking for so we can find the best school for you.
$10,000 — $15,000 Year
Undergraduate
2yr/Community College - 2+2 Programs
Bachelor Degree
$5,000—$10,000 Semester
2yr/Community College - 2+2 Programs
Undergraduate
Bachelor Degree
$50,000—$60,000 Year
Masters
Bachelor Degree
Undergraduate
Start your U.S. adventure with Study in the USA
What's your dream? We can guide, advise, and connect you with your perfect U.S. school. We can also help you with the application process.
Partner Services
Learn About U.S. education financing, housing, and more
These plans provide refund insurance coverage for program costs in the event the student has to interrupt their trip for unforeseen covered reasons and withdraw from the program. We offer plans that are available to both K-12 and College Students.
Follow your dreams with the TOEFL iBT® test, which has helped millions of students study abroad.
BECOME SMARTER IN JUST 5 MINUTES. Get the daily email that makes reading the news actually enjoyable. Stay informed and entertained, for free.
Resources
Learn about American culture and education direct from our experts at Study in the USA. Read more