By Minh Anh Ha
Hi everyone, my name is Mina. I'm 16 years old, and I'm an international student from Vietnam. I just came to the United States and became a running-start student in Olympic College more than half a year ago. I'm enjoying the summer in this country, and today I'm going to talk about my second summer trip to Oregon with my host family in five days!
At first, we left our house at 2:00pm in Port Orchard to travel to go to my host sister's fiancé mother's house in Bend, Oregon. It was six hours driving, and that day was the 1st of July. I was excited, because Oregon's landscapes are totally different from Washington's, with many desert lands and soil mountains. We had to take two cars because my entire host family came on the trip. I sat in my host brother's car with one of my host sisters, and we listened to many different types of music while driving. When we arrived at our destination, my host sister's fiancé's family welcomed us with delicious hamburgers and chips for dinner. After that, I changed into my swimsuit and watched the sunset while sitting in the hot tub. It was one of the most beautiful landscapes I have ever seen in my life. In the evening, we watched a movie with ice cream and popcorn. I slept together with all of my host sisters in a big living room upstairs.
The next day, which was the 2nd of July, I woke up early to do homework, and had a big breakfast made by my hostess. It consisted of bacon, scramble eggs, and three pancakes with maple syrup and butter on top. In the afternoon, at 1 o' clock, we went hiking at Tumalo Falls. This waterfall was beautiful, it fell from a very high cliff and looked like sugar being poured majestically. After watching this wonderful waterfall, we hiked along its path deep into the forest. The further we walked, the cooler the temperature became. On either side of the trail were old trees and sneak peeks of the river leading up to the waterfall. While we were walking, many mosquitos followed us. As we kept walking, we found beautiful hidden landscapes, and we took many photos there. It was a total of 4 miles there and back. When we returned home, we filled our hungry stomachs with BBQ and watermelon. Once we were done with dinner, we relaxed in the hot tub again.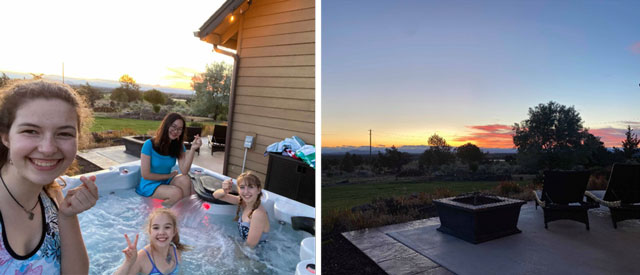 The following day we went to the river that passes through the area where we were staying, and floated down on innertubes and rafts that fit ten people. It was so much fun, and adventurous because we floated for two hours. After floating, we laid down in the sun and picnicked. The adults went to a restaurant while the teenagers and kids made tortilla soup at home. Once the adults returned, we all went in the hot tub and played a game where you have to sing a verse from a song and then the next person's verse has to start with the letter you ended. While we played the song game, we also enjoyed the late evening view of the grass planes and the sunset. On the 4th of July, which is America's Independence Day, we chilled the whole day and played corn hole and had some snacks. In the early evening we had some beer chicken, which I had never had before. After dinner I had s'mores for the first time. To make my s'more, I took a long metal stick and placed a marshmallow on it. While I was roasting my marshmallow, I prepared my chocolate and graham crackers, and placed them near the fire so they could melt. Once the marshmallow was golden brown, I put it between my two graham crackers and formed a sandwich. My smore was so unique and delicious that I couldn't stop eating it even though it was so sweet.
After the s'mores party we played with sparklers to celebrate this country's Independence Day. It was memorable because this was the first time I had ever celebrated the 4th of July like this, and it was totally different from my country's Independence Day. Finally, we went in the hot tub for the last time. On the last day we said goodbye to my host sister's fiancé's family and went to the Catholic church nearby. On our way back home, we stopped at a bakery and indulged in some delicious bagel dogs, which are hot dogs surrounded in a croissant, dipped in ketchup and mustard. We drove six hours back again to our house. It was a long day but it was worth the trip.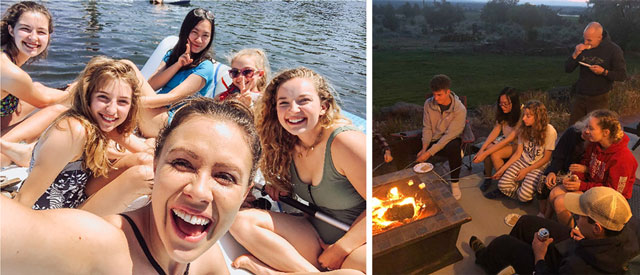 This Oregon trip was my first summer trip with my host family. This is a special trip because I was traveling during America's Independence week. I love America, and I'm looking forward to making more memories and experiences with my host family and friends this summer!
---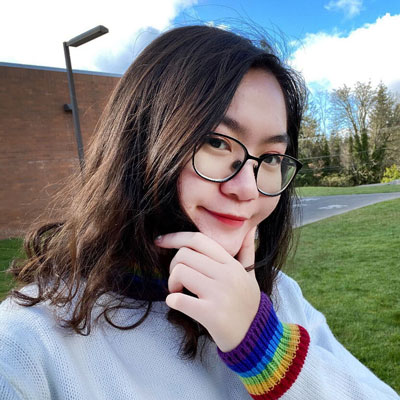 Minh Anh Ha, who goes by Mina, is a 16 year old international student from Vietnam. She is studying at Olympic College in Bremerton, Washington.
Get matched to the best program for you
Let us know what you're looking for so we can find the best school for you.
$10,000 — $15,000 Year
Certificate/Short Term
2yr/Community College - 2+2 Programs
Bachelor Degree
$5,000—$10,000 Semester
2yr/Community College - 2+2 Programs
Certificate/Short Term
Undergraduate
$5,000—$10,000 Year
Bachelor Degree
Undergraduate
English Programs
Start your U.S. adventure with Study in the USA
What's your dream? We can guide, advise, and connect you with your perfect U.S. school. We can also help you with the application process.
Partner Services
Learn About U.S. education financing, housing, and more
Study in the USA's advisors can work with you to navigate the requirements to study abroad in the USA, UK, Canada, and Australia. We help you find the right school and apply.
campusSIMS helps international students get connected with mobile phone service in the US. Through campusSIMS' exclusive partner Mint Mobile, students can sign up and get their US phone number while in their home country, and have mobile phone servic...
SURE offers hassle-free renters insurance that'll protect your clothes, furniture, and even yourself from unexpected damages and injuries. The SURE team will get you set up with a free quote and the correct coverage that you need!
Resources
Learn about American culture and education direct from our experts at Study in the USA. Read more