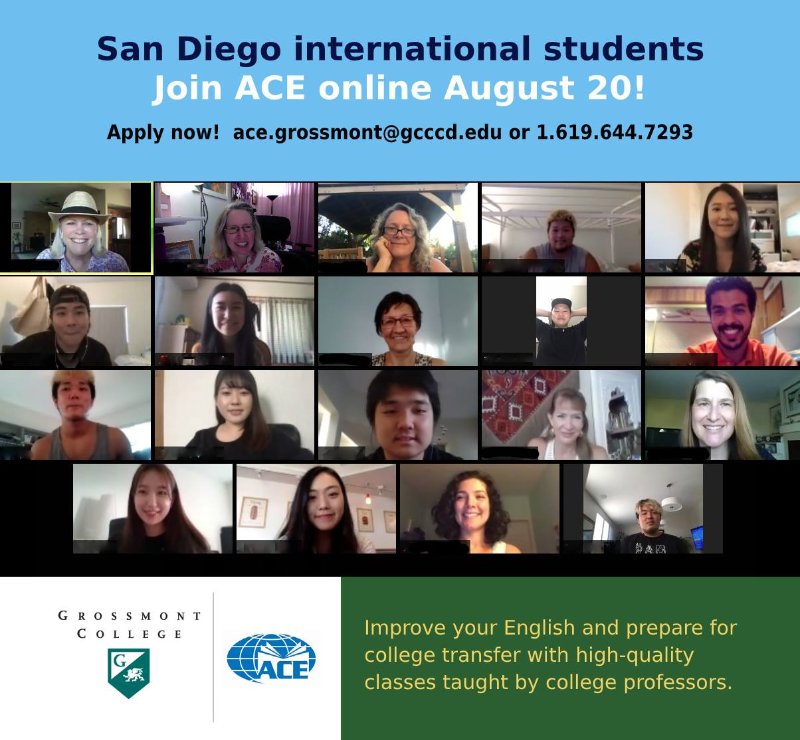 In our effort to bring good content to as many people as possible the text in this blog post has been machine translated so please excuse any mistakes. Thank you!
Join ACE Online this August 20th! Improve your English and prepare for college transfer with high quality classes taught by college professors.
About Grossmont College, American Collegiate English (ACE)
Intermediate-level academic English program
Apply Now: www.grossmont.edu/ace

⭐️Online Fall Session: August 20 - November 25, 2020 (14 weeks)
⭐️Two 45-minute Zoom lessons per day Mondays through Thursdays plus optional enrichment time with professors on Fridays
⭐️Zoom lessons Time of Day: Mornings in Japan/Korea Time= Evenings in USA so we can all be together
⭐️Additional course assignments and class discussions completed via Grossmont College Canvas platform at student's own time as convenient
⭐️Classes: Listening & Speaking, American Pronunciation, Grammar & Writing, Reading & Vocabulary
⭐️All 4 professors have master's degree in TESOL or Applied Linguistics and teach ESL at Grossmont College
⭐️All 4 professors have experience in online teaching, and distance education certification
⭐️With ACE 3.0 grade point average, students become eligible for Grossmont College future admission
⭐️Student administrative support via Zoom, Email, and Skype
⭐️Application fee is $125 (nonrefundable); Tuition is $2,835; Textbooks are approximately $150. No other fees required.