First Week in the United States
By Minh Anh Ha
Hi everyone, my name's Mina, and I'm an international student from Vietnam. I just came here more than half a year ago, but I have done many activities with my host families, school, and friends. Today, I'm going to talk about my first week of living in the United States!

Back to the first week I appeared in the United States, my host family took me to many places. On the second day of my first week, which was December 28th, they took me around the house and to downtown Port Orchard, and instructed me how to catch a ferry to go to school. On the next day, we went to Seattle in the afternoon, and it was also the first time I visited a big city in the United States. We walked around the city. It felt impressive with the museum's unique construction and a busy atmosphere, which is totally different compared to the place we are living. After walking around for a few hours, we went to a shopping mall and met Sarah, one of my host mother's good friends. She brought two girls, and we ate dinner in a fancy Chinese restaurant called "Ding Tai Fung." It was also my first time eating in a restaurant in the United States too, and I recommend this restaurant because the food is tasty. Sarah was so nice to me. After the dinner, I needed to buy a new phone, so she drove us to the Apple store that took one hour to drive from Seattle Transportation Center. After buying my new phone and other necessary devices, we went to a best macaron shop in Seattle called "Lady Yum." I strongly recommend this shop, because there are more than twenty macaron flavors with many cute desserts and good tea, and the store is pretty too. After buying all of the macaron flavors in the shop, we went to Sarah's house and prayed a rosary, because we were all Catholic. On the 29th of December in the early evening, my host family took me to a delicious hamburger restaurant in Gig Harbor called "The Gourmet Burger Shop." I love this restaurant because they always give people big hamburgers with many chips, French fries, or other side dishes. I also had an Oreo ice cream, and I had to share my food with my host sister because the food was too much for me. After that, we went to the zoo to see zoo lights. Because Christmas just occurred a few days ago at that time, the zoo was decorated with lights for people to go there to enjoy at the night time.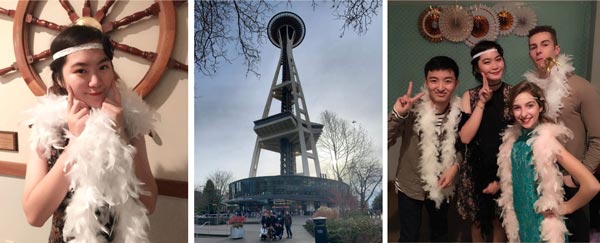 On the next day, I spent the whole day to take a rest because I was really tired. Also, I needed to keep the energy to celebrate New Year's Eve too. On the following day, 31st December, I went to school to participate in the "Open day," which was also a welcome day for new international students in the school. On the evening, my host family and I went to Sarah's house and had a sweet dinner together. We prayed a rosary again, and it was a warm evening. On 1st January, I ate pancakes for breakfast in my host family's neighbor house, and had a whole day off. The next day was a surprise day for me. I went to school in the morning, and when I came back home, my host sisters invited me to a swing dance party. I have never joined a dance party before, so my host sisters helped me to dress up, and then all of the kids in my host family went to the party with me too. The ticket for the party was ten dollars per person, but it worth for me, because this party could help me to understand more about American culture. At the party, I met my Japanese friend from school. He was my first friend whom I met in the airport since I came here. He said he was invited to this dance party by his host family too. We spent time together to talk and tried to learn how to dance. During a party, I was invited to dance by an American guy, and he was a professional dancer. He taught me how to move in the right way and helped me to enjoy the party better. After the party ended, my host family, my Japanese friend, and I took some good pictures, then we went home. On the following day, I went to Seattle with a group of international students from the school. It was a fun day. We went to see many famous places in this big city like the first Starbucks shop in the world, the Public Market, the Gum Wall, China Town, etc. Besides that, we went on the monorail and ate lunch at the Seattle Center. In the evening, I went to another American traditional dance class with my host family and was invited to dance one more time. It was a long day, but I felt happy and enjoyable.
The first week in the United States was a really busy week for me, because many things had happened. I enjoyed this first week, and I think it was one of my most beautiful memories of studying abroad in this country!
---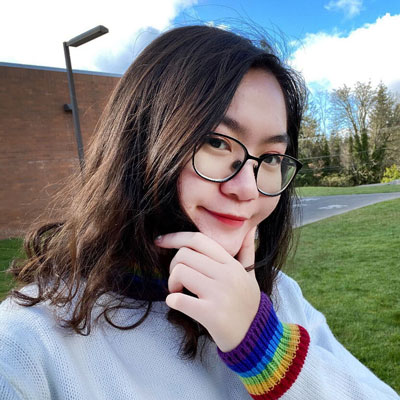 Minh Anh Ha, who goes by Mina, is a 16 year old international student from Vietnam. She is studying at Olympic College in Bremerton, Washington.
Get matched to the best program for you
Let us know what you're looking for so we can find the best school for you.
$10,000 — $15,000 Year
Certificate/Short Term
2yr/Community College - 2+2 Programs
Undergraduate
$5,000—$10,000 Semester
2yr/Community College - 2+2 Programs
Undergraduate
Bachelor Degree
$20,000—$25,000 Year
Undergraduate
Online
Masters
Start your U.S. adventure with Study in the USA
What's your dream? We can guide, advise, and connect you with your perfect U.S. school. We can also help you with the application process.
Partner Services
Learn About U.S. education financing, housing, and more
MPOWER Financing is the top-rated lender offering international student loans without cosigners, collateral, or credit history for global citizens, PLUS international student scholarships & career coaching! Fully online application, 96% customer...
Follow your dreams with the TOEFL iBT® test, which has helped millions of students study abroad.
Most U.S. apartments come unfurnished. Make your move easy with a student furniture rental package from CORT. Flexible lease terms. Delivered before you arrive. Starting at $99 per month.* *with a 12-month lease
Resources
Learn about American culture and education direct from our experts at Study in the USA. Read more