First Summer Trip in The United States!
By Minh Anh Ha
Hi everyone! My name is Minh Anh, but you can call me Mina. I'm an international student in the U.S, and I'm from Vietnam. I'm just studying abroad for half a year, and I just came back from my first summer vacation in the U.S! Today I'm going to talk about my experiences during my first summer vacation 2020 in Leavenworth, Washington.
Leavenworth is a Bavarian-styled village in the Cascade Mountains, in central Washington State. This little village is full of Alpine-style buildings, with many European-style restaurants serving German beer. Also, this village is covered by beautiful nature, with many parks, fun sports and activities to do like horse riding, kayaking, Leavenworth zipline, and parachuting.
On the first day of the trip, which was June 22nd, I woke up at 8 o'clock, ready to go to Bremerton Transportation Center. On this trip, there were four people including me. Others were my good friends in the school. A few days ago, we had booked the hotel online with an appropriate price. I found a cheap but quality hotel through the website called "priceline.com," which was recommended by my host family. We also plan where to go on the first day of the short vacation too. This trip converged different nationalities, including my good Vietnamese friend, Korean friend, and Japanese friend! We decided to meet at Bremerton Transportation Center, which is convenient for everyone.
At 10:00 am, we all met each other, and my Korean friend drove us with his own car. In America, using cars is much cheaper than public transportation, so we decided to use a car as our vehicle and shared the gas fees together. It took us about three hours to travel to Leavenworth, so we stopped at the Starbucks store located on the way to the destination to have a break, and stopped at McDonald's in Leavenworth to buy lunch. I loved the building of this famous fast food restaurant in Leavenworth, because it was cute and different from other restaurants in cities. After that, we went to a park near downtown Leavenworth and enjoyed eating, soaking in the fresh air, and talking with each other. After that, we checked into our rooms, and walked around the town. Downtown Leavenworth struck me as a cute town with pretty and unique buildings that reminded me of a German town in the 1990s. The town was decorated with lamps, purple and pink flower baskets, and balconies. The background of the town was covered by gorgeous mountains. We also went to a must visit place called "Nutcracker Museum." There, I participated in a scavenger hunt, and met a 95-year-old woman who used to make nutcracker dolls, which gave her the nickname "Nutcracker lady." While we were there, we watched a short performance of German streets entertainers playing traditional music. Before going to our next stop, we picked up some delicious ice cream. After sightseeing for a while, we went to Waterfront Park near the town and viewed Blackbird island, a beautiful landscape in the park. When we were back at our hotel, my Japanese friend served us a traditional Japanese meal consisting of rice and beef. After dinner, we planned our next days, and returned to our rooms to get ready for tomorrow. I went to bed at 1 o'clock!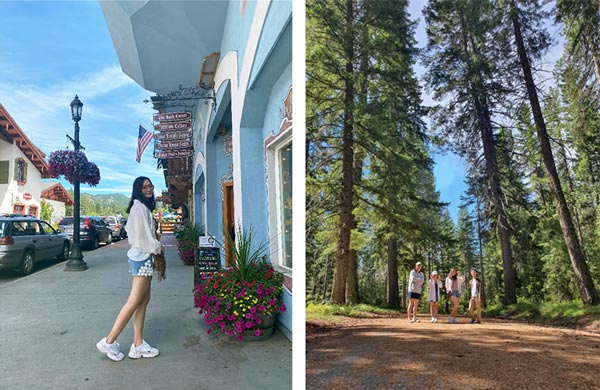 Next morning, I woke up at 8 o'clock, which is early for me. We went hiking at Lake Wenatchee State Park, which is located twenty minutes away from our hotel, and took some cool group pictures. This place was full of tall evergreen trees which reflected on the clear lake water. With all of these beautiful sights, I was getting hungry. We decided to eat at a famous restaurant in Leavenworth called "Munchen Haus," which served German bratwursts. The food was amazing, and I recommend this restaurant! After lunch, we went back to a hotel for a break. We planned on kayaking, but because of the pandemic, the kayaks weren't available. Because of that, we went downtown again, took many pictures, and bought Italian sodas to cool us off from the heat. Since we were already downtown, we decided to go shopping, and I bought some gifts for my parents. We went to a German sausage's shop and bought wonderful Chorizo sausages, which is my favorite type of sausage for dinner. Besides that, we found a really good Italian pizza restaurant called "Rudloof's Pizza Und Brats," we ordered a huge Teriyaki chicken pizza. I suggest this restaurant as well, because the pizza was large, tasty, filling, and an appropriate price. After eating, we played poker, black jack, and many other card games until midnight.
On the last day, I woke up at 8:30 am, and handled all the payments that my friends and I split. Then we checked out of our hotel, and went to the candy factory. I don't recommend buying food from the candy factory, because it looked old. After that, we went back downtown for the last time, and I bought unique candies to share with my host family. Not much happened on the last day, because we had to be back at a certain time. On our way back, I was tired and almost slept during the whole ride.
This trip is the first one that I was independent and traveled only with my friends. Because they are older than me, and have many life experiences, so I have learnt a lot of knowledge and life skills from them. Also, I traveled during the pandemic, so many activities have been canceled, but in the end, it was a fun and memorable trip. Finally, if you have an opportunity, I highly recommend you to travel to Leavenworth for three days to relax and do some cool activities, unique sports!
---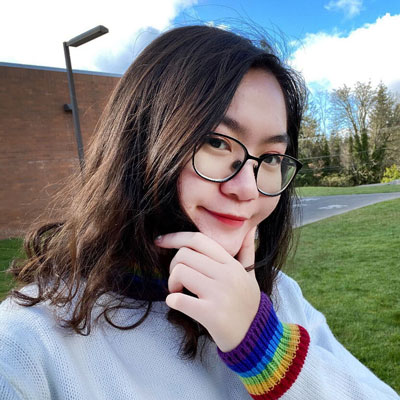 Minh Anh Ha, who goes by Mina, is a 16 year old international student from Vietnam. She is studying at Olympic College in Bremerton, Washington.
Get matched to the best program for you
Let us know what you're looking for so we can find the best school for you.
$5,000—$10,000 Semester
Online
English Programs
Masters
$10,000 — $15,000 Semester
Bachelor Degree
English Programs
Certificate/Short Term
$5,000—$10,000 Session
English Programs
Certificate/Short Term
Masters
Start your U.S. adventure with Study in the USA
What's your dream? We can guide, advise, and connect you with your perfect U.S. school. We can also help you with the application process.
Partner Services
Learn About U.S. education financing, housing, and more
IELTS is the world's most popular English language proficiency test for higher education and global migration. It is accepted by more than 3,400 institutions in the US. If you want to study in the US, IELTS can help you get there!
Join over 6 million people and businesses who get a better deal when they send money with the real exchange rate.
campusSIMS helps students get connected with mobile phone service in the US. Get a US phone number while in your home country so you have service that's ready as soon as you land. Plans start as low as $15/month.
Testimonials
StudyUSA has allowed me to be accepted to one of the best universities in USA meaning I'm one step away to reaching my dream of studying in the USA.
Winnie Keakantse Botswana
StudyUSA.com has helped me on the process of searching for good and inexpensive colleges around the US.
StudyUSA.com helped me on how to apply to study abroad precisely by showing how to select schools related to my goals. I sincerely wish to thank you for your everlasting support you bring to us. May continue in that spirit and i wish you all the best in your endeavors.
FRANCK MATHAUS DOUANDJI Cameroon
Resources
Learn about American culture and education direct from our experts at Study in the USA. Read more