Scholarship Opportunities!
By Sabina Charyyeva
Education can make one's future bright and successful. Around the world, the percentage of students studying increases every year due to many specific possibilities such as scholarships, financial abilities, exchange and research programs, employment opportunities, and many more.

But there is only one thing. Studying abroad is never cheap. And since the United States has a higher education system, it is considered as one of the most expensive countries for getting an education.

Guess what? Here I am to help you with some necessary information on wonderful scholarship opportunities which might help you save and reduce your costs!

#1. Whether it's a family financial problem or your strong desire to be a merit student, always look and ask for scholarship opportunities when applying for college!

#2. Look at your hobbies in a new way. You may not think of your hobbies and interests as a way to help pay for school, but you should. There are various college scholarships out there for everyone: all-star athletes, crafters, gamers, vegans, green thumbs, Trekkies — you name it. Scholarships aren't just for straight-A students!

#3. Register for Scholarship Search. The free Google Scholarship Search tool gives you access to 5 million scholarships worth up to $24 billion. It helps you find scholarships that match your skills, activities, and interests. You can even set up customized alerts to notify you when a new scholarship that matches your profile becomes available!

#4. Meet with your school counselor and others. Discuss your plan to pay for college with your school counselor, and ask about scholarship opportunities that might be right for you. Also, keep your eyes and ears open in your community. You might hear of college scholarship opportunities through your government, your job, or other educational programs, such as EducationUSA!

#5. Apply for scholarships early and often! Some scholarship deadlines are as early as a year before you start college. You don't need to wait until you've made your final decision about your school to apply.

#6. As you get ready to apply for college scholarships, keep in mind that different scholarships have their own qualifying criteria and require certain documents. Be careful, thorough, honest, proactive, diligent and on time!

If it sounds too easy, that's because it actually is easy to apply for scholarships. Some may require that you put in some time, but once you've completed an application or two, you might find it will get easier and take less time with each additional scholarship application. Don't psych yourself out or let yourself get overwhelmed by all you need to do before you graduate high school.

Your hard work and dedication will pay off, literally! And remember: you're not alone. Many students feel unprepared when they're starting the process, but with a little research, preparation and help from scholarships.com, you could be on your way to an impressive financial aid package. You got this!
---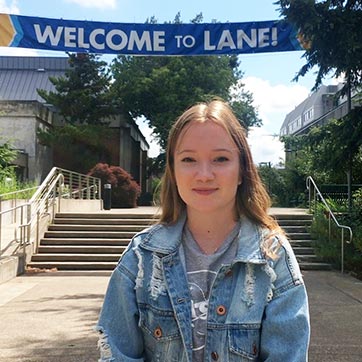 Sabina Charyyeva from Ashgabat, Turkmenistan, is studying international studies at Lane Community College. She is Interested in pursuing a career in the peace & conflict resolution field and is willing to work for the United Nations in the future. Sabina loves Lane Community College because of the wonderful friendly environment and the international programs! Her hobby is music, and she also loves American fast food!

Written by
Sabina Charyyeva
Get matched to the best program for you
Let us know what you're looking for so we can find the best school for you.
$10,000 — $15,000 Year
English Programs
Summer
Online
$1,000—$5,000 Semester
2yr/Community College - 2+2 Programs
English Programs
Bachelor Degree
$1,000—$5,000 Session
Secondary/Boarding
English Programs
2yr/Community College - 2+2 Programs
Start your U.S. adventure with Study in the USA
What's your dream? We can guide, advise, and connect you with your perfect U.S. school. We can also help you with the application process.
Partner Services
Learn About U.S. education financing, housing, and more
TestDEN's Online TOEFL Test Prep is just what you need to quickly and effectively prepare for the TOEFL test. Since 1998, TestDEN has helped tens of thousands of students raise their TOEFL scores.
The JOB+ Career Accelerator gives you the work experience, career coaching and professional network you need to get a great graduate job.
MPOWER Financing is the top-rated lender offering international student loans without cosigners, collateral, or credit history for global citizens, PLUS international student scholarships & career coaching! Fully online application, 96% customer...
Testimonials
I found a lot of useful articles on StudyUSA.com, especially under the Student Voices section. I have been recommending the website to my friends back at my home country who are interested in coming to America to study.
I've always wanted to live in another country, but I always thought that was not possible for me. When I start following Study in USA, I saw that it's not that hard. All the emails that most people think it's not important, it was very important to me because it showed me my options and how to do it, now I planned everything and I'm very happy with that.
I wish I had found Study in the USA earlier. They have such a presence and strive to help anyone make their dreams come true.
Boa Astrid Haegg Wass Sweden
Resources
Learn about American culture and education direct from our experts at Study in the USA. Read more