Three Aspects of Being a Multimedia Major
In this post I am going to share a bit of my personal experience being a multimedia major. I love creating and innovating, and that passion allows me to get all through the ups and downs of completing a big project.

As a reminder, this is only my point of view, and of course personal experiences will vary from person to person.

I believe a multimedia major or any art-based major, such as graphic and web design, requires a lot of effort and dedication. If you are still exploring a career it is always a good opportunity to try classes and decide right away if that is the path you want to pursue. Media Arts can be a very practical career and you will need to be always prepared to get out there and start creating. I am going to share some information about resources available to students, the unique classroom environment of Media Arts, and the networking opportunities that await.
Resources available for students
A typical media arts program in the United States can offer a wide variety of campus resources to support students, providing them a dynamic space to work in and to develop projects in. In my case at Lane Community College, students of media arts programs have dope facilities that are dedicated exclusively to those students studying media arts, including computer labs, personal tutoring, printers and scanners, fully-equipped studios dedicated to photography and audio production, all with state-of-the-art tools that get things done. And my favorite perk is our ability to check out gear! I can get my lovely little hands on fantastic toys like professional-grade DSLR cameras, disco lights, lenses, sniper scopes, microphones, audio recorders, and so much more; It is very convenient for students who not only can't afford to buy the gear on their own but also those that are still learning what gear works the best.
Classroom environment
Professors are also an important staple in helping students' projects flourish. Throughout my journey, I have had amazing professors that have always been supportive of my creative vision. They employ innovative teaching methods to engage students dynamically, by incentivizing creative thinking. Instructors are very important in creating connections in the classroom, however, your classmates also have an important role in your learning process. As a creator, you will be spending lots of time collaborating with other students in your classroom to create projects and share knowledge with each other.
Network opportunity
Your classmates can also be a big influence to do networking, which is getting to know people and what they do. You may even start creating new stuff together, even a new business. Networking is very important in the art field because most of the time you will need a reference for a job opportunity or even a job opportunity!

My Instructors like to announce activities, events, and contests in the classroom to help us create connections and get to know how the market is for media art. We as creators have to try to always get involved with events to start getting skills of how to be a better communicator or even just for learning a new art technique. Those things also stimulate our creative thinking.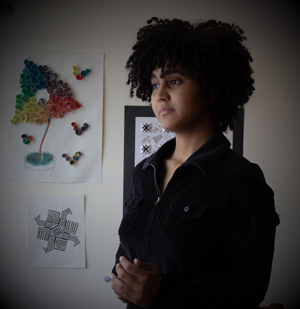 Sara Baptista, from Praia, Cabo Verde, is studying multimedia design at Lane Community College. She loves being involved with activities and she enjoys doing arts and crafts. One of the things she loves the most at Lane is the opportunity that multimedia design students have to access gear (cameras, tripods, microphones...), studios, and computer labs to use in their courses.
Get matched to the best program for you
Let us know what you're looking for so we can find the best school for you.
$5,000—$10,000 Semester
Undergraduate
2yr/Community College - 2+2 Programs
Certificate/Short Term
$10,000 — $15,000 Year
Bachelor Degree
2yr/Community College - 2+2 Programs
Certificate/Short Term
$20,000—$25,000 Semester
Summer
Undergraduate
Secondary/Boarding
Start your U.S. adventure with Study in the USA
What's your dream? We can guide, advise, and connect you with your perfect U.S. school. We can also help you with the application process.
Partner Services
Learn About U.S. education financing, housing, and more
MPOWER Financing is the top-rated lender offering international student loans without cosigners, collateral, or credit history for global citizens, PLUS international student scholarships & career coaching! Fully online application, 96% customer...
TestDEN's Online TOEFL Test Prep is just what you need to quickly and effectively prepare for the TOEFL test. Since 1998, TestDEN has helped tens of thousands of students raise their TOEFL scores.
Study in the USA's advisors can work with you to navigate the requirements to study abroad in the USA, UK, Canada, and Australia. We help you find the right school and apply.
Resources
Learn about American culture and education direct from our experts at Study in the USA. Read more