By Valeria Saborio
As an international student studying in the U.S., one of the biggest challenges we run into is the occasional homesickness. Add on to that a layer of COVID-19 stress and quarantines and the idea of not being able to see your family back home for a while, and you start missing them even more. The good thing is you're flooded with warm memories of shared times and it immediately puts a smile on your face. That's why I'm writing about my dad today so you get the picture.
Meet Juan Pablo Saborio, one of the most passionate naturalist tour managers you will ever find in Costa Rica, and lucky for me, he also happens to be my dad!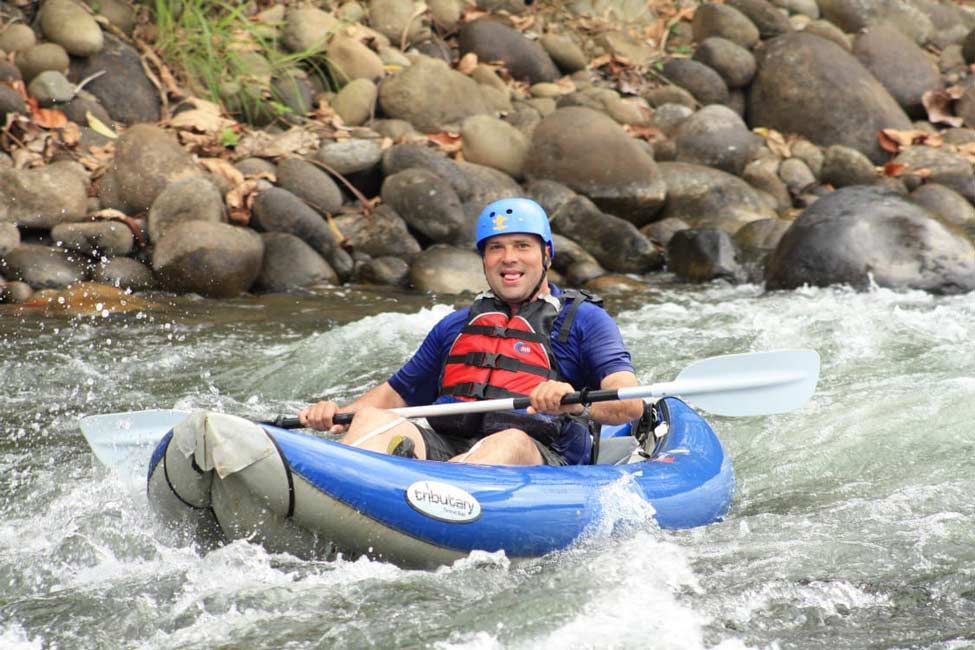 One of my earliest memories growing up is getting up really early in the morning to go on a day tour of Tortuga Island with my family. With my dad, the tour manager of Calypso Island Cruises at the time, we would sail through the Pacific Ocean in a jet-powered, 70-foot catamaran called "Mantaraya." I remember hearing my dad's voice through the speakers on the catamaran as he would give a detailed and vivid explanation of the ocean life we were seeing on our way to the island, such as dolphins and manta rays. The tourists were blown away by all the natural beauty, and I felt like the proudest little girl to see my dad doing what he loved. Then we would arrive at Tortuga Island where we would spend the day exploring the beach, coral reefs, and around, and getting to know tourists from all over the world. My mom would take care of my little brothers and me, and my dad would run around making sure everybody was okay and well taken care of. Then we would all come together for lunch, which included tropical fruits, and enjoy our day in paradise.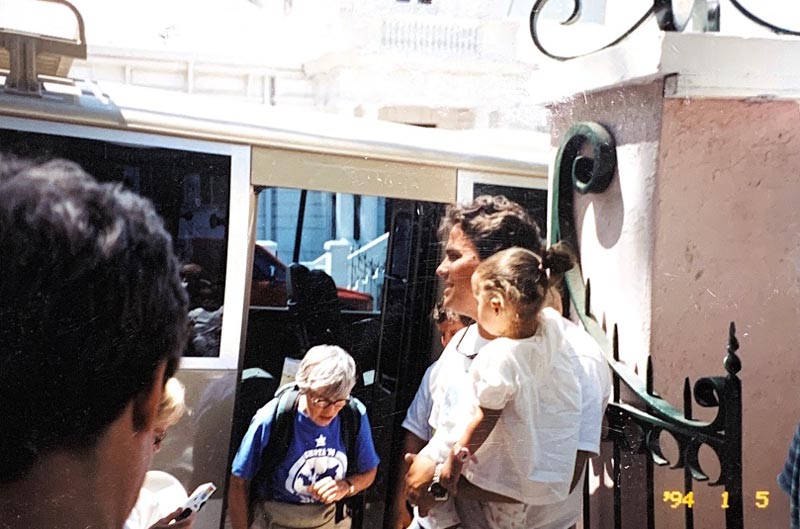 This was one of the many trips to volcanoes, waterfalls, rainforests, and many beaches I was blessed to explore while growing up. Through these adventures, my dad made me appreciate nature on a whole new level, and I hold the sweetest memories watching him talk about our Costa Rican culture and biodiversity to hundreds of people with so much passion, love. and pride. I am so thankful I was born Costa Rican but even more thankful that my dad decided to pursue his dream job and share his joy with us.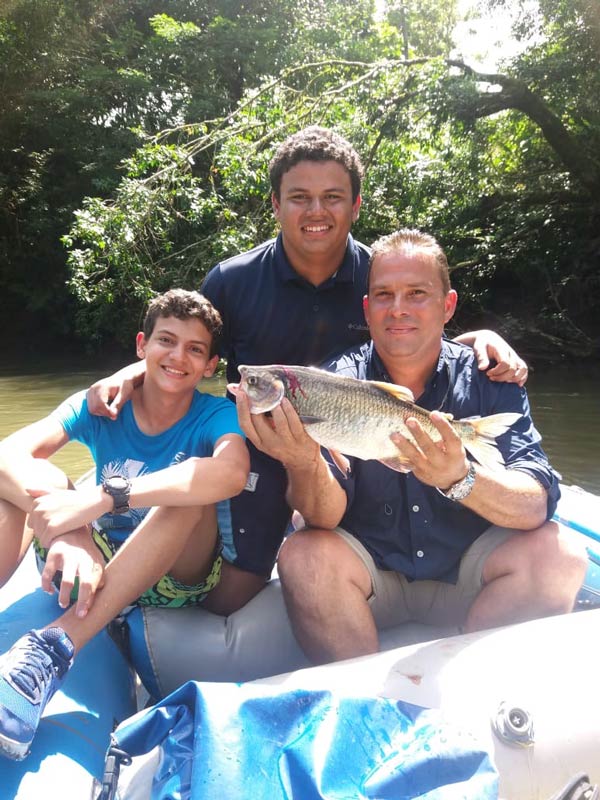 My dad was introduced to the great outdoors at an early age by his uncle who was an avid fisherman. "From an early age I knew I wanted to make a living outdoors. Some kids aspire to be ball players or astronauts. I wanted to be a naturalist guide." And so he did. After living for 13 years abroad in Panama, Ecuador, Honduras, and California, he returned to Costa Rica with a deep yearning for the outdoors. He took natural history courses at the National Learning Center in Costa Rica, and the rest is history. Now, 25 years in, he has guided all ranges of people, from scientists and biologists to ornithologists and nature lovers from all over the world. He has worked with more than four companies over the years, including National Geographic, touring in both Costa Rica and Panama. The most rewarding experience for him has been being able to set aside nearly 200 acres of rainforest for conservation alongside numerous other tour guides and tourists.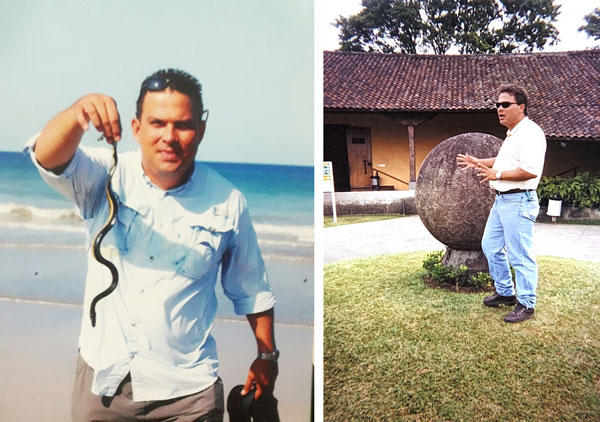 As I grew older, my dad started sharing more of Costa Rica's history with me. "Blessed is the Costa Rican mother, who knows at birth that her son will never be a soldier," he would say, after he explained to me how Costa Rica abolished the army in 1948 to spend more of its resources on education and health. He also proudly shared about former Costa Rican President Oscar Arias being awarded the Nobel Peace Prize in 1987, after leading a peace plan with Central American heads of state to agree on economic cooperation and conflict resolution.
One of the traits I admire the most about my dad is his adventurous spirit and his thirst for learning. He is never afraid to try new things, explore new places, and he fearlessly faces new challenges every day while also taking care of those around him. He loves to read and research. His topics of interest vary from world history, biology, technology, and renewable energies. His sense of humor and charisma make him one of my favorite people in the world, and I hope I get to be like him when I grow up.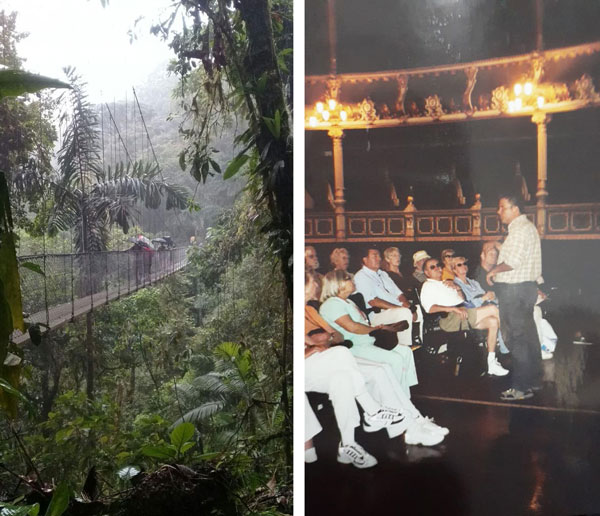 One of the sweetest childhood memories I have is of my dad coming home from his tours. My mom would dress my brothers and me in typical Costa Rican outfits, and we would drive to the hotel my dad was coming back to after giving his tour around the country. My brothers and I excitedly waited in our cute outfits at the hotel lobby until we would see my dad come in with all the tourists behind him. We would run up to him full of joy, meeting all his new friends and introducing our mom as well. Those were such beautiful moments I will always cherish in my heart!
Papi, as you are reading this I want you to know how proud I am to be your daughter and how happy I am that you chose to follow your dreams. Thank you for sharing your love for our country and nature with so many throughout the years. My brothers and I will always feel honored to have experienced all these adventures and learned so much from you. I love you so much!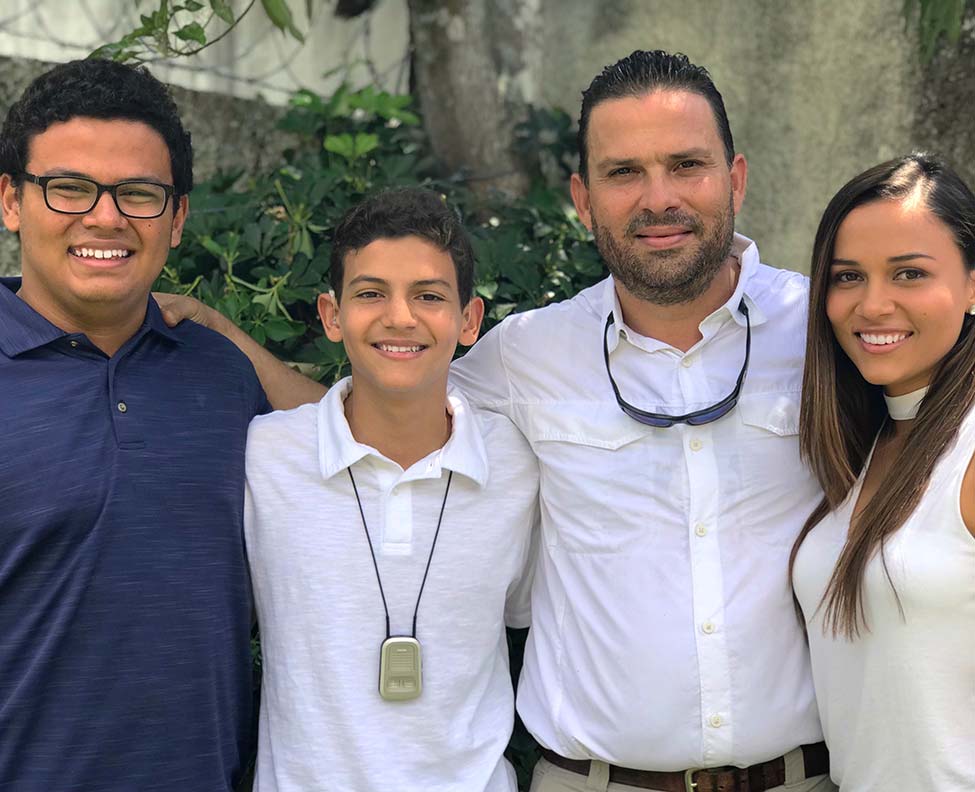 Valeria Saborio is from Costa Rica and is pursuing her industrial and systems engineering degree at Truckee Meadows Community College in Reno, Nevada.
Written by
Valeria Saborio
Get matched to the best program for you
Let us know what you're looking for so we can find the best school for you.
$5,000—$10,000 Semester
English Programs
Certificate/Short Term
Summer
$40,000—$45,000 Year
Summer
Secondary/Boarding
English Programs
$15,000—$20,000 Year
2yr/Community College - 2+2 Programs
English Programs
Bachelor Degree
Start your U.S. adventure with Study in the USA
What's your dream? We can guide, advise, and connect you with your perfect U.S. school. We can also help you with the application process.
Partner Services
Learn About U.S. education financing, housing, and more
Let us help you through your U.S. visa application process. GET STARTED NOW!
Ready to make your MBA dreams a reality? Register now for a virtual or in-person event with The MBA Tour! Don't miss your chance to speak directly with leading business schools, such as Harvard University, Boston University, Columbia University, UC...
Career Premium Offers Virtual Internships for International Students. You can now apply for a virtual internship and prepare for the global workforce from anywhere in the world. Internships are extremely flexible and run throughout the year, so you c...
Testimonials
Study in the USA provided me with a lot of information about the program I was interested in at my university. I was able to get all sorts of statistics, as well as learn about the internships I could apply to while at the university.
I read about many blogs and student experiences on Study in the USA's website that helped me make sure that I wanted to study in the USA.
Nicole Winter Ramos Pereira Brazil
I read the information found on StudyUSA.com and it helped me understand the process of applying in the USA. I have also talked to a StudyUSA counselor and she helped me with the things I struggle with like my essay for college application. StudyUSA give me the information I needed.
Resources
Learn about American culture and education direct from our experts at Study in the USA. Read more