The United States at the Moment
Photo credit by https://commons.wikimedia.org/wiki/File:Des_Moines_Protests_George_Floyd_Murder_(49951033732).jpg
---
By Minh Anh Ha
Hi everyone! My name is Mina, and I'm an international student from Vietnam. I'm studying abroad at Olympic College in Washington state, and I just came here last December. As you know, we are all in the hard period of time, because the pandemic still happens everywhere. In the U.S., the situation is worse, because besides the significance of Covid-19, the death of George Floyd has started the protest, which is still happening almost everywhere in the U.S. and even some other countries too. As an international student in the United States, I want to share with everyone about information from the U.S. at this time, and how an international student should react to these situations.

The current pandemic started from China, and accidently came to the U.S., because there were too many people traveling. Each year, there are millions of people from different nationalities come to the U.S. Particularly, in 2016, there were 1.8 million immigrants likely to have arrived in this country, matching the highest level in U.S. history. International travel made opportunities for the pandemic to move faster, and America became the country that has the most significant pandemic cases and deaths in the world. As of the present time, this country has more than two million cases and more than one hundred thousand deaths.
In my opinion, another reason why the pandemic moved so fast is because Americans didn't want to stay at home, and they are pretty easy going about the pandemic when there were just a few cases in this country. Americans are dynamic and athletic people. They love freedom, traveling, hanging out with friends or family, and love doing exercises, activities. They hardly can suffer from staying at home. Because of that, they didn't expect the pandemic to come so fast and so significantly. At the moment, a lot of schools and companies have opened again and become normal in other countries, but in the U.S., there aren't many working places open, all of the schools are still online, and in my school, it will prolong until the end of the year.

The pandemic is still happening, but the U.S. is faced with a new issue: the protests for "Black Lives Matter" are happening everywhere. The protests began in the whole country after the death of a 46-year-old black man George Floyd on May 25, 2020. He was killed in Minneapolis, Minnesota, during an arrest for allegedly using a counterfeit bill. The protests started just a few days later. Many people of different nationalities have joined this protest everywhere. A lot of people held up signs with phrases like "Black Lives Matter" and "I can't breathe" — which is a sentence that George Floyd said before his death. "Black Lives Matter," or "BLM," is actually an international human rights movement, a nonprofit global organization in the U.S., UK, and Canada. The main purpose of this movement is eradicating violence and systemic racism towards black people.
At the beginning of the protests, people have used this protest to commit criminal acts like vandalizing shopping malls, restaurants, etc. This is totally opposite from the purpose of the movement. The protest happened significantly in many big cities. I have a friend in Seattle, and she said that people were destroying malls, restaurants, milk tea shops, and even her neighbors' house.

As an international student, I think the best thing to do for students who are studying abroad like me is stay at home. I'm not saying that you can't join the movements, but you can do it online by using social media. Americans join the protest because they have to fight for their rights to the country, but most of us are not Americans, so if we join the movement and unluckily, it becomes chaos, and the police arrested us, what should we do? We may be kicked out of the country and couldn't continue our studying, and of course, no one wants that risk to happen. Instead of going outside to make the pandemic worse and bring risks to ourselves, why don't we just stay home, using all of the social media that we have to join "Black Lives Matter"? We all know that the internet has a really big affect on society, so it is a safer way to join the movements. This is my advice for students who are studying abroad. Moreover, Americans have the right to say whatever they want, even judging their president, but I feel we can't speak freely like them, because we are just international students, so I think we have to be careful of what we will say about their government and politics.

Finally, I just want to say that, no matter what country we study abroad in, there are always risks. Because of that, we need to stay safe, judge situations thoughtfully, and choose the most beneficial way to live in that country.
---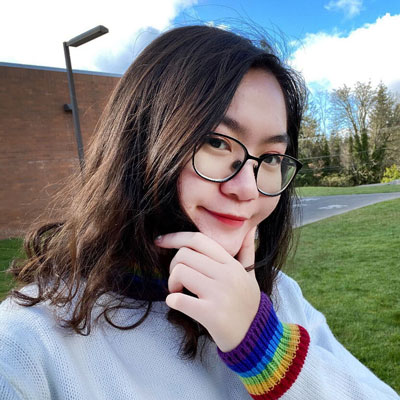 Minh Anh Ha, who goes by Mina, is a 16 year old international student from Vietnam. She is studying at Olympic College in Bremerton, Washington.

Get matched to the best program for you
Let us know what you're looking for so we can find the best school for you.
$10,000 — $15,000 Year
Certificate/Short Term
Bachelor Degree
Undergraduate
$5,000—$10,000 Semester
2yr/Community College - 2+2 Programs
Bachelor Degree
Undergraduate
$5,000—$10,000 Year
Undergraduate
Bachelor Degree
English Programs
Start your U.S. adventure with Study in the USA
What's your dream? We can guide, advise, and connect you with your perfect U.S. school. We can also help you with the application process.
Partner Services
Learn About U.S. education financing, housing, and more
Follow your dreams with the TOEFL iBT® test, which has helped millions of students study abroad.
Let us help you through your U.S. visa application process. GET STARTED NOW!
Most U.S. apartments come unfurnished. Make your move easy with a student furniture rental package from CORT. Flexible lease terms. Delivered before you arrive. Starting at $99 per month.* *with a 12-month lease
Resources
Learn about American culture and education direct from our experts at Study in the USA. Read more