Are Scooters an Effective Transportation Option in Austin?
By Miguel Angel Cornelio Martínez
One of the characteristics that surprised me when I got to Austin, Texas, for the first time was its modernity. The big number of motorized scooters that you can find through Austin's streets reflect this contemporary characteristic. A few days ago, I was talking with one of my professors about the efficiency and convenience of using a scooter as one of your daily transport, and I think that the opinions we exchanged are worthy to analyze.
Since the industrial revolution, the transport segment has massively evolved, and the all-new scooters are evidence of this positive change over time. These motorized scooters have an amazing electric system which gives their users a great experience; nevertheless, their introduction in the transport segment is controversial, causing a broad difference of opinions within the society. It may be true that many people have a few concerns towards this way of transport, but I believe that its potential benefits in this segment outweigh its potential dangers to the society.
Not too many years ago, the city of Austin incorporated what is called micromobility services, also known as dockless mobility. It is important to say that these devices differ from other shared mobility services like smart cars, smart electric vehicles, and personally owned bicycles; therefore, they are not part of the same segment of transportation. The current brands with licensed contracts to operate in Austin and that in my opinion are the leaders of the market are Lime, followed by Bird, Jump, and Lyft.
Using micromobility services like scooters implies education, caution, and should always be used safely. However, there are big concerns within the society towards this topic nowadays. For instance, many Austinites argue that scooter users are reckless and do not have the education expected from a rider because they do not follow the laws and regulations implemented by the government; for example, not giving preference to pedestrians, not following the designated areas of usage, or not wearing the required protection.
Although sometimes these situations might be true, in my opinion I think that we cannot generalize because not all scooter users have that behavior. Furthermore, the laws and rules change constantly, so not only the ones in favor of scooters, but also the ones who oppose should get informed about the rules regularly. Furthermore, some pedestrians and drivers are dissatisfied with the micromobility service and they often ask themselves if these electric devices are beneficial for the community. The reality is that they are. These scooters took the transportation segment to the next level and have become extremely popular in cities all around the globe. Compared to my hometown, Austin has a lot more scooters than Queretaro, so definitely as an international student I was amazed when I saw several people happily riding one of those.
All in all, despite the arguments that disagree with scooter usage, these devices revolutionized the transport segment and took it to the next level in just a couple of months. Now these are one of the main transports preferred by most Austinites. There is no doubt that using scooters is fun, easy, fast, and in some cases, even cheaper than other traditional ways of transportation; so in my opinion and personal experience, if you are from a developing city like me and you have never ridden a scooter, I encourage you to hop on to one if you ever go to Austin because even most of the streets of the city are now adapted to make your ride more enjoyable.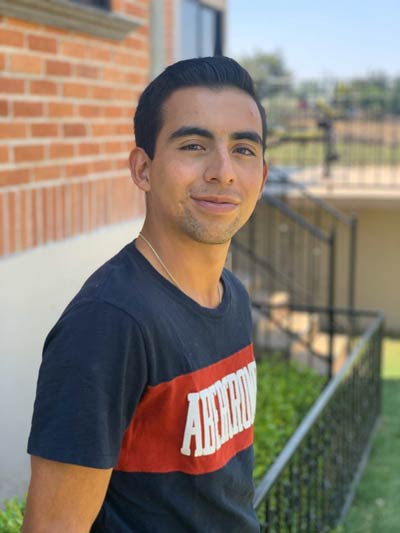 Miguel Angel Cornelio Martínez from Mexico City, Mexico, is studying an intensive English language program at The University of Texas at Austin. He has been residing in the United States for seven months and will start his college studies in August 2020. Miguel loves practicing sports; however, track and field and mountain biking take a deep part of his heart. Miguel finds Austin a great city to study abroad, and he enjoys spending time in its green parks.
Written by
Miguel Angel Cornelio Martínez
Get matched to the best program for you
Let us know what you're looking for so we can find the best school for you.
$10,000 — $15,000 Year
2yr/Community College - 2+2 Programs
Certificate/Short Term
Undergraduate
$5,000—$10,000 Semester
Bachelor Degree
Undergraduate
2yr/Community College - 2+2 Programs
$0-$500 Semester
English Programs
Summer
Online
Start your U.S. adventure with Study in the USA
What's your dream? We can guide, advise, and connect you with your perfect U.S. school. We can also help you with the application process.
Partner Services
Learn About U.S. education financing, housing, and more
Join over 6 million people and businesses who get a better deal when they send money with the real exchange rate.
Ready to take your language learning to the next level? Have you heard about TutorABC, the World's No. 1 Online Platform for Learning English and Chinese? TutorABC is recognized as the top language platform, harnessing innovative technology to offe...
IELTS is the world's most popular English language proficiency test for higher education and global migration. It is accepted by more than 3,400 institutions in the US. If you want to study in the US, IELTS can help you get there!
Resources
Learn about American culture and education direct from our experts at Study in the USA. Read more