The Hard Task of Choosing a Private Dormitory Near UT Austin
By Miguel Angel Cornelio Martínez
First things first. What are private dormitories? In this case, private dormitories or residences are housing complexes managed by private organizations that are leased to students near a university. Because of the popularity of these residences, not all the applicants can be accepted, so an application form and an interview are conducted by the organization. These residences are a very popular option when a student can't afford a private apartment or when there are no more on-campus residences available. Because of its large size and prestige, The University of Texas at Austin (UT Austin) is surrounded by blocks of private dormitories that house thousands of students who attend the campus every day. In June 2019, a couple of months before I started my English as a second language program, I travelled to the capital city of Texas for the second time in my life, and deciding the place where I was going to live was not easy at all. At that time, my main dormitory options were The Callaway House and The Castilian.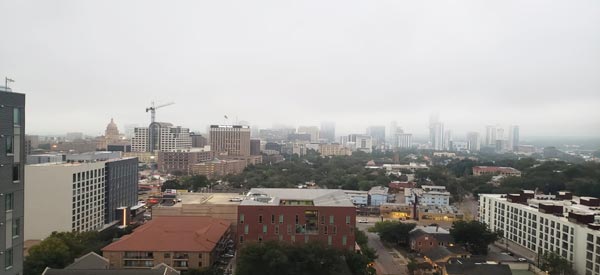 One similarity that these dormitories share is the fact that The Callaway House and The Castilian are part of a huge student housing organization in the nation called American Campus Communities. This enterprise specializes itself in high-quality housing complexes; therefore, the price of the leasing contracts is a factor to consider. Expensive is the right adjective to describe the cost of living in these private dormitories; however, the services that Callaway and The Castilian provide are the expected ones for the amount of money paid. For instance, the dining halls within these complexes are almost as big as a restaurant, with a capacity of approximately 350 persons. Also, the food is served like a buffet, where residents have the option of deciding what to eat depending on their diet and the menu at that moment. Additionally, it is important to say that every meal throughout a day is included in the fee payment and the resident can decide whether to have an unlimited pass to the dining hall or set a weekly limit. Moreover, the gymnasium is another five-star service within these complexes. Inside you can find several machines for all types of exercises and a number of weights, yet the factor that makes doing workout there quite enjoyable is that both weight rooms are located on high floors, with a clear view towards the university buildings, especially the famous UT Tower.
Even though there are several similarities between The Callaway House and The Castilian, some key differences are evident, which are the ones that took me to prefer one over the other. Speaking about amenities, The Callaway House has a well-sized pool where residents can relax or hang out with friends on a sunny day; on the other hand, The Castilian does not have a pool, but if you are more interested in video games, board games, and watching TV, The Castilian has a bigger game room. This game room includes poker tables, foosball, air hockey tables and last but not least, a big movie room with a 60-person capacity. Finally, it is important to say that The Castilian is newer than The Callaway House. This might be an important factor for people seeking a private residence because despite the excellent finishes of Callaway, The Castilian's design and materials used are more contemporary.
Both The Callaway House and The Castilian are excellent private residences with high-quality services that guarantee a five-star stay during your leasing contract; nevertheless, there are key differences between these housing complexes that at the end, it became very hard to make a decision. In my case, however; I chose to live in The Callaway House because of two main reasons. First, because of the pool that during sunny days certainly feels like glory and because I merely liked the floor plans more, which I think are better distributed and organized.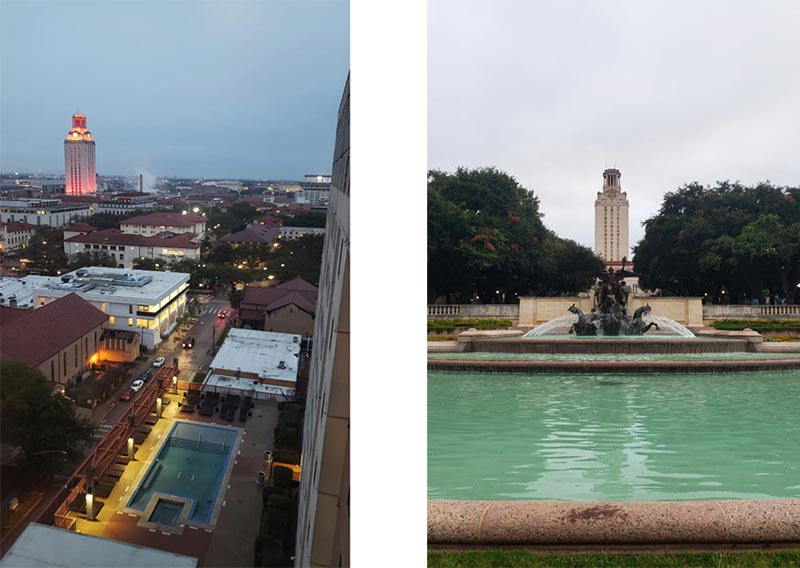 Talking just about The Callaway House, I highly recommend this dormitory because throughout seven months of being by myself residing in a foreign country, I had a blast living at this complex. I made several friends from different parts of the U.S. who helped me to develop myself along in society. For instance, Callaway's staff organizes a lot of activities and gatherings every month, so this helps new students to meet people and start to make friendships. Moreover, Callaway's location is definitely convenient. It is located on the corner of the 22nd street and San Antonio, which is two blocks west of Guadalupe street, one of the main avenues that crosses UT Austin. On Guadalupe you can find several restaurants of all kinds of food and some popular establishments and businesses like AT&T, Target, Starbucks, Wells Fargo, CVS Pharmacy, among others. Multiple stops of public transportation are also near Callaway, which are one of the main city resources that UT students take advantage of.
To finalize, choosing the place where to live is a tough task to do for a foreign student, and much more if there are a lot of options to choose from. In this case, I recommend either The Callaway House or The Castilian if you are looking for quality in all aspects of a private residence in Austin, Texas.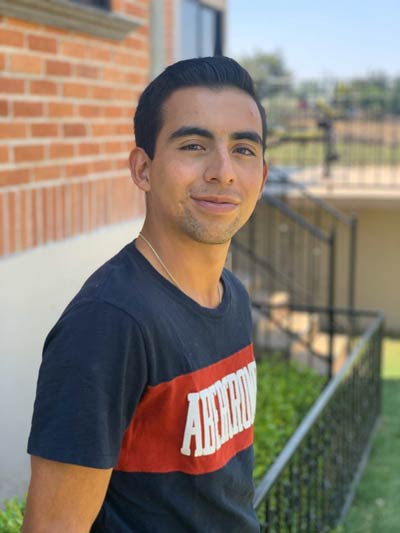 Miguel Angel Cornelio Martínez from Mexico City, Mexico, is studying an intensive English language program at The University of Texas at Austin. He has been residing in the United States for seven months and will start his college studies in August 2020.
Written by
Miguel Angel Cornelio Martínez
Get matched to the best program for you
Let us know what you're looking for so we can find the best school for you.
$20,000—$25,000 Year
2yr/Community College - 2+2 Programs
Masters
Summer
$10,000 — $15,000 Quarter
$1,000—$5,000 Semester
Certificate/Short Term
English Programs
2yr/Community College - 2+2 Programs
Start your U.S. adventure with Study in the USA
What's your dream? We can guide, advise, and connect you with your perfect U.S. school. We can also help you with the application process.
Partner Services
Learn About U.S. education financing, housing, and more
Develop the portfolio and skills you need for your future! Embrace meaningful projects while collaborating with expert mentors and expanding your professional network.
Career Premium Offers Virtual Internships for International Students. You can now apply for a virtual internship and prepare for the global workforce from anywhere in the world. Internships are extremely flexible and run throughout the year, so you c...
Choose an entire apartment, a studio, a shared room, or a private room, with 24x7 assistance from Personal Student Advisors. Book Now!
Testimonials
I had a dream, but I needed to have a project and a plan to achieve that. StudyUSA.com directed me in all of this journey…StudyUsa.com was fundamental in all the process. They showed me the ways and helped me to make the best decisions.
Study in the USA has helped me speak with various schools and know more about schools in the united states. A foundation to my dream
StudyUSA.com has brought me a lot of ideas about USA. Thanks a lot!
Kallol Kumar Bhattacharyya India
Resources
Learn about American culture and education direct from our experts at Study in the USA. Read more