In our effort to bring good content to as many people as possible the text in this blog post has been machine translated so please excuse any mistakes. Thank you!
By Vicky Chong
Hey everyone! This last month has been so exciting and a big part of that was receiving transfer admissions decisions. Last fall, I applied to UC Berkeley (my TOP choice — like so many others), UCLA, UC Santa Barbara, and UC Irvine as an English major and I got. into. all. of. them. I'm as surprised as you are!!!!!!!! But, after the celebration was over, I stepped back and actually gave myself credit for achieving this. It's not totally crazy, I worked so hard, and it paid off! There was a method to this madness of getting accepted into all four schools, and I wanted to share everything I did with all of you!
Though, I should first give you a little background. UC Berkeley has been my dream school since I was in high school and I left my country, Malaysia, just so I could have a chance at achieving this dream. Studying English at Berkeley has been THE goal I set for myself for years, so the driving source behind this achievement was gargantuan. This motivation and pure hunger to make it into Berkeley spurred my perfectionist mentality into doing all the hard work and getting down to the nitty gritty. I maintained a 4.0 CGPA throughout my 5 semesters at Santa Rosa Junior College (SRJC) — in which I took an average of 15 units a semester so I could finish my requirements as soon as possible….and I managed to only spend 1.5 years at SRJC as opposed to a full two years! — which definitely helped my application! But, managing to complete all my requirements at the JC in such a short time wasn't easy, and I needed to get my head in the game from my very first semester at the JC.
My first few months at the JC was filled with a billion meetings with my academic counselor. It helped that I was so sure of my major and I had a clear goal because that allowed me to sit down with her and plan out just what I needed to transfer. Things that you would have seen at each meeting included: my trusty diary planner, Assist.org, and IGETC class requirement forms. Seriously. each. frickin. meeting. Though I can't say I didn't enjoy it! I loved planning out, well, my plan for the upcoming semesters, going through Assist.org to figure out what I needed exactly (no more, no less) to fulfil the requirements for all four schools (I also decided early on which schools I was going to apply to), and picking classes that simultaneously sounded very cool and would also fulfil the IGETC pattern. Soon enough, I had my next year and a half planned out with specific classes I would take each semester. And I loved that feeling! The feeling of knowing exactly what I had to do.... it was very nice to know what my next semester was going to look like.
So, I suppose that was the first step! Having a clear goal and seeing a counselor to make sure you take only exactly what you need, so you don't waste time taking classes that aren't interesting or needed. Of course, my goal was to transfer as soon as possible so this was my strategy. Don't let this fool you, if you are someone who's still deciding their major or university, no sweat! And if you're someone who just prefers to go with the flow (I am wayyyy to high strung for that when it comes to academics though, I will admit), feel free to explore different classes! You don't have to do what I did, but I do advise at least sitting down and talking to your counselor about whatever path you want to take or wherever you are on your journey — it always helps to have at least a rough plan of the direction you're heading. And your counselor is a professional to help you with that!
Of course, as each semester started, there were always some changes to be made to each semester's plan. Sometimes, the timings of the classes didn't align, so I had to switch some classes around, taking one class this semester instead of the next and so on. However, despite these minor changes, my plan stayed relatively the same. I adjusted if needed but made sure I was still on track with my goal.
After my first two semesters, I started to get even more serious and specific about my transfer prep — if I didn't seem crazy about it enough before! I started seeing transfer counselors instead of academic counselors who helped me less with planning my classes but helped me more with making sure I met with each university's requirements. My transfer counselor, Amy, helped me figure out all that nitty gritty stuff: IGETC patterns, reviewing pros and cons of each university, LOTE requirements, and all that fun, fun stuff (I say sarcastically, of course). I made an appointment to meet her basically twice each month (which appears excessive — it probably was), but it really helped me smooth out any kinks I had because I just had so many questions. She also helped me meet with UC representatives so I could talk to them about any specific concerns I had about their universities, and best believe I kept up with all these meeting dates and times! And I know what you're thinking: is it really necessary to do ALL this? And the answer is no. Really, no. I know people who haven't met with a counselor once but got into UCs just fine, since all the information is online. THAT SAID, I was just the kind of person who hated uncertainty and wanted external and professional opinion at every turn, so I made sure to maximize the resources available to me to make sure I made no mistakes. Truly, SRJC's academic counselors (namely Amanda Mansfield) and transfer counselor (Amy Merkel) were TOP NOTCH in helping me every step of the way. In short: SEE YOUR DANG counselorS! Don't make irreversible mistakes, like taking your math class too late so you can't TAG to your safety school (if you're wondering why this example seems so specific, it's because it is specific). To me… I did all I could, but the deadline to complete the math requirement completely went over my head! I took it a semester too late and couldn't TAG to UC Santa Barbara, which was my safety school, so I had to apply normally like everyone else. I also had to apply to an additional school, UC Irvine, as an extra safety safety school.)
Anyway, I also advise touring the schools of your choice if you can. I toured UCLA, and it was so cool getting to see the campus and the library (!!!!!!), and hear about the classes offered there. I also visited UC Berkeley's campus more times than I needed because I just loved it there so much! I loved exploring the Berkeley area and college town and feeling the energy that it exudes. It was a hard toss up between deciding between UCLA and UC Berkeley (yes, Berkeley was my dream but I also loved LA and wanted to treat UCLA like a real option too, just in case I didn't get into Berkeley or if the Berkeley dream ended up souring. Which it didn't). After touring two campuses, I realized that personally, I loved the energy at Berkeley a lot more. It just felt right for me. I loved the idea of being in such a modern college town, where everyone went to the same school and was part of the same community, making it feel so homely. Like you could really belong there. Whereas with LA, you had to share the rest of the city with, well, the rest of the city. The campus felt small because it was only a small part of LA, and your community is then only so big. THAT SAID, this is a completely personal decision and preference, just follow what feels right. I am SO lucky Berkeley felt right (it would have been heartbreaking if I didn't like Berkeley after all, after dreaming about it for so long). Bottom line: trust the vibes!!!
Okay okay, all that transfer prep is great, but it's not going to get you in if you don't apply. And the application progress was even more stressful! Around the month of October, SRJC's transfer center started to host regular transfer workshops to walk students through the transfer application process according to different universities (since UC, CSU, and out of state application systems are all different), which I attended as much as I needed. With the UC application, I had to submit my grades and respond to four questions that explore different aspects of my life (aka Personal Insight Questions). I worked somewhat backwards, though. Instead of looking at the list of question options and deciding which four questions would be best for me to answer, I had in my head a list of specific strengths and experience I wanted to write about that would make me stand out against other applicants. With that in mind, I looked at the list of questions to see which questions would allow me to write about what I wanted. Then, I framed what I wanted to talk about according to the context of the question. For example, I knew that I wanted to talk about the fact I wrote a book. After I reviewed the list of questions, I decided that "What would you say is your greatest talent or skill? How have you developed and demonstrated that talent over time?" would best allow me to talk about my book. Then, I reframed my book-writing story to show it was how I demonstrated my writing skills. Of course, I also delved more into the process to show how I developed my writing skills. This reminds me, a very important tip is to answer all parts of the question! Each Personal Insight Question is usually made of more than one part: "What would you say is your greatest talent or skill? How have you developed and demonstrated that talent over time?" In this question, there are three parts, so make sure to address all of them.
However, I also had trouble choosing exactly the four perfect questions to answer. I remember having only 3 I knew were suitable, but I needed help choosing the final one. I turned to my transfer counselor, and of course, she helped me with all of that! We brainstormed everything else that was smart to include in my application, advising on things I needed to omit, add, or shuffle into another question's response. (Be prepared, sometimes something you talk about in question 3 might be a better fit as the answer for question 4. Things like that.)
You only have 350 words to respond to each question, which was probably the biggest obstacle for a writer like me (prone to wordiness and long windedness — such a curse!). It was easy to word-vomit everything I wanted to say, but it took so many rounds of editing and cutting my response to my best and strongest 350 words. It was difficult because I felt like I had so much to say (as usual…)! Again, my counselor helped me with rounds and rounds of editing, refining the best ways to portray my strengths and the best things to talk about in my application. She also helped me reword some aspects of my application. For example: I originally wrote about how thankful I was for my parents to support my higher education because they didn't finish college themselves, and how proud I would be to live their dream. My counselor then told me to rewrite this sentence to omit the impression that I'm only applying to go to Berkeley for my parents and not for myself. Very specific instances like this is when I'm thankful I had help. Seriously, I thought my first draft was super solid for all that planning, but my counselor shot a million holes in that version! I was a little disappointed that it needed so much work, but I was so much more motivated. I loved receiving feedback and reworking my application and having clear instruction on how to be better. So, make sure to run your application a million times by your transfer counselors (or as many times as they can take. My counselor was a real trooper to look at my application so many times… Love u Amy mwuah thank u very much) because they're the professionals! Most of them have been reviewing university applications for students for years — they know exactly what universities want to hear or otherwise.
Aside from getting the opinion of my very very beloved transfer counselor (shout out again to Amy, you're da best), I also sent my applications to a couple of my English professors to hear what they think I should do to further polish that baby. I mean, they were professional writing teachers, so duh! They also probably went through the same process as you and got into the very schools you're applying to, so duh!!!! Now, revising your application and setting up many, many appointments with your counselors and professors will take a lot of time. Get your first draft done at least three weeks before the deadline so you have time to plan appointments and not give any trouble to the people you're meeting. Plan stuff ahead, y'all!
In the end, I submitted my application baby on November 29, 2019, 2:15pm, and the rest was history. Just kidding, I spent many nights awake and wracked with anxiety about getting into these dang schools. The months of waiting was torture, but I got what I wanted so yay!! DISCLAIMER: please take everything I say with a grain of salt and remember that this was what worked for ME, it might be different for you according to your goals and your school's resources. But for those who care for what I have to say, here's a recap: maximize your school's resources: see your academic counselors as soon as possible to plan your semesters according to your transfer goals, meet with transfer counselors when things start to get REAL and the application date is two semesters away, ask ALL the questions, make sure you meet ALL the requirements, plan your application around your strengths, write that baby and meet with your transfer counselor and professors to revise it a billion times, submit that thing on time, and get accepted. Oh, also do well in your classes (remind yourself where you're headed so you're motivated to get those A's) and do extracurriculars that will benefit your character and your application. Easy peasy lemon squeezy.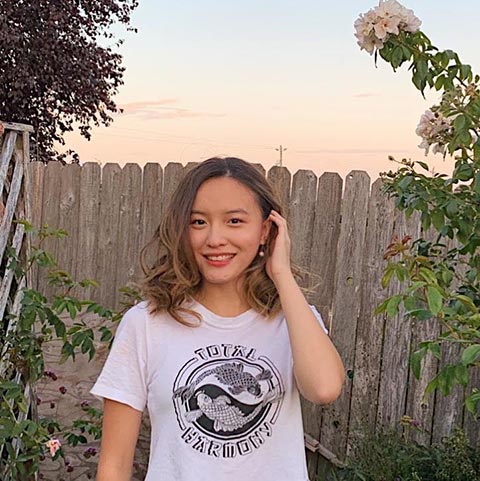 Vicky Chong, from Malaysia, is in the International Student Program at Santa Rosa Junior College, Santa Rosa, California.