In our effort to bring good content to as many people as possible the text in this blog post has been machine translated so please excuse any mistakes. Thank you!
By Valeria Saborio
Whenever I think of going back home, three things come to my mind: the beautiful beaches and volcanoes, my family gatherings, and the most delicious food!
Costa Rica is known worldwide for producing some of the best coffee, bananas, and pineapple in the world. And even though this is true, there is so much more to our local cuisine than you think.
For "ticos and ticas" our day starts with our traditional breakfast: Gallo Pinto. This is a mix of rice, beans, onion, cilantro, red pepper, condiments and our very special sauce: Lizano. This is typically served with eggs, fried plantains, sausages, sour cream, homemade tortillas, cheese… and of course, coffee or fresh orange juice.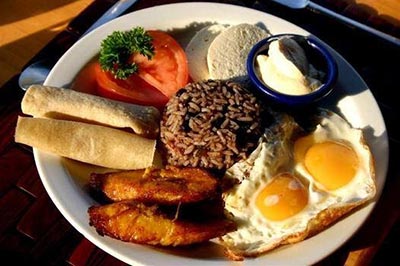 Two of my favorite fruits from back home are passion fruit and starfish. They are easier to grow in tropical weather, that's why we have plenty of them back home. We serve them in all forms: freshly squeezed juices, ice cream, in fruit bowls, and even cocktails.
We also have a province called Alajuela that is known as "The City of Mangos" because it produces the most flavorful mangos you will ever try.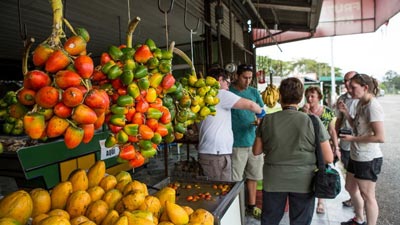 My favorite all time Costa Rican dish is called Arroz con Pollo. It is simply rice and chicken cooked together. However, there are so many flavors added to it from all the different vegetables and condiments which result in a delicious taste. It is typically served with refried beans, salad, and tortilla or potato chips.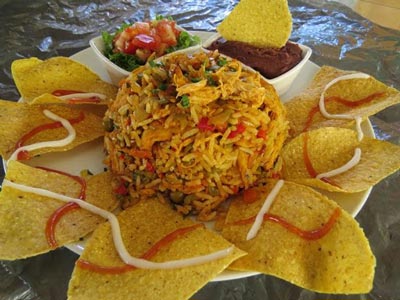 /p>
La hora del café — coffee time is literally a sacred time of the day. In Costa Rica we don't just sip our coffee while we run around downtown or scribble on our laptops. We take this time to step back from our crazy routines, sit down, whether it is with your family, coworkers, or even by yourself, and we enjoy our coffee along with a pastry or snack. My favorite memories growing up was when my mom would tell me that a friend or family member was coming over to our house. We would then set the table, prepare the coffee, bake something, and play some music. Then the guest would bring fresh warm bread, and we would all enjoy coffee time together.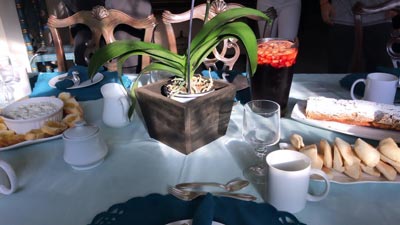 If you're not in the mood for cooking, you can visit one of the many amazing coffee shops we have all around the country. One of my favorites is La Tortilleria, where they literally brew the coffee at your table, and you try the most delicious handmade cheese tortillas.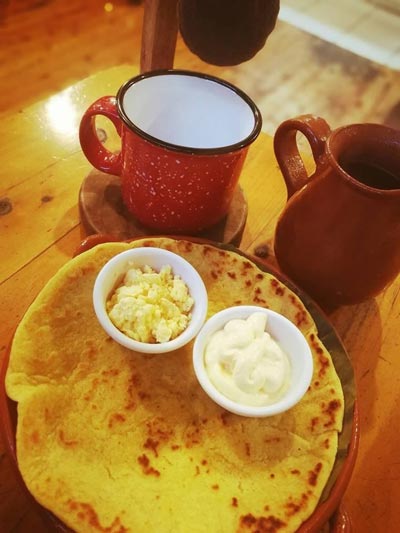 If you ever visit Costa Rica, which I hope you do, you will not only be mesmerized by stunning beaches, enormous volcanoes, howling monkeys, incredible views, and the warm people… but also by the delicious food. Trust me, you will not want to leave.
Pura vida!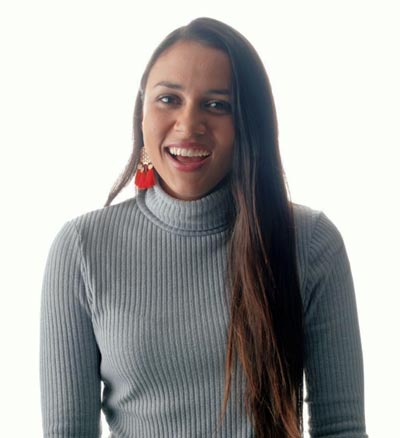 Valeria Saborio is from Costa Rica and is pursuing her Industrial and Systems Engineering degree at Truckee Meadows Community College in Reno, Nevada.