COVID-19 IS NOT AS STRONG AS US (U.S.)
We all think we know what is going on in the world right now with the spreading virus, but for international students it does not only represent the threat of getting it, but our minds are also intrigued with how it is back home for our families, our future in the schools that we are in, and the experiences we are missing out on from this virus. With this message I am trying to relate to international students all over the world and express what I am going through as well as what some of my friends have experienced during this challenging time.
When we started hearing about the problems that were happening in Asia, we were not that alarmed. Everyone thought since it is so far away that there was absolutely no way it could get to us in a country that tends to be proactive when it comes to health issues, making us believe we are safe. Turned out to spread all over the world, and now we fill our minds with thoughts about our families, our friends, and our future. We were very uncertain about the decision of our university even though they tried to keep us updated as much as they could. Some people decided to go home as soon as they heard about the first measures that the university decided to take and go online for two weeks after spring break. They decided to take that time to go home without knowing when or if school would resume on campus and without knowing how rapidly developing this virus was in the U.S. and in their own country. Countries decided to close their borders not long after this, becoming a big problem for international students. It created one more worry for us, making us say to ourselves, "now we are trapped here."
It is quite frustrating that going to our own country, to our family, and to our home is prohibited during this time. Thanks to technology, those who were not able to go home are still able to contact family members, which makes it easier to update and comfort each other while being apart. This goes the same way for friends, those who are back home, and those who left campus to go back to their country. It is important to remember that even though they were able to go home, they are going through the quarantine process, they are not leaving their houses and in some way they miss being on campus.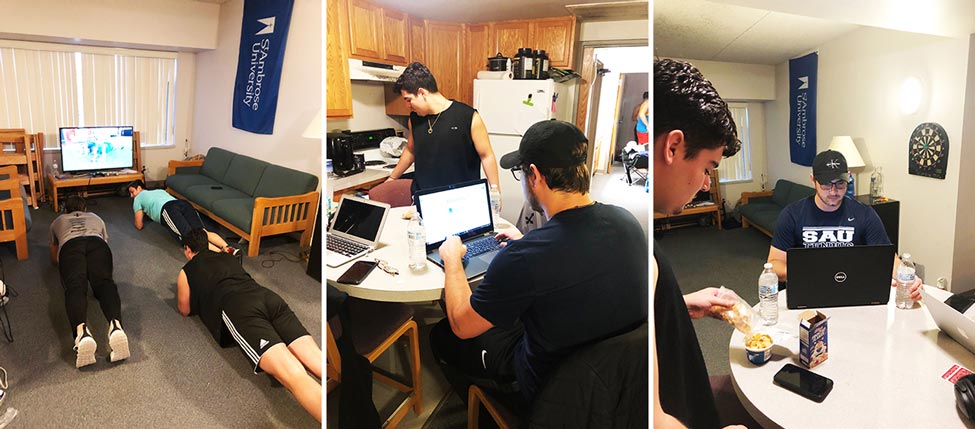 Being able to stay on campus is such a great benefit for some of us. We feel very secure with the food that they provide us, and more than that, we have found people who are in the same situation as ours. Some of us by choice decided to stay here, but not everyone is like that and we understand. Forming groups to come up with games, competitions, and just to check in with people is what makes our day. The daily walk to go get the food the university provides us is a point where we see how it is outside and that time of the day. Of course not having students is weird, but the fact that we still see cars going around makes us feel better, but we never know when that is going to change. Exercise, movies, card games, homework, and all kinds of distractions that we come up with makes the group feel better and we forget about what is happening. Those times that we dedicate to talk to our families is impressive, how happy they are that we are somewhere safe and still not feeling stressed or threatened. It's a relief for them, therefore it is a relief for us.
Now that we are in online classes for the rest of the semester, we have to focus on being on time to the web meetings, doing the assignments that professors have for us, and we have to be more organized in general. It is key to be updated in what the expectations are now, and we can't just think the semester is over. The professors did not have a lot of time to prepare for this, and we are so thankful that they have adapted and are trying their best to keep giving us all the tools to succeed in the future. They made themselves available despite the fact that they are in the same affected world as ours. I know that is not easy for students, staff, or professors to suddenly change, but as humans we are able to always move forward even if it's hard. We know that we can make it through difficult times and adapt to whatever comes. This is the reason why I want to finish with the message that we all have to be patient with each other, but more than that we need to go along with regulations and decisions made by the people that try to take care of us. It is not easy, but then again we can do it together as a human kind community.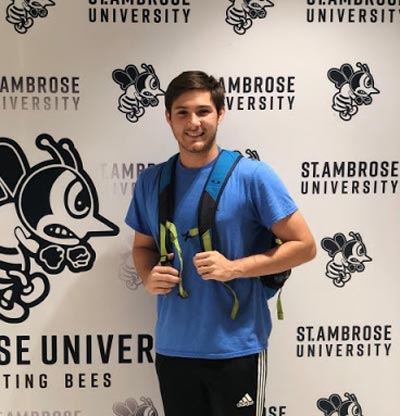 Gonzalo Pereira from Guayaquil, Ecuador, is studying Marketing and Management at St. Ambrose University in Davenport, Iowa.
Written by
Gonzalo Pereira
Get matched to the best program for you
Let us know what you're looking for so we can find the best school for you.
$5,000—$10,000 Semester
2yr/Community College - 2+2 Programs
Undergraduate
Bachelor Degree
$10,000 — $15,000 Year
Certificate/Short Term
2yr/Community College - 2+2 Programs
Undergraduate
$5,000—$10,000 Year
2yr/Community College - 2+2 Programs
English Programs
Undergraduate
Start your U.S. adventure with Study in the USA
What's your dream? We can guide, advise, and connect you with your perfect U.S. school. We can also help you with the application process.
Partner Services
Learn About U.S. education financing, housing, and more
MPOWER Financing is the top-rated lender offering international student loans without cosigners, collateral, or credit history for global citizens, PLUS international student scholarships & career coaching! Fully online application, 96% customer...
Follow your dreams with the TOEFL iBT® test, which has helped millions of students study abroad.
Most U.S. apartments come unfurnished. Make your move easy with a student furniture rental package from CORT. Flexible lease terms. Delivered before you arrive. Starting at $99 per month.* *with a 12-month lease
Resources
Learn about American culture and education direct from our experts at Study in the USA. Read more