Hey everyone! Sorry it's been so long; it has been such a hectic month. From experiencing a pandemic so far from my family, moving out of my apartment, and flying home within a day's notice — I'm here to tell you how it's been.
At the beginning, COVID-19 didn't seem like that big of a threat. Sure, there was news of a new virus going around but hey, people were saying the flu was deathlier than this. So, we went about our days just fine, sanitizing our hands more than usual but everything seemed relatively calm. Then, the death tolls started to rise. That was when the fear started to creep in.
First, it was realizing that I was so far from my family, and if anything happened to them or me, we wouldn't be together. Of course, this came with an onslaught of phone calls from my parents as they realized the same thing. Then, schools started to shut down and now, it seemed like this outbreak was going to last a while. After spring break, students got an extra week off while school administration tried to deal with converting school online. During that week, all I hoped for was for the disease to curb and school to be resumed as usual. It was my last semester at the JC, and my family was flying over for graduation! I was on my toes all week, checking my emails constantly for updates on whether we were moving online. Of course, throughout the week, the pandemic only got worse, bad enough to finally earn its label. With the worsening condition of the population, it truly started to seem like school was going to be out for a while. With this in mind, I switched gears — if school was announced to be online for the rest of the semester, then I'd want to fly home and be with my family.
This decision, unsurprisingly, led to more anxiety, this time about the ability to even leave the country. It only seemed like a matter of time before the U.S. borders shut down as well as all other countries. I was afraid that I would wake up one day only to discover that I've been locked in. What more was that flights were being cancelled left and right, only adding to that fear.
Anyway, while the decision to fly home might seem rash to some, it's stemmed from a number of fears. First was that I'd be apart from my family if (knock on wood) any of us caught this disease. Second — and this was the biggest one that kept me up at night — I would not receive any benefits or treatment if I were to be sick because of my status as an international student. The JC ensured that all COVID-19 treatments were covered by our insurance plan, treated as any other disease, but there were a billion articles revealing how citizens themselves had close to no access to testing and treatment, and equipment in hospitals were running so low they had hospital beds in the hallways. American citizens were denied testing and then dying because of the virus, and it truly was a rude awakening. Treatment was already so inaccessible to American citizens, what more to foreign aliens? And since the shortage is so severe, it would make sense for the country to prioritize the health of its citizens over international students come the time to choose. I realized that the only country that would protect me was my own and that I needed to fly home if I wanted to be safe. Aside from that, Malaysia also started employing a Movement Restriction Order that was strictly enforced, requiring citizens to stay home, wear masks, and travel only in ones if need be. This gave me a peace of mind, seeing as to how my country was taking the extra step to make sure everyone stayed home to reduce the risk of catching the virus. This was as opposed to being in California where people were simply social distancing (which is completely fine), but being the paranoid me, it just didn't seem like enough.
Not only that, but the third fear that plagued my mind was also the fear of violence due to racism. I was Malaysian Chinese, and the virus stemmed from China so most associate it with anyone who looked remotely South Asian, and the anxiety only grew and bred to violence. I remember being horrified at all the articles that talked of Asians in New York and Texas being beaten to a pulp and feeling so scared, so far from home. Of course, I experienced nothing close to any of this in my Santa Rosa community, but it still made me feel like an outsider, like I didn't belong. Then, we got news that school's going to be fully online, and it seemed like I was really going home.
Because we were unsure of how long the school closure was going to last, I had to move out of my apartment permanently, especially since this was my last semester and I was going to transfer in the fall. So, my family and I planned to give me a week to pack up and sort out anything that needed to be sorted out. Tickets were bought, and I went to sleep that night close to tears, having to say goodbye to my school of two years so abruptly. This semester was turning out to be so brilliant, and I was so excited to graduate with my two associate degrees; but all of that was cut short and I barely had time to say goodbye. It wasn't supposed to be the time of goodbyes yet!
Then, it got even worse. I woke up the next morning bombarded with a billion texts and calls from my family saying that I didn't have a week — I was flying home tomorrow afternoon. It turned out that Asian country borders were announced to be shut down starting the next day, and since there was no direct flight from the U.S. to Malaysia, I relied on countries like Japan or Hong Kong to make a connecting flight. If their borders shut, I wouldn't be able to go home. Just like that, I had a week to pack up my apartment, find a place to store my stuff, figure out the security deposit situation, and say goodbye to all my friends. I was so upset but I blocked it out as I planned my day, I needed to start packing ASAP! It felt like a rush against time, trying to get home before the borders closed on me. It was just like a really exciting movie, minus all the coolness. Yeah it was just plain terrible, nevermind.
With that, my friends and I packed up my apartment, I spent the last night in my sanctuary not even knowing that I wouldn't be there tomorrow. I said rushed goodbyes to my friends and rushed to the airport. When my plane to Japan took off, that was when it hit me. It truly was goodbye. I'd be transferring after this semester so I wouldn't be living at Santa Rosa or attending the JC anymore. I cried as silently as I could on the plane while the people around me pretended not to notice — it was honestly super nice of them.
If only you'd have seen me when I found my seat! I busted out the Lysol disinfecting wipes and all my bottles of hand sanitizer (there was a shortage in the U.S. for the sanitizing supplies so my superstar parents mailed some over for me! Truly the MVP's.) and got to work. You guys ever seen that Naomi Campbell video where she wipes down literally everything she touches on the plane? That was me!! That place smelled like disinfectant wipes, and I felt a little bad but never so clean on an airplane. Seriously, I used so many wipes and a whole bottle of hand sanitizer! There were a billion cuts on my hands so it honestly was the most excruciating experience of my life.
Anyhoo, fast forward to being two weeks home! I've been keeping up with my schoolwork (though I must say, online school really ain't it. It feels like my brain is just trudging through what I need to do, not actually learning anything. Which completely sucks, because I love my classes!) and my work duties to the best of my abilities. I must say, being cooped up like this really isn't doing any favors for anyone's sanity. I've been feeling sad and lonely, all my friends running on a different time zone. And I know it's hard to stay in and to keep a productive schedule, but it's the least we could do to help the front liners working everyday to fight the virus!
I am also just blown away by the support the JC has has extended to its students and student workers throughout this pandemic!! You're doing great, sweetie!! Administration and faculty have truly been as accommodating as possible, making almost all resources accessible online so we're not left to drown, as well as continuing to pay student workers regardless of their ability to work from home. I'm so glad to be taken care of. Despite everything that sucks right now (like the wifi at home — seriously, how is it supposed to support four Zoom meetings going on at the same time?!), I'm glad to be safe and home. We can only hope the vaccine is right around the corner. Please talk to your friends and check up on them while they're stuck at home and look out for yourself too. Also, remember to do your best to stay home and practice social distancing. I'm no healthcare professional, and I'm perfectly happy to still get credit for just staying home!
Until next time! Hold on to those fires inside you. Do all you can to spread the love (from a safe distance)!

Vicky Chong, from Malaysia, is in the International Student Program at Santa Rosa Junior College, Santa Rosa, California.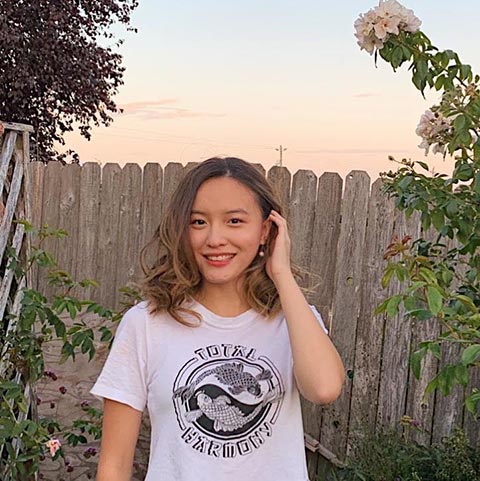 Get matched to the best program for you
Let us know what you're looking for so we can find the best school for you.
$1,000—$5,000 Semester
Secondary/Boarding
Certificate/Short Term
Summer
$1,000—$5,000 Semester
Certificate/Short Term
Masters
Bachelor Degree
Start your U.S. adventure with Study in the USA
What's your dream? We can guide, advise, and connect you with your perfect U.S. school. We can also help you with the application process.
Partner Services
Learn About U.S. education financing, housing, and more
Join over 6 million people and businesses who get a better deal when they send money with the real exchange rate.
The JOB+ Career Accelerator gives you the work experience, career coaching and professional network you need to get a great graduate job.
SURE offers hassle-free renters insurance that'll protect your clothes, furniture, and even yourself from unexpected damages and injuries. The SURE team will get you set up with a free quote and the correct coverage that you need!
Testimonials
Through StudyUSA I was able to chat with several different schools and I was able to choose which one suits me academically, financially and application procedures. Thank you StudyUSA!
It is sometimes really difficult to associate and understand the nuances of the America college system. StudyUSA makes it possible to easily navigate to schools with programs that suits my needs, programs that understand the international student requirements. I give it a 6/5
Danielle Blinn South Africa
Study in the USA was helpful to find information about colleges and feedback from other people.
Maria Alejandra Osorio Betancur Colombia
Resources
Learn about American culture and education direct from our experts at Study in the USA. Read more