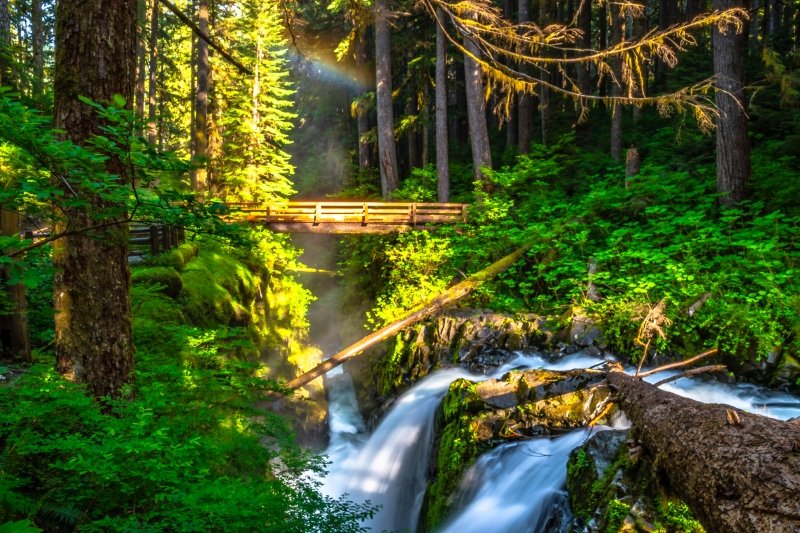 In our effort to bring good content to as many people as possible the text in this blog post has been machine translated so please excuse any mistakes. Thank you!
Imagine a towering, vibrant green forest where the air is clean and smells of the ocean. You're in the Pacific Northwest, one of the most breathtaking and rain-dampened locations on earth. Dubbed the Evergreen State, Washington has no shortage of plants and wildlife. In fact, you could say it's forever green.
Get it? ForEVER GREEN.
Driving through the Olympic Peninsula is stunning and far easier than driving through downtown Seattle. Through canopies of trees, the Olympic Mountains hoist Mt. Olympus high in the horizon, sprinkled with snow and visible for miles, even from sea-level Seattle.
The Puget Sound area, which encompasses Seattle and its surroundings, is like a fishbowl, circled by mountain ranges and hills. However, leave the swimming to the fish, the water is super-duper cold. From West Seattle to Ballard, downtown Seattle sits on the waterfront, a dynamic blend of nature and urban life.
Not far from the waterfront and piers is the famous Space Needle. If you're feeling out of this world, visit the Pacific Science Center! There are always new science exhibits, laser light shows every night, a tropical butterfly house, and huge IMAX movie theaters. Across from the Spaceship — I mean the Space Needle —is the Museum of Pop Culture. Locally known as the MoPOP, guitar legend Jimi Hendrix is immortalized within, along with other artists who've influenced the Seattle scene like Pearl Jam and Nirvana.
You'll smell the teen spirit on King Country transportation, which can get you anywhere you need to go! It's reliable, quick, and always improving.
Not only is the city ground zero for companies like Amazon, Boeing, and Microsoft, but Seattle's famous football team, the Seahawks, makes headlines with victories throughout the season. Blue Fridays (named for the blue and green colors of the team) are regular celebrations in Washington. Many workplaces allow employees to wear their fan jerseys to work on game days instead of business attire.
Driving east, away from Seattle, over the Cascades and through Steven's Pass, you land in the beautiful expanse of Eastern Washington. Watch out for Sasquatch, this is his turf.
Your first stop needs to be the Bavarian-style village of Leavenworth. During the holidays, every building and tree is covered in lights. You can forget your rain gear here, because most of the rain doesn't reach beyond the summit of the mountain range!
Eastern Washington is rolling hills, national forests, canyons, lakes, and rushing rivers. If you're up for an adventure, you'll need a car. From apple orchards to vineyards, you're sure to find a U-Pick farm to collect your own produce for a small fee or various fresh produce stands to stock up on road trip snacks.
On your drive, take a dip in the Columbia River! There are also lakes and waterfalls, like the Palouse Falls — but they're nothing compared to this giant river that cuts through the state.
Dead in the center of the state is the Gorge Amphitheatre, a landmark for the music scene. You can't even exist in Washington until you've lost yourself to the rhythm that vibrates through the acoustic gorge. Live, outdoor concerts fill you with crisp Pacific Northwest air, and bass that shakes your core, leaving you feeling the beat long after the music has stopped.
If you're into the small-town vibes and quiet spaces, the Eastern Washington-Idaho border is your area. The remote location creates an unparalleled safety and compassionate, close-knit community. It's widely known among Washington millennials that WSU is the place to be for epic events, especially during Halloween —or Halloweek as it's called on campus. Just know your limits and stretch before dancing.
Washington is welcoming and open to all. You can experience all four seasons in one day, get next-day shipping from Amazon, and there are coffee stands everywhere.
Education opportunities in Washington State:
---
Zya Rizor is the editorial assistant at Study in the USA, specializing in content creation and social media management.