Go Places at College of Charleston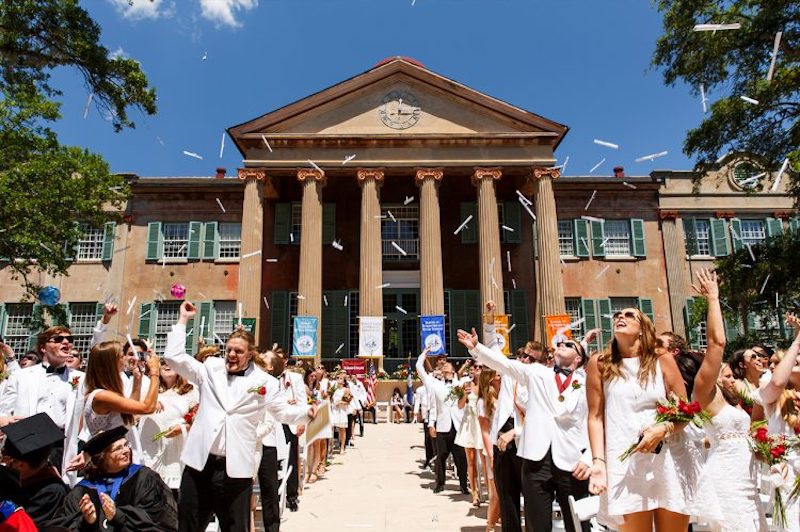 Founded in 1770, the College of Charleston is the oldest university in South Carolina and one of the most historic in the country. With a stellar location and vibrant campus community, the university is among the nation's best for quality education, student life and affordability. If you're looking to be a part of a unique culture and campus where contemporary facilities meet cutting-edge programs, the College of Charleston could be just the place for you!
Get your Degree: Students from all over the world come to the College of Charleston to study a wide range of subjects, including accounting, biology, business, history, music, and political science, among many others. The College of Charleston consists of seven academic schools, as well as an Honors College and Graduate School. In total, the university offers 62 majors, 79 minors, 23 master's degree programs, and 10 graduate-level certificate programs.
Be Mentored: The College of Charleston has more than 10,000 undergraduates and approximately 1,000 graduate students who enjoy a small-college feel blended with the advantages and diversity of a bigger university. With a 14.5:1 student-faculty ratio, students engage in a supportive learning atmosphere with a devoted faculty that includes more than 500 distinguished teacher-scholars.
The College of Charleston's Academic Advising and Planning Center is available to assist undergraduate students in developing an academic plan that encompasses all aspects of their academic career, including identification of personal and career goals and appropriate strategies for attaining them. The Career Center also helps students find jobs and internships, build a resume and network with alumni mentors.
See the City: Students at the College of Charleston received a world-class education in an exciting, world-renowned city. Charleston is famous for its history, architecture and culture – not to mention the warm, coastal environment. Located just 20 minutes away from some of the best beaches in the southeast, students enjoy year-round outdoor activities like surfing, kayaking, hiking, and camping. The Charleston Convention and Visitors Bureau provides more information on why Charleston is such an amazing place and what you can do for fun!
Get Artsy: The College of Charleston plays a leading role in the cultural life of the city. Each semester, the School of the Arts stages multiple plays, musicals, and operas. The school's weekly classical and jazz concerts are often standing-room-only affairs, and the Concert Choir and Gospel Choir are well-known on a national level. Students can also check out the Halsey Institute of Contemporary Art for a look at the featured work of emerging multidisciplinary artists from all over the world.
Join the Club: Being part of a club helps students make new friends, learn from others, share their talents or just try something new. At the College of Charleston, you have the opportunity to immerse yourself in pretty much anything – from film studies to martial arts, to giving back to the community through volunteer work. The university also has dozens of religious, international and multicultural organizations to serve its diverse student body. Overall, the university offers more than 240 student clubs and organizations.
Find a Home: When searching for a place to live, many students living off-campus rely on ApartmentSearch.com. The website allows you to search for an apartment based on distance from campus, while also showing the cost of living, local restaurants, the length of your commute and more. If your apartment is unfurnished, furniture rental is an economical and convenient way to furnish your home. CORT, the leading provider of furniture rental in the U.S., furnishes thousands of student apartments with everything from beds and sofas to housewares and electronics – all with affordable rental package options.

The College of Charleston helps students get to where they want to go by providing them with a top-tier education in one of the most unique, exciting cities in the world. Take a look through the university's website to learn more about their programs and services that could help you achieve your goals.
Rob Johnson is an experienced international traveler and Director of Higher Education Sales at CORT Furniture Rental, where he works directly with students and higher education institutions.