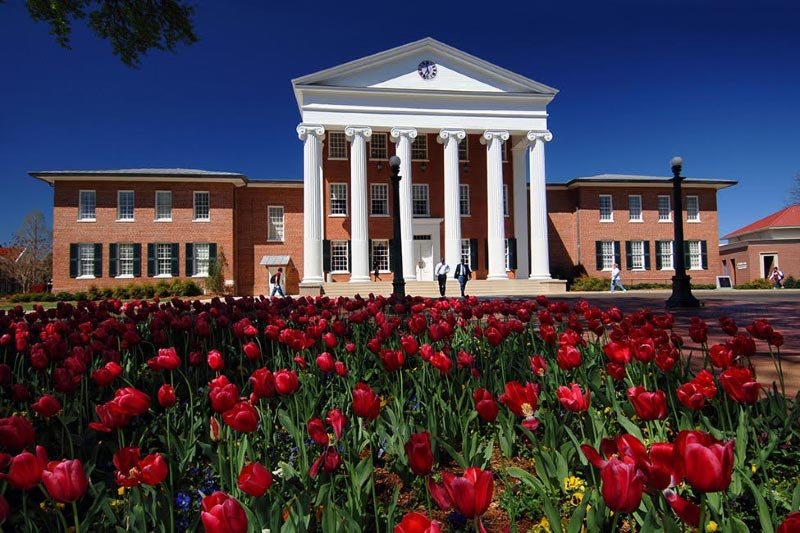 In our effort to bring good content to as many people as possible the text in this blog post has been machine translated so please excuse any mistakes. Thank you!
Located in the small town of Oxford, Mississippi, USA, in what is known as the "mid-south" region of the United States, between Louisiana and Alabama, lies the "most beautiful college/university campus" in the States; the University of Mississippi.
The town was named after Oxford, England; the founders had hoped that if they named the town Oxford, then the state would agree to put a university there – just like the namesake – and they did! The University of Mississippi, also known as 'Ole Miss', opened its doors to students in 1848, and celebrated their 170th birthday last year! Along with its long history and culture, Ole Miss also the birthplace of Blues music, Elvis Presley, William Faulkner, and Oprah Winfrey. Oxford is near many cities including Memphis, Tennessee, New Orleans, Louisiana, St. Louis, Missouri, and Nashville, Tennessee.
While the town of Oxford, Mississippi is small, Ole Miss is big; it's the largest university in the state, with a total student population of a little over 20,000 (2018-2019) on campus. If you include the Medical Center campus, they have more than 24,000 students! Around 60% of the students come from the state of Mississippi, with an additional 40% representing the remaining 49 states and more than 80 other countries! Their student-to-faculty ratio is 18 to 1, and they have 15 academic divisions (colleges and schools).
Ole Miss is nationally recognized for its schools of Accountancy, Law, Pharmacy, and their Honors College- and students still have over 100 other majors to choose from! Students can study for a Bachelors, Masters, or Doctoral degree. In fact, The University of Mississippi has been designated as an R1 Doctoral university of "very high research activity" by the Carnegie Classification System of Institutes of Higher Education, a prestigious classification for any university.
Everyone is welcome in Mississippi- "the hospitality state,"- and Ole Miss could be a great place for anyone taking their next step in higher education!
---
Whitney Tudor Sarver, PhD, is the Senior Director of the Intensive English Program and an Instructional Assistant Professor in the department of Modern Languages at the University of Mississippi (Ole Miss)