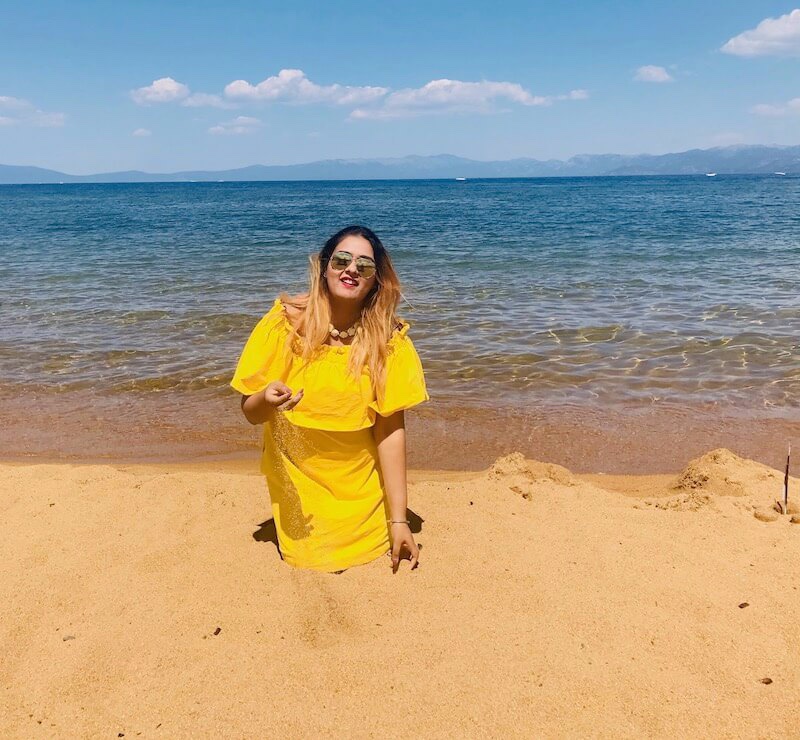 In our effort to bring good content to as many people as possible the text in this blog post has been machine translated so please excuse any mistakes. Thank you!
Spread Happiness and Share Joy
Namaste Folks! I am Aanchal from India and I am here in America to pursue a degree in English with a specialization in writing. I believe in the power of words and that's something that has drawn me to the field of writing for the past five years.
I am 25-years-old and I was born and brought up in Northern India. I went to an all-girls Catholic school for 14 years of my life and I am blessed to have acquired education from that institute. The discipline taught in school has stayed in my roots forever and that strong foundation is a big time asset for me. The values and morals I learnt at my then "strict' school has built up an independent individual in me who can travel and learn whatever comes in her path.
With a bachelor's degree in journalism from India, I got to specialize in print media and bagged quite a few internships at the local newspaper of my city. In addition, I contributed to quite a few scripts to the community radio of my college and also got a chance to intern in Big 92.7 FM which is one of the popular radio stations in India. Having closely worked with top editors, I got really intrigued with the genre of writing and the power of words. The facts around us and the depth of the events happening around was the entire crux that I learnt in journalism. I wanted to take it further with me with an immense knowledge of language. That's what brings me down here to seek my Associates Degree in English.
What made me choose an American education? Well, the year 2014 blessed me with an opportunity to work for "the happiest place on Earth": Walt Disney World in Orlando, Florida. I got to intern as a guest relationship associate in Disney for about six months.
This is when I got introduced to this foreign land for the very first time. That was indeed a very exciting and amazing learning experience. Working and dealing with people from different countries, following new policies and procedures, developing habits that were totally new to me -- all this summed up my first ever international work experience.
Next in line was a Model United Nations Conference in New York the following year. This was an extraordinary platform for debate, discussion and introduction with student leaders from across the globe.
Then came an opportunity to attend a copywriting workshop in Miami Ad School, San Francisco, California. Now this is where I got introduced to the study culture and the teaching styles of the USA. A 4-week workshop made me learn certain writing and wordsmithing concepts, which I thoroughly enjoyed. I then made up my mind to choose America as a full-time student.
My next move was to enroll in an educational institute in the U.S. I chose Truckee Meadows Community College (TMCC) primarily because of the community college tales I had heard from my cousin. Yes, and they are all true. They definitely focus on you individually as a student and unlike big universities; they don't have a busy classroom.
One thing I find interesting about the American education system is that it is more about application and real understanding than just theory. Also, it gives you a great variety of courses of study.
At TMCC I am in my third semester now and I guess I have a bag full of learning experiences already, having changed majors already. The previous semester I worked as a tutor for the ESL department and that definitely added to my study abroad experience. It was an interactive job that not only made me impart knowledge to others but also inculcated something new in me every day.
Reno being a nice little town has treated me really well so far. I have been exposed to nearby attractions like Lake Tahoe, Las Vegas and San Francisco. I like this "biggest little city in the world" because of the opportunities and easy accessibility to almost everything around.
Apart from my studies I enjoy trying all different cuisines around me, I have developed an art of window shopping, I do love to read a novel by the river and I also like to cook and decorate food.
I consider travelling as one of the most amazing experiences of all time. So far I've explored four countries and I am building up a travel journal to record all my sweet and sour vagabond tales.
I am a soul enchanter and I religiously believe in the power of "Karma" because my actions will only be governed and regulated by me, myself if I fear their equal and opposite reaction upon me in the future. Spread happiness and share joy is my motto for life.
Aanchal Tangri from India is pursuing degree in English at Truckee Meadows Community College in Reno, Nevada.