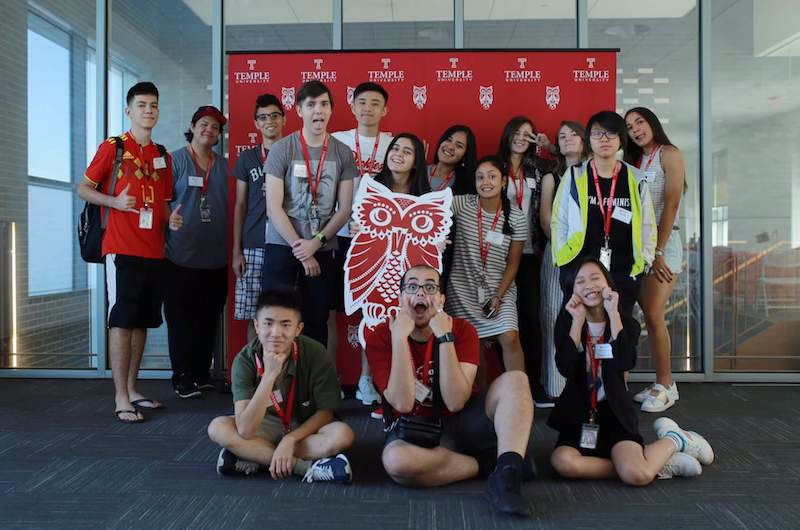 In our effort to bring good content to as many people as possible the text in this blog post has been machine translated so please excuse any mistakes. Thank you!
After attending the EducationUSA Academy at Temple University last summer, many people asked me the reasons for participating in a summer program. The truth is that there are many things that can motivate you to spend the summer studying in this type of program.
In this blog I will share with you some of the reasons that I think will make you want to enroll in a summer program.
It is a good platform to get to know more about universities: Is there a better way to learn about the universities educational system than by attending one? You can read many articles about what university classes are like, the faculty or even the student life, but it is better to experience and learn about these by having a real EXPERIENCE as a college student!
I can tell you that participating in a summer program changed my perspective about university. Now, I understand what my life and my routine in college will be like and even the classes I want to take.
I changed my major and decided that I will do a minor! That change was huge because I had always thought that economics would be a perfect major for me, but after taking real classes in this field, I realized that it was not what I really wanted to study. And that's how a summer program changed my mind about university and my future!
You will acquire high-level knowledge and present yourself as a potential student: While learning about college-level topics that you would not learn at school, professors will get to know you as a potential student.
IT IS A GREAT OPPORTUNITY!
Not everyone has the opportunity to meet professors and take lectures at a university before enrolling in one. This type of program helps you improve your high school grades and design an impressive resume. Attending a summer program at a university shows that you are really interested in pursuing a degree in the future. It also shows that you are trying to get as much experience as possible to be ready for your college application.
It helps you improve your English: If you attend a summer program in the United States, you can be sure that your English level will improve, including speaking and listening, among other things.
You will meet interesting people with the same interests: In general, the summer programs have between 15 and 20 high school students in the same classes; they stay in the same dormitory buildings and have teamwork activities. I had the wonderful opportunity to share with 14 students from around the world with whom I made a strong friendship for the duration of the program and I am happy that I am still in contact with them. It is good to talk to them because they are in my same situation: applying to universities in the U.S. Throughout the program, I realized that these international students had similar goals and dreams and that I could be totally honest with them when talking about college.
You may find your dream university: When you spend time learning about the university that organizes the summer program you attend, you can fall in love with it! Imagine yourself next summer touring the campus, visiting the library and making friends at the university of your dreams. This happened to me! I think after reading this, you'll want to participate in a summer program! Don't think twice and apply as soon as you can!
Diana Vicezar is from Paraguay and studied for a summer in the EducationUSA Academy at Temple University in Philadelphia, Pennsylvania.