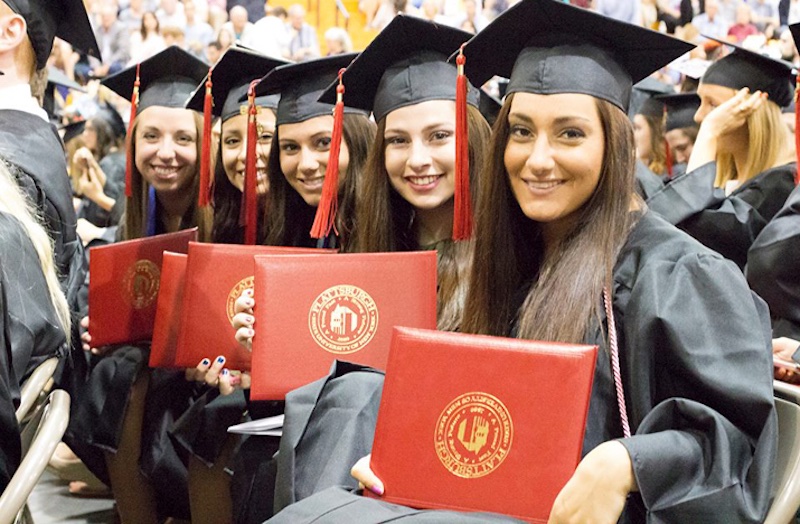 In our effort to bring good content to as many people as possible the text in this blog post has been machine translated so please excuse any mistakes. Thank you!
Founded in 1889 and located in beautiful upstate New York, The State University of New York College at Plattsburgh (SUNY Plattsburgh) offers an environment where students can learn, pursue their passion and serve others. More than 350 students from 70 countries attend SUNY Plattsburgh. If you're looking for a small, scenic campus with an international focus, SUNY Plattsburgh might be right for you!
Head Upstate: SUNY Plattsburgh is located in the small city of Plattsburgh, New York, right off the shores of the beautiful Cumberland Bay. Campus is only a short walk away from downtown Plattsburgh, where students can find shops, restaurants and museums for out-of-class entertainment. For students who enjoy being outdoors, the Adirondack Mountains offer 46 peaks, including Whiteface Mountain, the site of the 1980 Olympic alpine skiing competitions, for hiking, biking, skiing and snowboarding. In the summer months, students can kayak, paddle board and swim in nearby Lake Champlain.
The cities of Burlington, Vermont, and Montreal, Canada, are nearby and offer exciting weekend opportunities for students who are looking for a big-city adventure. New York City is a bus ride away, and trips back and forth are provided twice a month to students by the Student Government Association.
Earn Your Degree: Offering more than 70 undergraduate majors for students to choose from, SUNY Plattsburgh gives every student the opportunity to succeed in whatever area of study they are pursuing. The university's most popular majors include education, journalism, expeditionary studies and robotics. Leading professors, experiential learning opportunities, and alumni networking connections are available to students through the university to help them succeed in their classwork and after graduation.
International students can expect to be welcomed onto campus by the Global Education Office (GEO). GEO is full of caring and friendly staff who have helped many students adjust to life at SUNY Plattsburgh. From class advice to welcome dinners, GEO serves to make the academic and social transition to life at the university as easy as possible. SUNY Plattsburgh invites all international students to travel to campus one week before the rest of their class for a special international student orientation, allowing students ample time to adjust before their courses begin.
Join a Club: For students looking to get involved in extra-curriculars, SUNY Plattsburgh is home to more than 100 active clubs and organizations. Many of these, like Club International, the Korean Association, and V-Nation (Vietnam), are dedicated to celebrating the rich, authentic cultures represented within the student body. The university also offers excursions around the region, and Partners In Cross Cultural Learning (PICL), a unique friendship program that will pair students with a local American family for cultural exchange. Joining a club is an easy way to make friends with similar interests, and if you're passionate about a topic that is not yet recognized as an official club, the university encourages you to start your own student organization.
Cheer on the Cardinals: Students can cheer on the Cardinals all year long. SUNY Plattsburgh fields 16 teams who compete throughout the academic year. All SUNY Plattsburgh students are encouraged to attend Cardinals games, but can also play on club sports and intramural teams for fun.
Finding a Home: When searching for a place to live, many students who are eligible to live off-campus rely on ApartmentSearch.com. The website allows students to search for an apartment based on distance from campus, while also showing the cost of living, local restaurants, the length of your commute and more. If your apartment is unfurnished, furniture rental is an economical and convenient way to furnish your home. CORT, the leading provider of furniture rental in the U.S., furnishes thousands of student apartments with everything from beds and sofas to housewares and electronics – all with affordable rental package options.
If you are looking for a university committed to diversity and passionate about student success, SUNY Plattsburgh could be the right fit for you. Dive deeper into The State University of New York College at Plattsburgh by visiting their website. You can explore the university's academic offerings and gain a better understanding of what it means to be a SUNY Plattsburgh student.
Rob Johnson is an experienced international traveler and Director of Higher Education Sales at Furniture Rental CORT, where he works directly with students and higher education institutions.