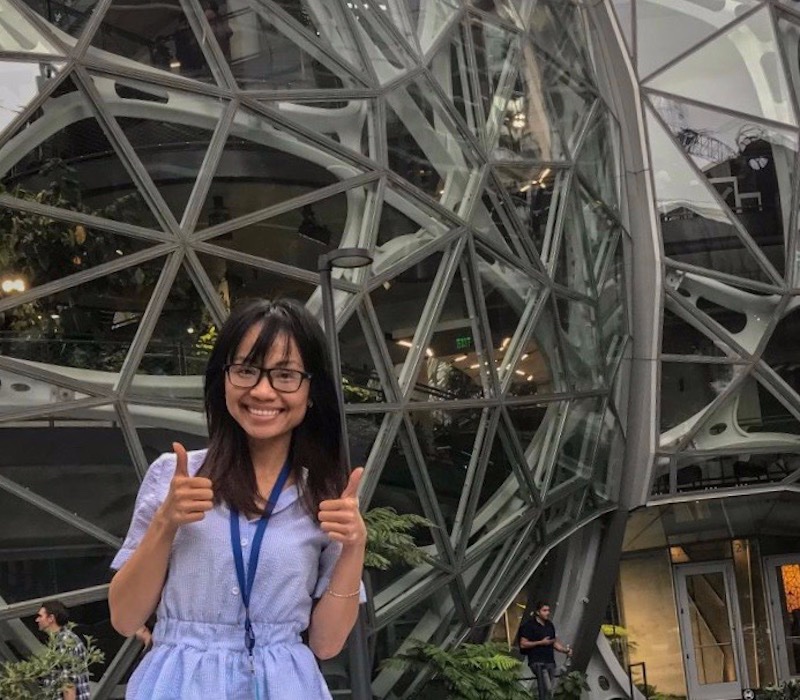 In our effort to bring good content to as many people as possible the text in this blog post has been machine translated so please excuse any mistakes. Thank you!
Thao Le fromVietnam. Today she is a senior financial analyst at Amazon. Just a few years ago she was an international student at Hope College from Vietnam. While at Hope she majored in accounting and had internships at The Stow Company and Perrigo. Her first job after Hope was with Deloitte in Seattle working on an audit team. Traveling frequently while working with international teams at Amazon, she now uses leadership development and cross-cultural skills honed at Hope as a member of Mortar Board, Phelps Scholars and Hope Asian Perspective Association. We toured a new Amazon Go store and The Spheres, Amazon's innovative downtown hub that brings a direct link to nature to Amazon employees. With her office right down the street, Thao shared that she enjoys working and visiting this unique home to more than 40,000 plants from the cloud forest regions of over 30 countries.
Hope College is a premier undergraduate institution offering world-class academic experiences and facilities. Students come to Hope for the highly ranked academic programs, personal attention from professors (11:1 ratio), and excellent placement rates into top graduate programs. For some students, Hope's Christian character is an additional plus.
For more information: Hope College