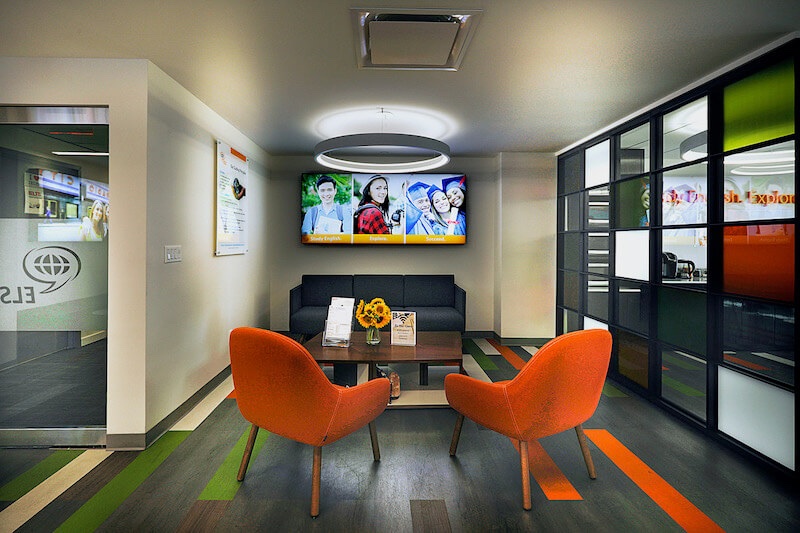 In our effort to bring good content to as many people as possible the text in this blog post has been machine translated so please excuse any mistakes. Thank you!
ELS has just opened a new flagship center in Manhattan, New York, New York where students from around the world can come to learn English and immerse themselves in American culture.
"It's inspiring," Frank Prieto Pinto, an
ELS
student from Colombia, said of the classrooms in ELS/New York – Manhattan. "When I was living in my county I saw pictures, I saw movies, and now I feel like I'm in the movies," he said, gesturing to the wall-sized mural of Times Square behind him. Pinto, who is a professor of Strategic Thinking and Management Skills at EAN University in Bogotá, stressed the importance of having a positive learning space. "As a student in this moment, I need a good place to study, and the classrooms are so beautiful."
The new space boasts a lounge and cafe as well as collaborative spaces for students to learn and socialize.
"... I am confident that this [space]—together with our great staff and great program—will ensure that all of the students at this center will have a priceless and memorable experience," said Reiji Terasaka, Chief Operating Officer at ELS.
About ELS Educational Services
ELS Educational Services
, Inc. offers more than 55 years of success in assisting international students—more than 1.2 million to date—achieve their personal and professional goals through English preparation and university study skills. ELS assists international students to identify and gain entry to higher education institutions around the world, including in Australia, Canada, India, Malaysia and the United States.