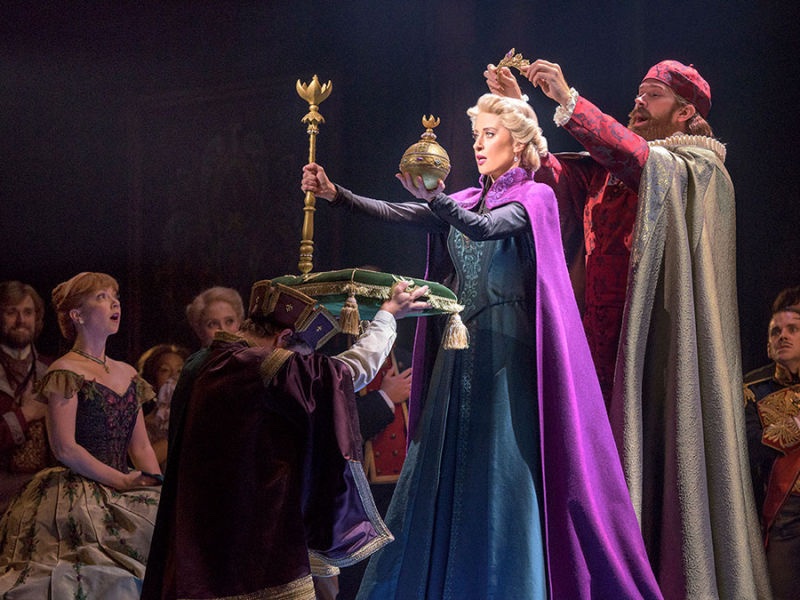 In our effort to bring good content to as many people as possible the text in this blog post has been machine translated so please excuse any mistakes. Thank you!
From AMDA to Broadway, alumni Caissie Levy and Jacob Smith have been powerful forces in the performing arts world and beyond. We'd like to send a big congratulations to Caissie (Elsa) and Jacob (ensemble) and the entire FROZEN cast on their opening night!
FROZEN the musical has been in previews at the St James Theatre since February 22 and has received a strong reaction already. See what people are are saying about the production below:
"After the sold-out audience has taken in the shivery spectacle — the glistening fjords, the ice crystals on skirts and in hair and on fireplaces and crisscrossing windowpanes — after it has leapt to its feet and applauded while snowy paper fell from the ceiling during the curtain call, a voice in the crowd implored, "Can that start all over again?" (Jessica Gelt for LATimes.com)
"The splendid Caissie Levy — playing Elsa, the conflicted royal sister with magical ice powers – lays claim to the power ballad that Idina Menzel made a hit. "Let it Go" indeed." (Lisa Kennedy for Variety.com)
"We wrote a song called 'Dangerous to Dream,'" Anderson-Lopez said of the new number that takes people inside Elsa's head during her coronation. "There are many things called 'I want' songs in most musicals, but you don't often get the, 'I wish I could want something, but I'm not allowed to want something,' song. Of the 12 new songs in this show, a new power ballad "Monster" was also created just for Elsa, played by Caissie Levy." (Kelly McCarthy for ABCNews.com)
Watch the new Official Broadway Trailer for FROZEN here:
AMDA College and Conservatory of the Performing Arts, with campuses in New York City and Hollywood, is one of the foremost post-secondary performing arts colleges in the United States. AMDA offers Bachelor of Fine Arts degree programs in Acting, Music Theatre, Dance Theatre and Performing Arts, as well as two year conservatory programs. With a diverse student body of approximately 1500 students who come from all 50 states and 51 countries, 127 international students are currently studying at AMDA representing 8% of our total student population in 2018. For more information on AMDA, please visit us at www.adma.edu and schedule your audition.