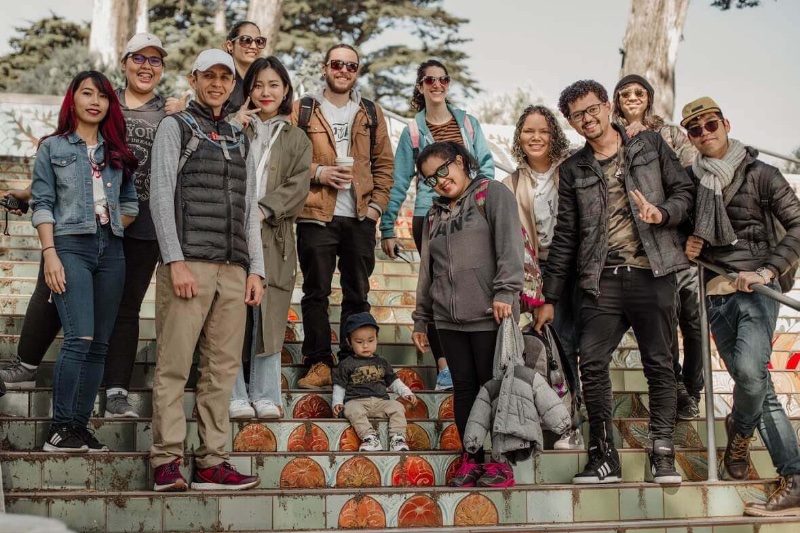 In our effort to bring good content to as many people as possible the text in this blog post has been machine translated so please excuse any mistakes. Thank you!
Students photos from a recent field trip to Lands End in San Francisco.
Investing in studying English for your professional future is an important and often expensive decision, especially when deciding to study in the United States. With ESL tuition prices and living costs increasing every year, students are under mounting pressure to complete their programs in the shortest amount of time in order to save money. This is unfortunate, as it denies many students the opportunity to fully immerse themselves in their studies, spend time making new friends and networking, and discover all that the US has to offer. Learning English overseas should be an opportunity for everyone and not just the wealthy few.
At Transworld Schools in San Francisco, they recognize that budgeting is one of the most important considerations for our students but that it should not come at the cost of receiving quality ESL instruction. They offer high quality intensive and college preparation courses at very reasonable tuition - something that many students are seeking in the current economic climate. At Transworld Schools tuition is so affordable that students pay less per month in total, including their housing costs, than they would for a comparable ESL program at many other San Francisco Bay Area schools. Our $440 tuition for 4 weeks of study (18 hours per week) allows international students to study for longer, live in the city and take full advantage of San Francisco's great variety of activities and sights. Transworld is approved by the State of California and accredited by ACCET, and is authorized by the Federal Government to issue the I-20 for international students to apply for the F-1 Student Visa.
Their English Language Programs in Intensive English, Business English, and Academic and TOEFL Test Preparation are offered at 15 levels of CEFR A1 to C2, where students may customize their program with Electives in speaking, pronunciation, idioms, creative or academic writing, and IELTS prep. Many of their students successfully transfer to colleges and universities throughout the USA. Our highly-qualified instructors use the latest teaching materials and technology to make the lessons challenging, interesting and exciting. Transworld Schools have a very diverse school community, with students from over 50 different countries who enroll for both short (4 week) and long term courses (we have 2 discounted courses - Study Abroad Semester and Year).
At Transworld Schools they work hard to give each student a worthwhile and affordable English language learning experience in beautiful San Francisco.