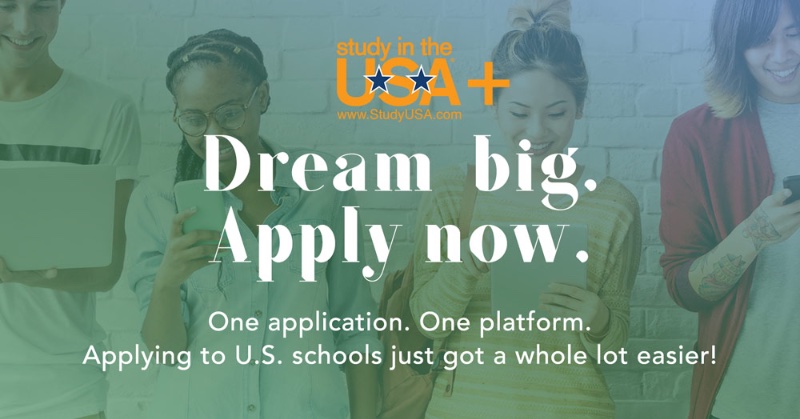 In our effort to bring good content to as many people as possible the text in this blog post has been machine translated so please excuse any mistakes. Thank you!
StudyUSA+ is ready to take you through the entire application, admission and enrollment process with one application form and you can do it in one place.
With StudyUSA+ you can apply to various reputable U.S. universities and programs with one master application, communicate directly with your schools, complete the entire admission and enrollment process, and receive admission, visa and enrollment support for every step of the way. No agent needed.
Your dream school is waiting! Start your application now!
Get started with StudyUSA+
Are you ready to apply now? If so, choose a school below. Click on the "Apply to this Program" button and get started with your application.
Study Business and Fashion in New York Students from around the world choose the proven, career-focused programs of Berkeley College in the heart of New York City. Founded in 1931, Berkeley College offers international students a superior education based on an intensive business curriculum. The College's reputation is well respected among business and industry executives who participate in the design of its academic courses. This helps students acquire the knowledge and skills that employers demand in both the national and international job markets.
2yr/Community College
Bachelor Degree
Summer
Masters
University of Tennessee Chattanooga
The University of Tennessee at Chattanooga is a national model for metropolitan universities. In collaboration with our many regional partners, we offer our students an experiential learning environment graced with outstanding teaching scholars in bachelor's, master's, and doctoral programs.
Bachelor Degree
Summer
Masters
English Programs
Certificate/Short Term
English Program
Summer
2yr/Community College
Certificate/Short Term
Masters
Truckee Meadows Community College
About Truckee Meadows Community College Established in 1971, Truckee Meadows Community College is located in Reno, Nevada, the beautiful American West, overlooking the Sierra Nevada Mountains. TMCC is a two-year institution serving over 13,000 students. TMCC offers more than 90 degree programs with Associate of Arts and Associate of Science Transfer degrees as well as Associate of General Studies and Associate of Applied Science degrees.
2yr/Community College
Certificate/Short Term
English Programs
Bachelor Degree
Drexel University Drexel University is one of America's 15 largest private universities and has been ranked among the nation's Top 100 best universities for the past five years. Drexel is best known for starting one of the nation's largest and oldest cooperative-education programs. Through the Drexel Co-op program, students gain on-the-job training with employers worldwide while earning their degree.
Welcome to Pierce College! We invite you to study at Pierce College. Ranked in the top 10% of American 2-year community colleges, Pierce is a fully accredited public school, with two safe and modern campuses located near the Seattle area of Washington state, in Lakewood and Puyallup. International students come from around the world for Associate (university transfer) Degrees, studies in English language, professional-technical degree and certificate programs, and the Fast Track High School Completion Program, all taught by our outstanding faculty.
Certificate/Short Term
2yr/Community College
Secondary/Boarding
English Programs
Summer
The Intensive English Program (IEP) at the University of Mississippi, more commonly known as Ole Miss, is located in beautiful Oxford, Mississippi. The IEP offers English language instruction to, and promotes global citizenship among, individuals from the University of Mississippi and surrounding community. Under the academic oversight of the Department of Modern Languages, the IEP offers credit and non-credit academic programs, community service initiatives, and cultural activities. Committed to providing innovative and state-of-the-art curricula, classroom materials, and teaching methods, the IEP supports the University of Mississippi's overall mission and its goal of developing a sense of global responsibility.
Masters
Bachelor Degree
English Programs
Certificate/Short Term
Reach Higher! Located near Seattle, Tacoma is the 3rd largest city in Washington State. Tacoma Community College (TCC) has consistently been ranked as one of America's top 50 Community Colleges.
Bachelor Degree
Certificate/Short Term
2yr/Community College
English Programs
Dream big. Apply Now!