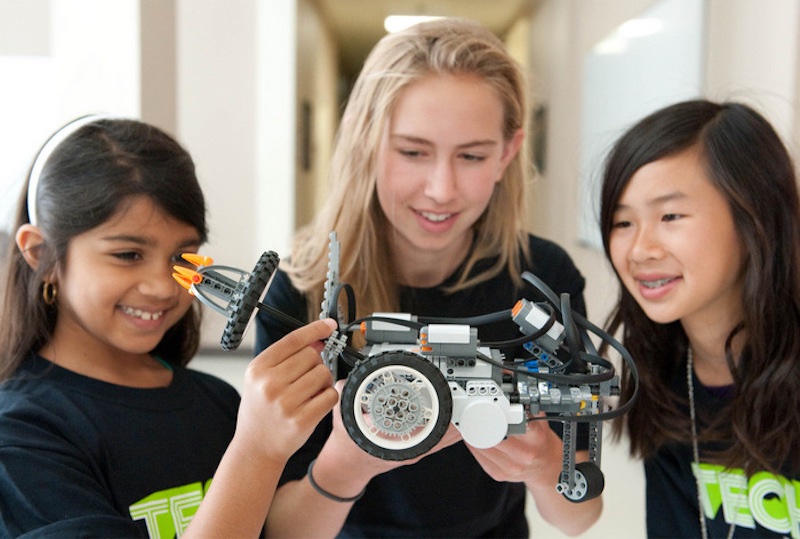 In our effort to bring good content to as many people as possible the text in this blog post has been machine translated so please excuse any mistakes. Thank you!
At iD Tech students ages 6–18 will:
Learn programming, robotics, game design, and more
Use the same software and hardware as industry pros
Meet friends from all around the world
Get prepared for school, college, internships, and careers
Learn from impressive instructors in the industry
iD Tech is the Silicon Valley-based company that started the first technology summer programs back in 1999. With the highest standards of excellence and safety, iD Tech programs teach students important STEM skills in a unique blended learning environment.

Register soon to avoid the waitlist—courses are selling out quickly.
STEM is one of the primary focus areas in education today. But, finding a good STEM camp for your teenager or pre-teen can be difficult. Most of these camps don't offer much value in terms of helping your kids get a good understanding of STEM. And they aren't designed to foster an enthusiasm that could lead to a very lucrative career in the future.
After reviewing a few of these STEM Summer Camps, we have realized that iD Tech is among the best options for tech summer programs. In 1999, iD Tech pioneered the nation's first summer tech camps. 350,000 alumni later, They're #1 in STEM education, providing learning experiences you can't get anywhere else.
So, does your child show an interest in robotics, game development or coding? Do you wish that they would? Then the 2018 iD Tech STEM Summer Camp just may be the best place for them this year.
So, what is the iD Tech STEM Summer Camp?
iD Tech offers summer camps for kids and teens between the ages of 7 and 19 years. These camps focus on nurturing interest in science and technology. Students are given an opportunity to learn in a university setting and are taught by STEM professionals.

The camps focus on areas such as programming, robotics, video game design, web design and other STEM-related programs. But, the beauty about iD Tech Camps is that they also include outdoor activities for a well-rounded experience. So, your kids will have sports sessions, board games, talent shows, and other activities to go along with their STEM-focused learning.
iD Tech Summer Camp – The Details
STEM learning from an industry leader in STEM education
Personalized instruction through small class sizes
Experienced instructors who are STEM graduates or professionals
On-Campus College Life Experiences
Programs held at Stanford, Caltech, NYU, and more such as Stanford, Princeton, Harvard and more
Outdoor activities for a full summer camp experience
Over 150 locations for you to choose from
Find a Summer Camp Near You
Are you always struggling to find a good summer camp near you for your kids? Or maybe you want a camp that you can send the kids to and out of the house for a few weeks over the summer? Whichever option you would like, iD Tech can meet it.

With iD Tech, you have over 150 locations in 30 states across the USA and globally for you to choose from. Plus, you can register your child as a day camper or as an overnight student.
As a day camper, you drop off your children at the location and pick them up at the end of the day's activities. Overnight campers will stay in on-campus housing for a true collegiate experience. But, you won't need to worry as CPR and First-Aid certified iD Tech staff will monitor them.
Save on your 2018 summer camp
At Boarding Schools USA, we are always looking for the best deals for our subscribers. And we have a great one for the iD Tech Summer Camp. Use our promo code "StudyUSA18" and save $75 on this year's summer camp fee when you register for the iD Tech summer program.
The best time to prepare for tech in the future is now. And with a quality STEM summer camp, you are helping your kids get ready to fill the many STEM jobs – or creating their own companies – in the near future.
Ready to invest in the best for your child this summer?
Give your kids something that is educational and fun this 2018 summer. Help them embrace their love for science and technology by enrolling them in the iD Tech program.