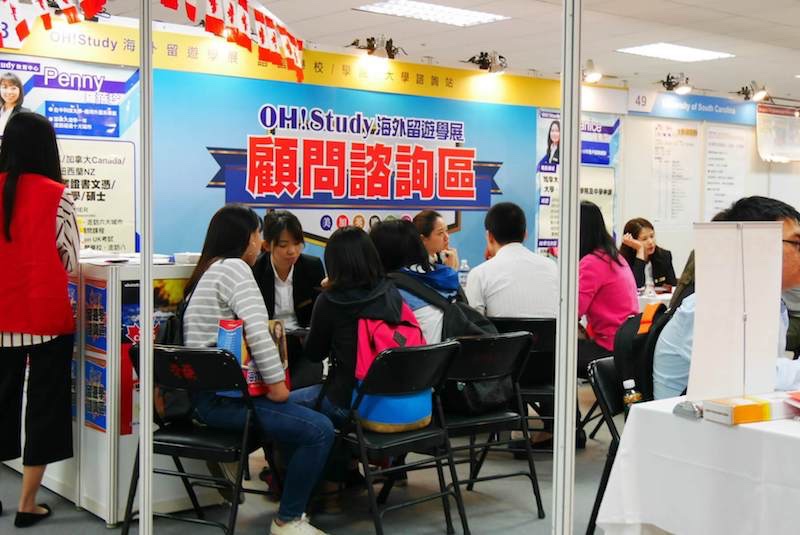 In our effort to bring good content to as many people as possible the text in this blog post has been machine translated so please excuse any mistakes. Thank you!
Here are some photos taken at the Overseas Education Expo (OEE) in Taiwan, last week sponsored by Oh! Study.
Student education fairs give you a chance to speak directly with representatives of U.S. universities, language programs and summer schools.
Join us for the upcoming College & University Fairs. Come say hello, and pick up a copy of the new edition of Study in the USA Magazine!
To register for FREE, click International Education Fairs.
2018 Spring Fairs
Asia
| Location | Event Date | Name of Event |
| --- | --- | --- |
| Taipei, Taiwan | March 17 & 18, 2018 | American Education Fair |
| Beijing, China | March 24 & 25, 2018 | China International Education Exhibition Tour |
| Xi'an, China | March 27, 2018 | China International Education Exhibition Tour |
| Dubai, UAE | March 02 & 03, 2018 | Global Education Fair |
| Jakarta, Indonesia | February 19. 2018 | US Education Roadshow |
| Balikpapan, Indonesia | February 25, 2018 | US Education Roadshow |
| Hanoi, Vietnam | March 14, 2018 | VNIS International Education Fairs |
| HCMC, Vietnam | March 16, 2018 | VNIS International Education Fairs |
| HCMC, Vietnam | March 10 & 11, 2018 | StudyUSA Higher Education Fairs |
| Nha Trang, Vietnam | March 13, 2018 | StudyUSA Higher Education Fairs |
| Danang, Vietnam | March 15, 2018 | StudyUSA Higher Education Fairs |
| Hanoi, Vietnam | March 17, 2018 | StudyUSA Higher Education Fairs |
| Hanoi, Vietnam | March 29, 2018 | Int'l Boarding and Day School Fairs |
| HCMC, Vietnam | March 31, 2018 | Int'l Boarding and Day School Fairs |
| Eskisehir, Turkey | March 18, 2018 | International Education Fairs of Turkey |
| Ankara, Turkey | March 19, 2018 | International Education Fairs of Turkey |
| Izmir, Turkey | March 21, 2018 | International Education Fairs of Turkey |
| Istanbul, Turkey (Asian Side) | March 23, 2018 | International Education Fairs of Turkey |
| Istanbul, Turkey (European Side) | March 25, 2018 | International Education Fairs of Turkey |
| Istanbul, Turkey | February 24 & 25, 2018 | Language & Summer School Fairs |
Americas
| Location | Event Date | Name of Event |
| --- | --- | --- |
| Fortaleza, Brazil | April 03, 2018 | Brazilian EducationUSA Roadshow |
| Recife, Brazil | April 05, 2018 | Brazilian EducationUSA Roadshow |
| Belo Horizonte, Brazil | April 07, 2018 | Brazilian EducationUSA Roadshow |
| Cuiabá, Brazil | April 09, 2018 | Brazilian EducationUSA Roadshow |
| Campinas, Brazil | April 10, 2018 | Brazilian EducationUSA Roadshow |
| Curitiba, Brazil | April 12, 2018 | Brazilian EducationUSA Roadshow |
| Rio de Janeiro, Brazil | April 14, 2018 | Brazilian EducationUSA Roadshow |
Asia
Location
Event Date
Name of Event
Ho Chi Minh, Vietnam
March 17, 2018
Spring Fairs
AAE –AIRC Certified
Da Nang, Vietnam
March 18, 2018
Spring Fairs
AAE –AIRC Certified
Hai Phong, Vietnam
March 21, 2018
Spring Fairs
AAE –AIRC Certified
Ha Noi, Vietnam
March 24, 2018
Spring Fairs
AAE –AIRC Certified
Ho Chi Minh City, Vietnam
June 16, 2018
Summer Fairs
AAE –AIRC Certified
Da Nang, Vietnam
June 17, 2018
Summer Fairs
AAE –AIRC Certified
Hai Phong, Vietnam
June 20, 2018
Summer Fairs
AAE –AIRC Certified
Hanoi, Vietnam
June 23, 2018
Summer Fairs
AAE –AIRC Certified
Americas
Middle East
The 3rd Annual Strategic Recruitment Workshop (SRW)
2018 Summer Fairs
Summer 2018 StudyGlobal Education Fairs in Vietnam
2018 Fall Fairs
Fall 2018 StudyUSA Higher Education Fairs
Fall 2018 International Boarding & Day School Fairs