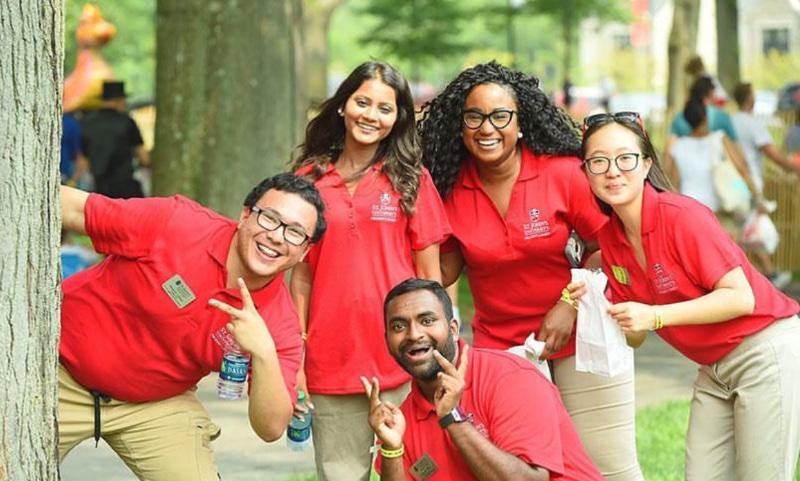 In our effort to bring good content to as many people as possible the text in this blog post has been machine translated so please excuse any mistakes. Thank you!
Founded in 1870 in the heart of New York City – also known as "The Big Apple" – St. John's University offers an environment where students can learn, pursue their passion and serve others. St. Johns also has a large international student body, with students from more than 123 countries currently enrolled. If you're looking for a city campus with a global focus, St. John's might be right for you.
Take a Bite of the Big Apple: St. John's University is located in three corners of New York City: Queens, Staten Island and Manhattan. Balancing both a residential feel and the excitement of New York City, St. John's offers a traditional college experience just steps away from a hub of international business and technology.
Living in New York City provides endless opportunities for St. John's students to explore and have fun. In the city, you'll find hundreds of restaurants, the bright lights of Broadway, concerts and sporting events, and countless more activities. Walking around The Big Apple in your free time can make every afternoon an exciting adventure.
Join a Club: For students looking to get involved in extracurriculars, St. John's offers more than 100 clubs for students to explore and expand their interests and passions. Additionally, St. John's offers cultural organizations to help students connect with peers from the same backgrounds find a little bit of home on campus. Joining a club is an easy way to make friends with similar interests, and if you're passionate about a topic that is not yet recognized as an official club, the university encourages you to start your own student organization.
Earn Your Degree: Offering more than 70 undergraduate majors for students to choose from, St. John's gives every student the opportunity to succeed in whatever area of study they are pursuing. The university's most popular majors include business management, marketing, communications and journalism. St. John's also offers The Language Connection to provide students with quality language instruction, while helping them gain the academic skills and cultural knowledge necessary for their success in academic programs and in their future professional and personal lives.
St. John's proximity to amazing companies in New York City allows students to get work experience through internships, which can help secure a job after graduation. St. John's career services office can help students with resumes, cover letters and mock interviews to support students in pursuit of their dream internship.
Finding a Home: Housing options vary across St. John's three campuses. Students attending St. John's Queens campus are offered residence halls, while students at the Staten Island campus are offered university-owned apartments. However, students are not required to live on campus and can also take advantage of the multitude of housing options throughout New York City. When searching for a place to live, many students rely on ApartmentSearch.com. The website allows students to search for an apartment based on distance from campus, while also showing the cost of living, local restaurants, the length of your commute and more.
If your apartment is unfurnished, furniture rental is an economical and convenient way to furnish your home. CORT, the leading provider of furniture rental in the U.S., furnishes thousands of student apartments with everything from beds and sofas to housewares and electronics – all with affordable rental package options.
If you are looking for a school full of diversity and passionate about student success, St. John's could be the perfect fit for you. Take the time to explore the St. John's University website to learn more about their offerings and how they might fit with your interests.
Margaret Schwartz is an experienced international traveler and Director of Marketing at CORT Furniture Rental, where she works directly with students and higher education institutions.