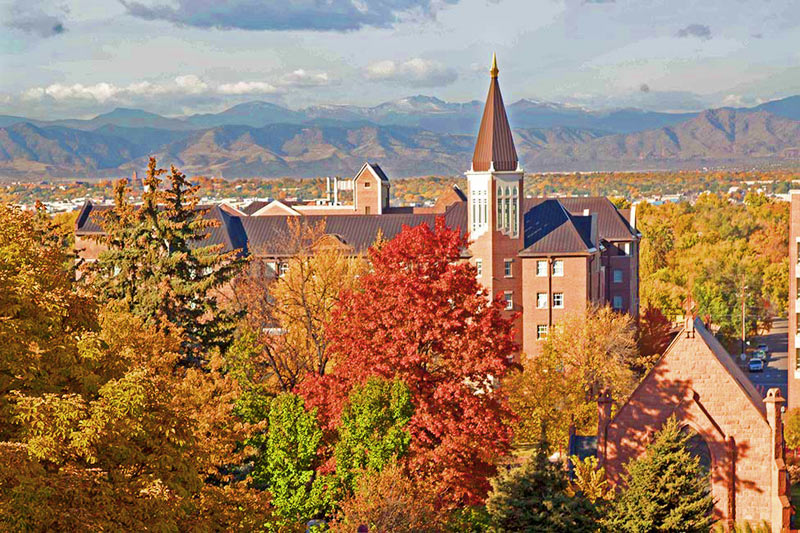 Founded in 1864 in the Rocky Mountains of Colorado, the University of Denver is home to approximately 12,000 students from 85 countries around the world. The university offers 12 bachelor degree programs in more than 100 areas of study, including programs in the arts, business, music, humanities, and social and natural sciences. Here's more on how the University of Denver provides its students with tremendous experience both in the classroom and around campus.
Hiking in the Colorado Rockies
Mountain Life: Studying abroad in the United States gives students the opportunity to experience different landscapes that they would not have access to in their home countries. In Denver, students are just a short bus ride away from mountain ranges where they can try activities including skiing and snowboarding. If you're more interested in hiking and sight-seeing, there are plenty of trails available for you to experience the beautiful Denver landscape.
International students at University of Denver
Campus Life: The University of Denver's campus has plenty of opportunities for students to get involved. Denver offers 177 student organizations and clubs for students to meet other students and pursue their academic and recreational interests. The university also encourages its students to engage with the local community to gain memorable experiences, invaluable skills and knowledge that will last a lifetime.
At a Pioneers hockey game
The "Pioneers": The University of Denver has 17 sports teams, known as the Denver Pioneers. Students have the opportunity to cheer on the Pioneers year-round, with sports including soccer, American football and basketball. Denver also has very successful hockey and lacrosse programs, winning a combined nine national championships over the years.
Students at U. Denver
World Class Education: Students travel from around the world for the opportunity to attend school at the University of Denver, with approximately 1,300 international students currently enrolled at the university. The university is renowned for many of its degree programs, but is perhaps best known for its business, engineering and world politics programs. Also, because the university has a relatively small student body, class sizes are approximately only 20 students per class. This gives students a better opportunity to establish relationships between classmates and professors as they pursue a degree.
16th Street pedestrian mall in downtown Denver
Moving In: Students enrolled at the University of Denver are required to live on campus their first two years of school, but then have the opportunity to move off campus. When students make the transition to an off-campus apartment, there are several important considerations to make. ApartmentSearch.com is a great resource for students moving to a new area. The website allows students to search for an apartment based on distance from the campus location, while also showing the cost of living, local restaurants, the length of your commute and more. If your apartment is unfurnished, furniture rental is an economical and convenient way to furnish your home. CORT, the leading provider of furniture rental in the U.S., furnishes thousands of student apartments with everything from beds and sofas to housewares and electronics – all with affordable rental package options.
On campus at the University of Denver
Moving to the United States for school involves a lot of planning and preparation. Take the time to think about your needs and interests as you begin to pursue an education. If you are interested in learning more about the University of Denver, explore their website to see if they are the right fit for your academic interests.
Yu Wu is a native of Nanjing, China, and works with universities and education organizations at CORT Furniture Rental to help international students and scholars settle in faster when studying in the U.S.