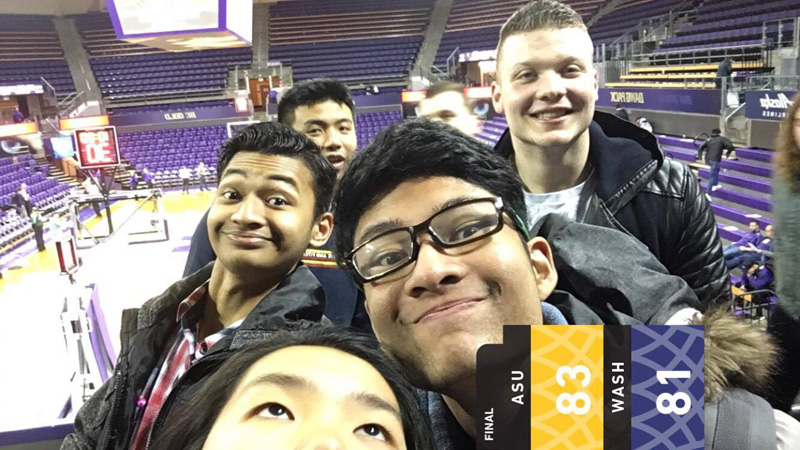 In our effort to bring good content to as many people as possible the text in this blog post has been machine translated so please excuse any mistakes. Thank you!
Hey guys! I have been waiting for this moment to make a blog about American sports teams. As an international student, it is interesting for me to see how Americans perceive sports as a part of their identity. Here in Washington State, people are wearing Seattle Seahawks shirts every Friday to show their support to their football team. Another thing that I admire from America is how they value students with athletic achievement and academic achievement equally. I believe that it is a good way to build self-confidence and to encourage people to expand their talent in different fields. In this blog, I'm going to share my experience in attending sports venues during my study at Green River College.
Last month I got a chance to watch Seattle Thunderbirds vs. Tri-City Americans ice hockey game and also UW Husky vs. ASU Sun Devils basketball game. These events were sponsored by the European Club at Green River College.
I still remember the first and last time I watched a hockey game was from a movie called MVP: Most Valuable Primate which is about a monkey who plays hockey better than his fellow human teammates. So, I would say this is the first time I watched a real hockey game.
The first time I entered the arena I got goosebumps all over my body. There are two possible reasons: the tense atmosphere in the stadium or maybe it was just cold. I was really fascinated by how skilled the players were. I tried to ice-skate several times, and I know how hard it is to stand on top of a blade trying to avoid bumping other skaters. Meanwhile, these athletes skate super fast, carrying a long stick, and chasing a tiny puck I can barely see. (I looked up "ice-hockey ball" on Google during the game). At the end of the match, Seattle Thunderbirds won the game with a final score of 5-1.
Weeks after that, I went to the University of Washington to watch UW Husky vs. ASU (Arizona State University) Sun Devils basketball match. There were also some performances from the UW cheerleading team, choir, and UW jump rope team during the game. The game started, and I can see that UW and ASU are equally tough. One team led the score for few minutes, and the other team began to catch up. I couldn't predict the winner until the very last seconds. The Huskies were off by one point in the last two seconds of the game. My friend said that two seconds in a basketball game could change the whole result, but I feel that it's not even enough for me to breathe. The game ends with the score of 83-81, and the Sun Devils won.
Overall, watching a sports game in the U.S. is quite an exciting experience for me. Now that I've watched ice-hockey and basketball game, my next item in my bucket list is to watch an American football game, and I still have two and half years to do it.
I encourage you guys to watch a sports game live if you decide to go to America. Sports are surely a thing you should not miss here. I also made a video of the two games I mentioned above. I hope you like it. Until then, see you on my next blog.
Scroll down to watch the video!
Nita Thirza is an international student from Indonesia studying business management at Green River College in Auburn, Washington.