Service learning combines formal instruction with a related service in the community.
In the USA education oftentimes extends beyond books and classroom to include a variety of experiences outside the classroom.
"Service learning" is a hands-on volunteer learning experience. It may incorporate academic study and is almost always rewarding and educational. What is special and unique about service learning is that it has the added benefit of helping a local or international community.
It is somewhat similar to an internship. Students lead others in using skills and knowledge they learned in the classroom. This makes the experience even more educational than a typical internship where you might only be observing. Participating will transform the abstract concepts you have learned in class into reality. Depending on the program, you may also receive academic credit.
As an international student, service learning programs reveal other American subcultures that you may not readily encounter within a university setting or in the corporate world. You might interact with people living in poverty or talk with members of communities struggling for their civil rights. These interactions will broaden your worldview and possibly change your perspective. You will be further equipped when you return to your country and confront such challenges as poverty, pollution, climate change and habitat destruction.
Being involved in service learning projects will help you develop life skills as you exercise leadership, practice decision-making, and engage in critical thinking. You will experience the satisfaction of having been a part of something greater than yourself by making a significant difference in the lives of the less fortunate. To learn more about service learning in the United States, visit gsn.nylc.org or ipsl.org.
Volunteering in the Local Community
Each semester, a group of professors and administrators at the University of Florida's English Language Institute nominate an academically outstanding student who has demonstrated leadership in community building, or promoted international understanding and peace. The student—who usually has also volunteered in the local Gainesville community—receives a full tuition scholarship for one semester. Since the scholarship was established in 2001, 43 students from 17 countries have won.
At the University of California Irvine, Extension, upper level students in the Intensive ESL program are offered a Service Learning elective class, in which they are required to perform 20 hours of service during the quarter. Students taking this class often remark that this was on of the best experiences of their lives, both for improving their English and for expanding their life experiences.
One of the projects that students often choose involves assisting at a local retirement home, where students engage in many activities, including chatting, playing chess, and singing with elderly residents who restricted to bed or wheelchairs. The seniors love this chance to have contact with young, international students.
In another project, students help out at the campus child care center. Students read to the children and play games with them. The children adore this time with their international "friends." Additional service opportunities have included cleaning up the local beach with local university students, serving food at a homeless shelter, and many others.
In Boston, the Center for Community and Learning Partnerships at Wentworth Institute of Technology facilitates service projects that utilize student expertise. For example, faculty and students traveled to New Orleans to help the hurricane-devastated Tremé neighborhood. Wentworth students prepared the master plans for renovating a city block. The renovations included building an environmental center and a demonstration garden to teach local residents about soil recovery. Each student raises money for his/her travel expenses and construction costs.
Other Wentworth efforts include:
Web Application Development

Students majoring in computer science develop database systems for all sorts of groups. They have built databases that serve as a support network for the elderly and for organizations like Earth Works, which grows food in urban areas.
Community Design

Interior design and architecture students are collaborating with an architect on a headquarters for a minority police officers association. The buildings will include housing for low-income families and multi-purpose facilities for the association. The students' contribution is providing huge savings on design and consulting costs.

Career Counseling

Wentworth business students, along with the Boston Red Sox (baseball) Foundation, are introducing disadvantaged high school students to careers in sports management.
Volunteering Internationally
Every summer, Seattle Colleges students and staff, accompanied by Seattle-area healthcare professionals, volunteer abroad for two weeks in developing countries. International students often join these trips, which include projects related to global health. The programs are in Morocco, Laos, India, Vietnam, Peru and Ghana—and none of them require that student participants have any special skills or experience. Training is provided in taking blood pressure, applying fluoride varnish to children's teeth and other basics. The groups run health clinics, provide health care education and assist with practical things, such as working in orphanages, building and installing water filters and clean burning stoves, and engaging in sustainable agriculture projects.
"Once we were in the Vietnamese villages high in the mountains the trip really started to hit deep in the heart for me," reminisced Fuqin, a student from China, who was completing her nursing degree at the time. She goes onto explain their volunteer work:
"Each person in the group was doing various tasks such as water filter demonstrations, registering and examining patients, handing out medication, collecting height and weight of the children and putting fluoride varnish on their teeth, and [giving them] education on proper dental hygiene. It was a life changing experience."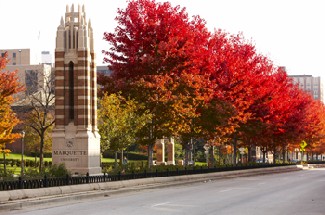 Oklahoma State University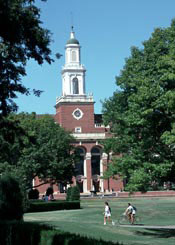 Each year, Marquette University students perform over 100,000 hours of service to the Milwaukee community. Marquette's passion for service reaches beyond their local community. Marquette engineering, nursing, and dentistry students routinely participate in international service learning programs as part of their studies. For example, nursing and psychology student, Anna Villanueva helped prepare and serve meals for the homeless in Milwaukee. She feels that her experience increased her knowledge as a nursing and psychology student, as well as her problem solving skills.
"People are very much the same wherever you go, no matter what circumstances they had to overcome or what environment they live in. Service-learning makes you realize that you have the power to make a difference," explained Tiro Daenuwy, a Marquette University student from Indonesia. He hopes to use his new skills to improve the living conditions in his own country, as well.
Community food drives are traditional fall activities across the United States, as Americans seek to feed their hungry neighbors. Every fall, Oklahoma State University supports the annual Harvest II food drive with campus-wide contributions. Student teams from the English Language Institute (ELI) often win a trophy for their outstanding efforts in gathering food and delivering the donations.
Activities like these promote valuable cross-cultural understanding. International students learn first-hand how local American communities get involved to resolve problems and help the less fortunate within their community. Ordinary citizens regularly step forward with solutions. On the other hand, American students are made aware of the generous spirit of other cultures, as the international students are regularly among the most generous of student groups.
Volunteering also provides many authentic and fun settings where students are able practice their language skills in real situations and further expand their vocabulary. Students in one section learned in a very real way the meaning of "non-perishable" when a can of refrigerated biscuits exploded!